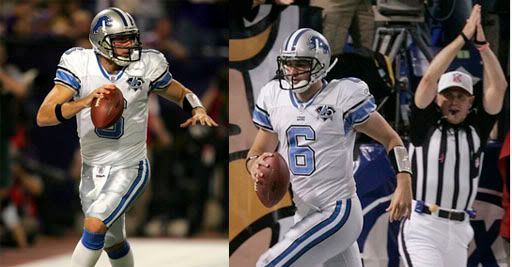 With the Detroit Lions placing quarterback Jon Kitna on injured reserve on Tuesday, former UConn Huskies quarterback Dan Orlovsky will get another chance to start for them on Sunday when they face the Houston Texans.
Orlovsky wasn't bad in his first start last Sunday but then again he wasn't great (12-of-21, 150 yds, 1 TD) especially given this bonehead play he committed.
Orlovsky had this to say about the play:
"The team had fun (at my expense), the coaches had fun, friends had fun, family had fun … America had fun," said Orlovsky. "Drew (Stanton, now Orlovsky's backup) came in this morning and said you're now a household name on ESPN. But like I said after the game and on Monday, it's not something that I'm enjoying being a part of, but I'm not beating myself up over it. I know how dumb it was, but I'm not dwelling on it."
For Orlovsky, it's another chance to lead the Lions to there first win of the 2008 campaign and a chance to maybe secure his future since he's a free agent at the end of the season. No matter what though, he is prepared to start.
"Just because it's my dream doesn't make it wrong," said Orlovsky Wednesday night. "I have a goal and there's a lot of other people in our organization who have a goal to fix things and change (the culture). In a way it's like when I was at UConn. Eventually, you get sick and tired of being embarrassed. Guys stand up for what they believe in, and what they believe in changing. When you get enough people who are sick and tired of something and dedicated to change, it can happen.

"It's easy for me to say. It was hard to do that (at UConn). It was the hardest two years I've ever had to go through athletically. It took complete commitment from top to bottom. But I've been through that … I've seen it happen. I've seen it go from a laughing stock to being close to the top. I'm not saying I'm going to be the individual that can make it happen myself, but I want to be a part of it. Eventually you get tired of being punched in the mouth and decide to punch back. There are a lot of guys around here who think that way."
Having seen what Orlovsky did at UConn for four years, I have no doubt that he will help the Lions win a few games this season. It's going to be hard but it's a fight he's willing to take on.
Orlovsky, now Lions' starting quarterback, has history of turning teams around [New Haven Register]
With One Start Under his Belt, QB Dan Orlovsky is Looking Toward Houston [DetroitLions.com]