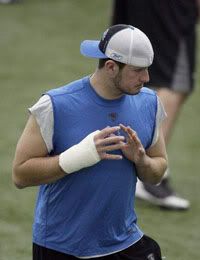 Former UConn Huskies and current Detroit Lions quarterback Dan Orlovsky has decided to wait on surgery for his injured right thumb.
"I'm not going to get surgery," Orlovsky said Wednesday. "I'm going to try and do everything I can not to have surgery. I'm going to give it time to let it heal on its own, and we'll reassess it in a couple weeks."
Given the fact that the Lions have not placed him on injured reserve and actually released third string quarterback Drew Hensen, tells you how highly the Lions think of him. Despite not leading the Lions to a win, he has shown that he can play in the NFL.
Newly signed Daunte Culpepper gets the start again for the Lions this week against the Carolina Panthers.
Lions QB Dan Orlovsky not giving up yet [Detroit Free Press]