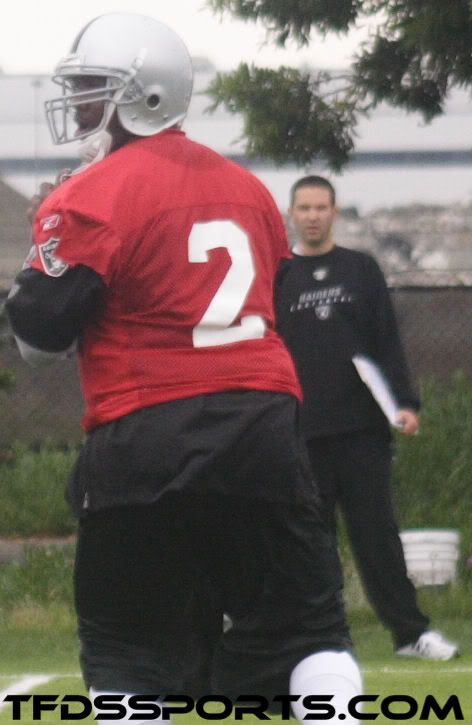 (TFDSsports photo/Patrick A. Patterson)
Al Davis implored the Raider Nation to have patience with JaMarcus Russell, invoking one of the sacred names from Raider history along with other quarterbacks who have struggled early in their careers before finding success. However, most of those players are not valid comparisons to Russell's situation.
Those quarterbacks did not see a lot of wins early, but their struggles were not nearly as marked as Russell, as well as from an era when teams could afford patience. Thus far Russell is having a season that seems destined to invoke memories of the struggles of failed Raider quarterbacks Andrew Walter and Todd Marinovich.
Davis pointed to players like Troy Aikman, John Elway, Jim Plunkett, Doug Williams, and Warren Moon as players who started slow for one reason or another and dismissed Dan Marino's stellar rookie performance because he never won a Super Bowl. If that is to be the gold standard, the Warren Moon should be removed from the late bloomer list, as he never won a Super Bowl ring either. He also went to Canada early in his career more due to the color of his skin than his skills.
Comparing Russell to Troy Aikman misses a few key points. True, Aikman was 1-15 in his rookie year, but the Cowboys rapidly built a team around him. He also improved each of his first three years. JaMarcus Russell is regressing in his second year as a starter.
In ten games his rookie year, Elway was 4-6 and had a passer rating of 54.9. In his second year he played in 14 games, winning twelve of them and had a passer rating of 76.8. This is a comparison that Russell definitely does not belong in.
Doug Williams came into a team that was historically bad in Tampa Bay and compiled a 4-6 record as a starter his rookie year. His second year the team went 10-6 to secure the first playoff bid in Tampa Bay history. His numbers weren't spectacular as he had a 53.4 rating in his rookie year and a 52.5 rating his second year. However, one would think that Davis would not want his prize draft pick to have a career arc similar to Williams's. Despite his Super Bowl win after he went to the Washington Redskins, his career numbers are pedestrian at best. His win loss record was 38-42-1, and his passer rating was 69.4.
Jim Plunkett may be the best comparison of Davis's list. Plunkett stunk things up in New England his first five years with a 23-38 record. In those years he had a 59.7 quarterback rating. It wasn't until he was eight years into his career and had nearly a full year off before he found his stride with Oakland. In Oakland, he only started a complete season one year and that was the shortened strike season of 1982 where he led the team to 8-1 before they were upset by the New York Jets. Plunkett also landed in Oakland when they were loaded with talent and had a consistent coaching situation under Tom Flores after having been a seasoned veteran. Does Davis plan on waiting eight years for Russell to lead his team to a Super Bowl?
Davis did concede, "JaMarcus, he's got to do better, Forget the cast around him. He knows it. But we've got to fight through it with him." Perhaps the best thing that he could do to speed Russell's development would be to bench him and make him fight to get the starting spot back. It worked for the New York Giants when they benched a struggling number one overall pick named Eli Manning. He bounced back and led them to a Super Bowl win three years later.