I must admit, the flurry of roster moves that Tony Reagins executed last week caught me by surprise.  I would have bet my house that the Angels were done making big roster moves (then again, I rent, so I am betting someone else's house, so it really isn't any skin off my back), but boy did they prove me wrong.  After the signing of Joel Pineiro and trade of Gary Matthews I am inclined to again assume Reagins is done, but my mama didn't raise no fool, I won't be making that assumption again.  The Angels still have a select few roster holes left to fill, but will the Angels fill those needs from within or dip back into the free agent marker?  Let's weigh the Angels options and see if we can't determine what Tony Reagins does or doesn't have left up his sleeve.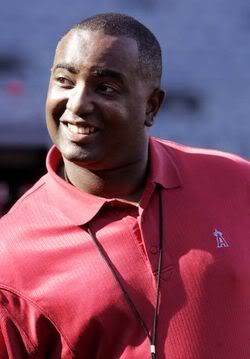 What else do you have in store for us, Tony?

For all intents and purposes, 23 of the 25 spots on the big league roster are already spoken for in Anaheim.  The way I see it, one roster spot will go to an additional infielder as Maicer Izturis is the only reserve infielder guaranteed to make the team right now and the other spot will go either to a fifth outfielder or an additional reliever.  None of these are crucial positions to fill but considering how crucial depth was to the success of last year's team, it should not be a surprise at all if the Angels decided to make a strong investment in beefing up the bench and/or back of the bullpen.  Then again, the Angels have shown a strong proclivity of late to fill their needs with their minor league talent.  As such, let's take a look at how the Angels might fill those spots from both inside and outside the organization.
---
Internal Infielders – The Angels have precious few option here, especially since there real need is at the corner infield positions.  LAA's 40-man roster only presents three options: Freddy Sandoval, Bobby Wilson and Mark Trumbo.  Trumbo can be ruled out immediately as he is not even close to major league ready.  Wilson is actually a catcher, but the Angels have toyed with the idea of playing Mike Napoli at first on occasion, which would make carrying Wilson a reasonable option but carrying two all-glove, no-bat catchers is a bit of a stretch, even for Mike Scioscia.  That pretty much leaves Freddy Sandoval who can certainly play the corners and has shown signs of a potent bat.  As a switch hitter, Sandoval gives the Halos increased flexibility off the bench, but he also has not proven himself in the majors, so if one of the infielders gets hurt (a strong likelihood given their health records), having Sandoval as the main fallback option seems kind of scary.
Free Agent Infielders – If the Angels do dip into the free agent market for an infielder they will need to provide one of two things: an insurance policy for Brandon Wood and power off the bench.  A few names the Angels are sure to kick around are Fernando Tatis, Russell Branyan, Nomar Garciaparra and Melvin Mora.  Branyan is probably the best of the bunch, but he hasn't played third in years and for good reason.  He also bats left-handed, which makes him a poor complement to Kendry Morales who still has to prove himself against southpaws.  Garciaparra has the name recognition and would be a great reserve off the bench at both corner spots, but there isn't much pop left in his bat anymore.  The Angels have already kicked the tires on Melvin Mora, a former utilityman who would have to brush up at position other than third to be of optimal use off the bench, but he can has decent power and is a strong locker room presence.  The best option though is probably Tatis who has been doing excellent work as a utility player for the Mets the last two years playing every position but center field, catcher and pitcher.  The main appeal of Tatis is that he is accustomed to being a bench player unlike Mora and Branyan, so he won't have trouble adjusting to his role and the commensurate salary that comes with it, not to mention the approach needed to be an effective pinch hitter.
THE VERDICT: If I am making the choice, I go external and sign Tatis.  However, I suspect Reagins would prefer a superior defender and that means Melvin Mora.  Sandoval could be a nice player someday, but if he makes the big league roster, the team has no infield depth behind him anywhere in the system, so the Angels really have no choice but to sign a veteran to preserve the organizational depth.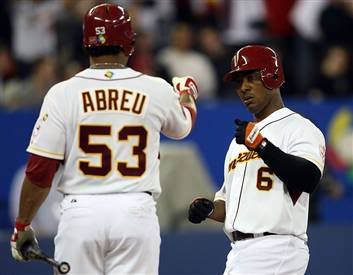 It certainly won't hurt Mora's case that he is homies with Bobby Abreu.
---
Internal Outfielders – The Angels have quite a few options for outfielders in their farm system.  The two primary options are Terry Evans and Chris Pettit.  Both players have speed and the ability to play both positions, but choosing between them is pretty easy.  Pettit might have more long-term upside, but Evans is the better player right now.  He is a better defender, better basestealer and has much more power, he just strikes out way too much (146 Ks in Triple-A last season).  As a fifth outfielder though, that propensity for whiffing isn't that big of a deal.  Most of Evans' at-bats will come as a pinch-hitter where swinging early and often is actually a good thing.
Free Agent Outfielders – There are a number of big outfield names on the market (Garret Anderson, Jermaine Dye, Gary Sheffield, etc.) that should appeal to the Angels, but the Angels likely don't appeal to them.  Whoever fills this spot just isn't going to play very much, so a veteran would have to be pretty desperate to take the job.  However, there are two guys who might be matches.  Gabe Gross is a very nice player who is a solid corner defender who is tough on lefties, but he is coming off of a tough season and needs to rebuild his value and taking a gamble that one of the elderly Angel outfielders gets hurt is a gamble he might want to take.  Eric Byrnes is in a similar situation, needing to restart his career after being derailed by injuries the last few seasons.  To be honest, he could probably find a better gig than this, but I would love to see his "run through a well" mentality get mixed into the Angel clubhouse.
THE VERDICT: The veterans look good, but the price just isn't worth it for a guy who won't play very much.  Factor in that Evans is out of options and it is a no-brainer that he will get the final spot… assuming the Angels decide not to carry 12 pitchers like they did most of last season.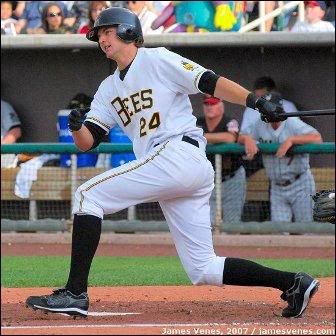 Is Evans finally going to get his chance?

---
Internal Relievers – I'll make this one short and sweet.  The Angels have all kind of internal candidates: Robert Mosebach, Trevor Bell, Sean O'Sullivan, Fernando Rodriguez, Rafael Rodriguez, Rich Thompson and Matt Palmer.  All of them are young talents with varying degrees of potential and almost all of them showed they weren't quite big league ready last season and needs to spend more time in the minors honing their craft.  The only exception there is Palmer, but he would be wasted as a mop-up man and much better off staying in starter's shape in Salt Lake should injury strike the rotation.
Free Agent Relievers – The real reason no internal candidates make sense for the Angels is that they are all right-handed.  After losing Darren Oliver, the Halos have no situational lefties in the pen (unless Brian Fuentes gets demoted from his closer gig, but that won't happen until mid-season).  As is always the case this time of year, there are still a slew of left-specialists left on the free agent market, but if the Reagins wants to go for broke, his only real option is Joe Beimel.  He has the most consistent record out of the available southpaws and even has shown the ability to hold his own against righties.
THE VERDICT: Beimel is the clear choice amongst relief options, but the Halos have enough depth in the relief corps now to get by, unlike last year.  Scioscia has never been a huge fan of playing match-ups anyway, so the Angels should just keep 11 pitchers and trade for a lefty at the deadline if they realize they need one and use the extra roster spot on an extra bat off the bench.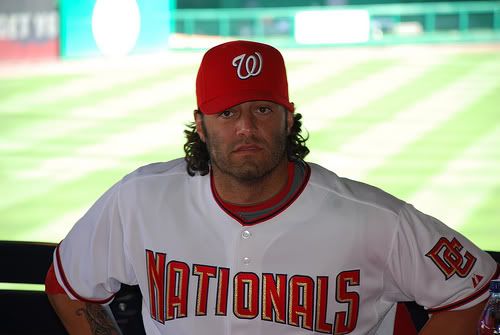 Is Beimel next on Tony Reagins' shopping list?  Not so fast.