Even if they expanded to the NCAA Tournament to 96 teams this season, as it is rumored to do next year, I don't think the UConn Huskies men's basketball team would make it in.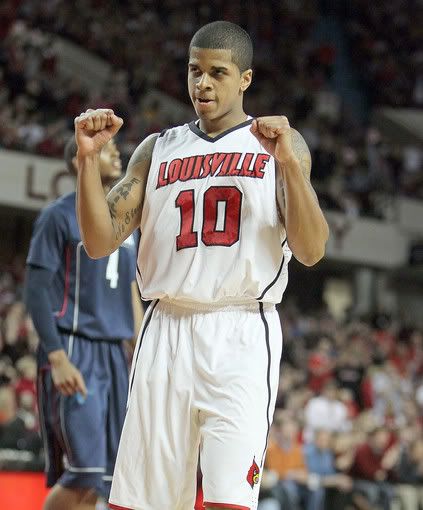 The Louisville Cardinals started out hitting their first five 3-point field goals and never trailed as they went on to beat the Huskies 82-69 in front of 19,655 at Freedom Hall in Louisville, KY on Monday night.
It's the third straight loss for the Huskies and sixth in their last eight games as they fall to 13-9 (3-6 Big East). The Cardinals improve to 14-8 (5-4).
Jerome Dyson led all scorers in the game with 18 points. Kemba Walker added 15 points, five rebounds, three assists but had four turnovers. Stanley Robinson had another double-double with 14 points and 11 rebounds while Gavin Edwards had 13 points.
Edgar Sosa paced the Cardinals with 15 points and eight assists while Jerry Smith had 14 points and five rebounds. Samardo Samuels chipped in with 13 points while Reginald Delk had 10 points. Jared Swopshire led the Cardinals with nine rebounds to go along with his nine points.
The Huskies fell behind 5-0 in the first thirty seconds of the game behind a layup by Sosa and a three-pointer by Smith. UConn came back to tie the game at seven but the Cardinals followed with an 8-0 run that put them out front for good.
The Cardinals would continue to build their lead as a Peyton Siva three-pointer gave them a 13 point lead at 25-12. UConn would never get any closer than seven points at 27-20 as the Cardinals would build their lead up to 14 points at 48-34 at the half.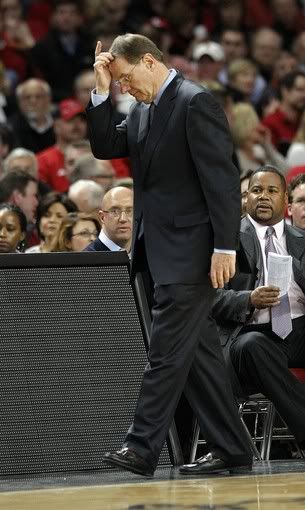 UConn would work the lead down to ten at 55-45 on two Robinson free throws. The Cardinals followed that up with a 12-2 run to push the lead to 19 points at 66-47 to force UConn associate head coach Dave Blaney to take a timeout.
The resilient Huskies didn't quit as they went on a 17-5 run to cut the Cardinals lead to seven at 73-66 with 9:20 to go. But that's as close as the Huskies would get as they scored just three points the rest of the game.
If it weren't for making 19-of-23 free throws in the first half, the Huskies could have been trailing by at least 20 points. They shot just 25.9% (7-of-27) in the first half. They also failed to take care of the ball yet again as they had ten first half turnovers.
I'll say it again, the Huskies miss Jim Calhoun but I'm not sure what he could have done or what he can do. Maybe move Gavin Edwards back into the starting lineup? Who knows?
Something needs to change for the Huskies but if they don't learn to take care of the ball, they'll just continue to beat themselves.
The Huskies will look to end their three-game losing streak on Saturday night when the DePaul Blue Demons come Gampel Pavilion for a Big East matchup. The game is scheduled to start at 8 p.m. and will be televised locally on My-TV9 and SNY.
Notes and musings:
UConn Huskies @ Louisville Cardinals 2.1.10 box score
The starters were Kemba Walker, Jerome Dyson, Stanley Robinson, Ater Majok and Alex Oriakhi.
Despite shooting 25.9% (7-of-27) in the first half, they shot 48.3% (14-of-29) in the second half to finish the game at 37.5% (21-of-56).
The Huskies had just eight assists on their 21 made baskets.
The one bright spot for the Huskies was their free throw shooting. They were 23-of-28 (82.1%).
UConn outrebounded the Cardinals 43-38.
The Huskies committed 18 turnovers which the Cardinals turned into 15 points. The Cardinals had ten turnovers which UConn converted into just seven points.
Louisville outscored UConn 36-28 in the paint.
The Cardinals were 10-of-22 (45.5%) from three-point land while the Huskies were 4-of-13 (30.8%).