The Bullpen of Doom was frequently the Achilles heel of last year's Angel squad but it is a new year and there is new hope for the boys in the bullpen, including Jason Bulger who is up next in Player Preview series.  Now that Bulger is no longer fighting for a roster spot, what can we expect from one of the unsung heroes of last year's relief corps?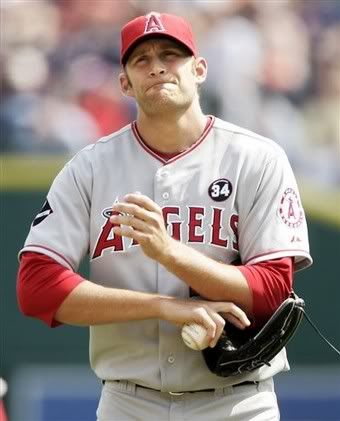 2009 Stats: 65.2 IP, 6-1, 46 H, 30 BB, 68 K, 3.56 ERA, 1.16 WHIP
2010 Bill James Projections: 60.0 IP, 4-3, 50 H, 29 BB, 74 K, 3.56 ERA, 1.32 WHIP
2010 Chone Projections: 57.0 IP, 4-2, 47 H, 27 BB, 63 K, 3.32 ERA, 1.30 WHIP
2010 Marcel Projections: 59.0 IP, 4-2, 53 H, 25 BB, 53 K, 4.12 ERA, 1.32 WHIP
2010 Monkey Projections*: 52.0 IP, 2-4, 47 H, 22 BB, 68 K, 3.85 ERA, 1.33 WHIP
*All stats courtesy of FanGraphs.com except the Monkey Projections which are strictly based on my own knowledge, logic and intuition.
---
2009 Review: Bulger finally broke into the big leagues for good in 2009, but it almost didn't happen after he got off to a miserable start (along with the rest of the bullpen) to start the 2009 campaign.  But after April, Bulger quickly found his rhythm and began the slow and painful battle of earning Mike Scioscia's trust in big spots.  By the end of the year, Bulger boasted the best stat line of any Angel reliever except Darren Oliver but still never managed to fully get himself into Sosh's good graces thanks to random fits of inconsistency coupled with a bit of arm trouble down the stretch.  Nobody really seemed to notice that Bulger ended up putting up very strong numbers by season's end and he should really be given a lot of retroactive credit for helping to stabilize the Angel pen after their nightmare beginning.
3 Questions for 2010:
What will Bulger's role in the pen be this year now the Scot Shields is back and Fernando Rodney has been signed?  Bulger was probably the best righty reliever in the Angel bullpen last year, but he doesn't look like he is going to get rewarded for it since Shields, Rodney and Kevin Jepsen are all likely to above him on the middle relief depth chart to start 2010, but will it stay that way?
At age 31 does Bulger have any more potential to realize?  Bulger put up some eye-popping strikeout numbers in the minors (i.e. 75Ks in 43 IP at AAA in 2008) and even had the look of a potential closer, but it took him so long to break through to the big leagues, it could be that he has maxed out as a middle reliever already.
Can he keep the ball in the park?  Bulger gave up 7 dingers last season (and I am pretty sure three were grand slams) in just 65.2 innings but he only allowed 12 homers in the 315.1 innings of his entire minor league career.  If it turns out that his 2009 case of gopheritis was just a fluke, Bulger might end up being much more than a back of the bullpen asset for the Angels.
2010 Preview: I like Bulger but as you can see from my predictions, I just don't think he is going to get much use.  He is too good to just be used as an afterthought and Scioscia knows this so he will carve out a role for Bulger which I think will be making him the designated "we really need a strikeout guy" out of the pen.  I think that means Bulger actually appears in almost as many games as last season but only really faces one or two batters on many occasions.  Ironically, those were the situations Bulger really got himself into trouble last season but I think having a more defined role will help and he will develop a more strikeout-focused mindset.  Unfortunately, he is also probably going to still be good for some truly bad innings once or twice a month that inflates his ERA.  In other words, he will get his job done most of the time but when he fails he will fail in spectacular fashion and thus never get real consideration for a more prominent role in the relief corps.