Godzilla is coming to Anaheim fresh off of a 2009 campaign that culminated with him winning the 2009 World Series MVP.  Despite his recent success, his old age and knee problems still qualify him as a risk for the Angels.  Will that gamble pay off in 2010?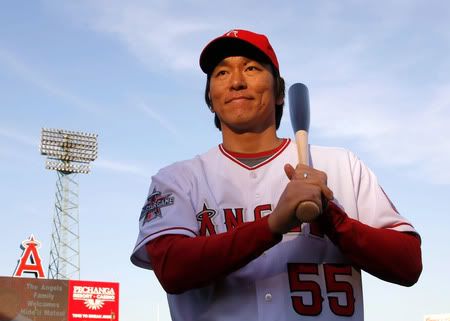 2009 Stats: 456 AB, .274 AVG, 62 R, 28 HR, 90 RBI, 0 SB, .876 OPS
2010 Bill James Projections: 507 AB, .282 AVG, 75 R, 23 HR, 88 RBI, 1 SB, .842 OPS
2010 Chone Projections: 428 AB, .264 AVG, 61 R, 17 HR, 67 RBI, 1 SB, .788 OPS
2010 Marcel Projections: 440 AB, .270 AVG, 62 R, 20 HR, 72 RBI, 2 SB, .817 OPS
2010 Monkey Projections*: 450 AB, .275 AVG, 60 R, 20 HR, 80 RBI, 0 SB, .795 OPS
*All stats courtesy of FanGraphs.com except the Monkey Projections which are strictly based on my own knowledge, logic and intuition.
---
2009 Review: I really hate the Yankees, so this is going to be short so I don't have to dwell on that bunch of d-bags winning the World Series again.  Anways, Matsui seemed like he was set to be put out to pasture by the Yankees last season, but he bounced back in a big way from an injury-riddled 2008 campaign that had everyone convinced that he was clearly in permanent decline.  Instead, Godzilla bashed 28 home runs in just over 450 at-bats and kept right on rolling all the way through the post-season to win the World Series MVP.  His strong 2009 performance earned him a hearty slap on the back and a boot out the door in New York, but the Angels were more than happy to bring him to Anaheim having seen first-hand that he still has plenty of pop left in his bat.
3 Questions for 2010:
Are they really going to let Matsui play the field? This whole notion of giving Hideki a chance to play in the field on a somewhat regular basis is fraught with peril.  Not only is Hideki disastrously awful in the field with a career -14.4 UZR in left field, one of the worst ratings in the league.  But that isn't even my real objection to letting him flash the leather on occasion.  Has Mike Scioscia learned nothing from what happened to Vladimir Guerrero last season?  Allowing Matsui to run around in the field on two bad knees seems like a surefire way to get him injured and cost the Angels one of their few patient and powerful bats.
How much will Godzilla suffer away from Yankee Stadium? That Matsui hit 28 homers last season seems like a bit of a fluke, especially since he had the luxury of new Yankee Stadium's short porch in right field plus the jet stream that made balls fly out of the new stadium.  17.4% of Hideki's flyballs hit turned into homers, well above his career rate of 13.4%, only adding to the notion that his power numbers are park-inflated.  However, if you look at his 2009 splits, Matsui actually slugged .462 at home but .561 on the road.  That's right, on the road.  So much for the park factor, I guess.
Does Matsui's arrival signal a changing of the guard? On the surface, Matsui was brought in to add some power to the line-up, but don't overlook the fact that he also has a very disciplined approach at the plate, adding to the new focus on patience and pitch selection that Bobby Abreu brought to Anaheim last year.  Since Matsui can barely run, does this mean that the Angels are looking to get away from their more small ball approach to offense and become more of a station-to-station team that relies on homers?
2010 Preview: Why do I just get the feeling that Hideki Matsui is going to be a left-handed, Japanese version of Vladimir Guerrero?  And not 2004 Vlad, I mean 2009 Vlad.  An aging slugger with bad knees who should be DH but still wants to play the field even if it is to his own detriment.  Yep, that sounds like a match to me.  Like Vlad, Matsui is only going to be successful if he can stay healthy and I think that will be a delicate proposition, especially if he gets any time in the outfield.  I have no doubt he will miss some games due to injury but also because of injury prevention (resting him to keep him fresh).  After that, I just think that Matsui is going to come back to earth after a strong 2009 campaign just because of his advanced age.