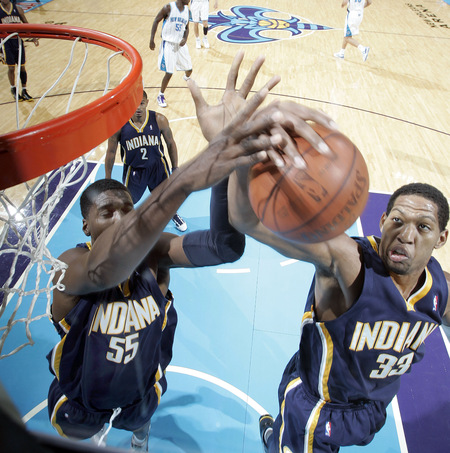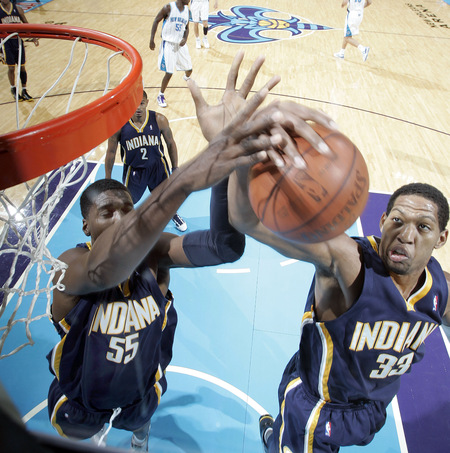 The Pacers stand at a 21-43 record during the 2009-10 season right now. Last two seasons, Indiana was 36-46. Their last playoff appearence was in the 2005-06 season and they are quite known for a brawl just about a year before that. So as you can tell, the last few years haven't been so great for the Indiana Pacers. Heck, they were about to not be in Indy with the moving-to-Vancouver rumors were heating up big.
This season, the late round rookie is the only that has been impressive. A lot of fans expected something special out Tyler Hansbrough, but nothing really has happened. What is he doing now, you may ask. Well, he hasn't played since January and is out for the season currently with an ear infection. And now, it may get worse.
So yes, rat on the team. I know there has been a lot of bad thigns going on around this franchise. But recently, there has been some good. The heart of the Pacers franchise for last 20 years, Reggie Miller, is back in the fame with his film of Winning Time. I am definitely watching that this Sunday at 9:30. This might be my favorite out of the 30 for 30 films, even if I wasn't a Pacers fan or if I was a Knicks fan (seriously not kidding).
Along with that, Danny Granger showed some balls against the Suns. He may be the new fill-in for Reggie Miller for the new Pacers. Granger is showing what it really means to be a leader on this team, even if he was suspended during last night's game against the 76ers. But that didn't stop this team from winning, stopping Philly 107-96. No more copping out when an important player is out. The Pacers got serious.
Now that is what I want to see. When Granger was out for a month, Indiana panicked. That's all I can say. They just panicked. That month ruined their season. Heck, we all know Indiana will easily be at 30-40 wins right now if Granger weren't out. That's what brings me to the title of this article: A bright future is coming. I know it. I see it coming.
If Granger doesn't get injured and if Indy can get a good player coming this free agency, they're in good shape for 2010-11. This offseason was just stupid. I hated that offseason. Larry Bird said he is making changes. Let's see it. I expect him to do something big in the offseason. The Pacers will be contenders if they don't get injuries and make stupid mistakes.
The bright future is definitely ahead for Indiana. If it doesn't happen next year, which I won't be surprised, it's coming in a few. It will come. This year isn't their time but they can do something. Come on Indy. Do the most for this year. Play hard and do what you do. Even if you're way out of playoff contention, make the most of everything. If you play hard each second, it pays off in the long run.
With a bright future.
It's coming Pacers fans.
This is a basketball state. We can't suck that much!