An Angel loss to the Indians in which the Rally Monkey clearly took a sick day.
Los Angeles Angels of AWESOMENESS

Brandon Wood collected three more hits (including his first home run!!!) tonight and now for the first time all year, he doesn't have the worst average amongst Angel regulars.  Great for him, not so great for Mike Napoli.  Wood is now dangerously close to nosing his average over the Mendoza line which, all jokes aside, would be a big moral victory for him as he continues his battle to get his season on track.
At least Rodney and Jepsen got to rest.  I guess that should be considered a positive.
Los Angeles Angels of FAIL
If Austin Kearns keeps hitting like this, he may never leave Anaheim.  He came into this series with no homers and just four RBIs to his name and now after just two games against the Angels he now has two home runs and ten RBIs on the year.
I apologize to Mitch Talbot, I joked about him being a no-name in the game preview and then he goes and shuts down the Halo bats.  Bad job by me.  I tempted the Baseball Gods and they smote me (and the Angels) with great vengeance.
Scot Shields still broken.  He came in to stop the bleeding that Palmer started late in the game but ended up allowing a walk, a hit, a wild pitch and an inherited runner to score in 0.2 innings of work.  It just looks more and more like he is going to need a stint on the DL and a rehab trip to the minors for him to work out all of his current issues without hurting the Angels.
I think the Rally Monkey took a sick day today.  Twice the Halos had the bases loaded in the later innings with a chance to put the team back in the game, but both times the Angels came up with zero runs.  Let's hope he just has a 24-hour flu or something.
Angel A-Hole of the Game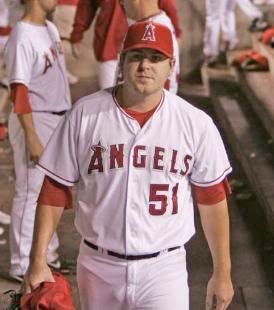 I'm getting far too much use out of this picture already this year.

Saunders was pretty bad tonight and he actually was probably even worse than the box score suggests.  Saundo was bailed out multiple times by timely double plays.  He should really consider it a minor miracle that he was able to stay in the game for five innings.  He has been pretty lousy in all but one start this season and it is now officially time for us to start wondering what is wrong with him.  Perhaps he is hiding yet another secret shoulder problem?