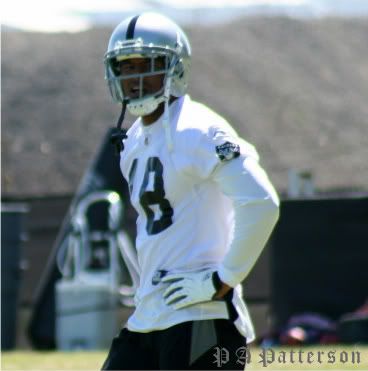 The Oakland Raiders found themselves a gem when they selected Louis Murphy out of Florida in the fourth round of the 2009 NFL draft. Murphy emerged as the top wide receiver on the team in his rookie year and with his work ethic and tenacity he will only improve.
Murphy had 34 catches for 521 yards and 4 touchdowns as a rookie. He also unoffically lead the league in questionable calls on overturned catches.
He had a share of drops early in his rookie season, but as the season progressed he had a steady improvement. He exploded during the Raiders fourth quarter come from behind victory over the Pittsburgh Steelers with 4 catches for 128 yards and two touchdowns. He was Gradkowski's go-to receiver in that wild quarter.
TFDSsports.com
---
Related Articles
When Murphy was drafted the first thing he did was ask Coach Tom Cable for the phone numbers of the strength and conditioning coach and the special teams coordinator. He proclaimed himself a hard worker in his initial conference call with beat writers, and everything that he has shown has backed up those words with actions.
Murphy is also an intense competitior. He got into an illadvised camp fight with defensive back Mike Mitchell over lingering interstate rivalries from their college years. Beyond that, he was frequently the one who was seen firing up his teammates on the sidelines and getting itno it with opponents.
He wears his passion for the game on his sleeve. In the lockerroom, he was visably distrought after every loss.
Murphy has all the ingredients to become a great receiver and a team leader. Give him some time to mature into the league, and get some seasoning as veteran, and he should fulfill that potential.
SEE ALSO: Generation gap: Oakland and LA Raider fans