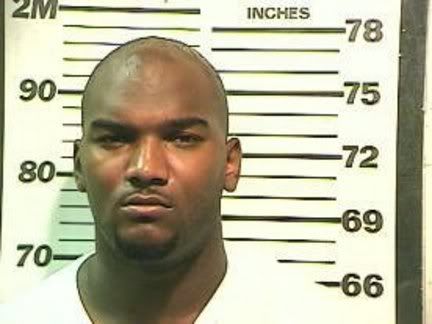 Allow me to apologize in advance to all of those who say this isn't "Raider news." But this is too big not to cover.
News just keeps getting worse for recently released, former Oakland Raider quarterback, JaMarcus Russell. He has now been arrested on charges of possession of a controlled substance according to the Mobile County Sheriff's office. The substance in question is said to be codeine syrup. The Mobile Press Register was the first to break the story.
He was arrested at his home on Monday during an undercover investigation. He posted bail at $2,500 and was released. He is scheduled to appear in court on July 20 to face charges.
While many may think this syrup is harmless, be sure and see the ESPN "Outside the Lines" piece on it that aired just a week ago. The syrup is more commonly known as "Sizzurp" or "Purple drank" and is made using codeine and Jolly Ranchers. No word yet if the codeine syrup Russell had ever held the nickname "Lethargy." Russell's problem with the addictive syrup had been rumored for a while and is likely what prompted the undercover investigation that led to his eventual arrest.
This comes during reports that the Jets were showing interest in acquiring his services to back up starter Mark Sanchez. And this arrest all but destroys any chances Russell may have had of being signed by the Jets or any other team this offseason. The Jets were the first and only team that had shown any significant interest in signing him since the Raiders cut ties with him last May after three disappointing seasons in Oakland. Turns out the release didn't come a moment too soon either.
Regardless of the sentence the law hands down, Russell will be facing a minimum 4 game suspension from the league. A suspension he would not serve until he was signed by a team. He held a slim chance of getting signed by anyone before this incident and he holds almost no chance now.
This incident also comes on the heals of well known quarterbacks coach Tom Martinez publicly blaming the Raiders for "ruining" JaMarcus Russell. Martinez pointed to weak offensive linemen, "receivers who don't know how to get open, who don't know how to separate," and misuse of running backs in the passing game.
Martinez, of course, has a vested interest in Russell being without fault in this considering Tom tutored Russell prior to his being drafted #1 overall by the Raiders in the  2007 draft. My question now would be "How is that foot tasting Tom?"
Ultimately, this arrest could be just the kind of evidence Al Davis needs to further his case against Russell in an attempt to recover $9.5 million from the bloated JaMarcus…contract.