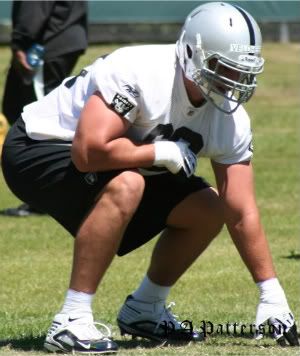 The Oakland Raiders announced today that they have signed their two offensive line draft picks Jared Veldheer and Bruce Campbell.
Veldheer was the Raiders third round pick out of Hillsdale College. His stock rose during the post season All Star games and the scouting combine. His role for 2010 is expected to be as a reserve tackle, which will give him further time to work on making the jump from college to the pros.
Bruce Campbell was a bigger story during the draft. He electrified everyone with an amazing performance at the scouting combine that had many experts looking at him as a potential first round selection. In fact, with his amazing performance at the combine, many thought the Raiders would grab him with their first round pick. Instead, they waited and grabbed him with their fourth round pick, and he was the second offensive lineman the team selected after Veldheer.
The later picks are usually signed without much fanfare or drama, and this is the time when some of the later first round picks start signing to set the dominos in motion for the first round picks to get inked by their teams.
However, this is an unusual year with the potential work stoppage looming large over next year. There have been whispers of collusion by the players in the absence of a mad rush of free agent signings, and this may make the first round signings more contentious than normal. Either way, expect Rolando McClain in camp on time, as the Raiders have a long history of getting deals done with their selections on time, often to the chagrin of others. They have only had one significant rookie holdout (JaMarcus Russell), and we saw how that went.
For more info: Check out RaiderNews.com for the latest on the Oakland Raiders.
Patrick Patterson's other writing: