Happy Tuesday Cougar fans.
Wow, what an ugly weekend.
No, I am not talking about the Cougar game (although we know that wasn't pretty).
If any of you are tracking the bets I am looking at each week, you will know last week was my worst of four weeks.
Where do I even begin?  TCU crossed the freeway on Friday to play an overrated SMU team and were favored by 18.  For two quarters, they played as good as Wazzu did the weekend before, and after scoring a late 4th Quarter touchdown to go up 17, were primed to hit 18 with a PAT, but it was missed or blocked.  I'm not even sure what happened, as I was at the movies with DaniBuff watching Shia Labouef do his best impression of Charlie Sheen.  On Saturday AirZona and Oregon were major let downs for me as well.  If it weren't for me piling on Stanford (made my largest single game bet ever) and winning, it would have been bad.  Especially given how the NFL was unkind to me as well.
Alright, enough whining, let's move on and take a look at some of Week Five's action!
Bet One
Ohio Stated -18 at Illinois: I was scared to take the Buckeyes last week -42 against one of the Directionally-Challenged Michigan schools.  tOSU is 10-1 against the spread, their last 11 road games.  Take them to go 11-1 in their last 12.
Florida State -7 vs Virginia: The Seminoles are 13-2 all time in this series, and have covered 70% of the past ten meetings.  It's gonna be a field day for Christian Ponder and company.
Navy +10 at Air Force: The Falcons barely escaped Laramie last weekend and didn't cover the easy 13.5 point spread.  They return to Colorado Springs to host a potent Navy offense.  God Bless our service men and women!!!
Bet Two
Michigan -11 at Indiana: Even if Heisman front-runner Denard Robinson doesn't play, I have a hard time believing the Wolverines don't escape Bloomington (where they are 15-1 all time) with a big win.   Take the Wolverines here.
UTEP at New Mexico: Remember when last week I quoted The Hangover, when I said, "Never walk away from a table when you're on a heater?"  Well betting against New Mexico is also a heater, even though history tells me the home team has won and covered four straight in this series.  Take the Mike Price's.
Boise State -41 at New Mexico State: Always take the Donks in WAC play, always!  This is a team that needs major style points each and every week to prove there worth to the BCS.  Last year I had them covering all the time, and they would usually tack on lots of late points even when the game was out of reach.
Other interesting lines:
Wazzu +27 at UCLA: The Cougs have covered 7 of the last 9 meetings with the Bruins.  Less than two weeks ago, I thought this was a game our Cougs had a shot at, then the Bruins got hot.  Even though I believe Texas was a bit overrated (#4 or #5 last week depending on which poll you were looking at), Tricky Ricky has them playing inspired football.  That is a huge spread for a team averaging less than 22 PPG, in fact too huge in this case.  Take the Cougs getting the 27.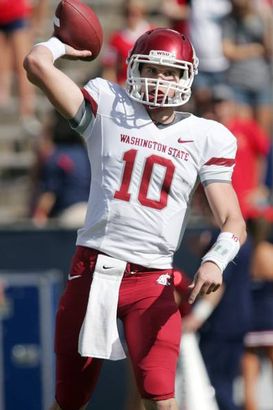 TCU -33.5 at Colorado State: Remember what I said about Boise a paragraph or two ago?  The same philosophy applies to TCU in Mountain West games.  Horned Frogs cover the 33.5.
Georgia -4.5 at Colorado: Georgia has lost against Arkansas and at Mississippi State the past two weekends, while the Buffs have won two (Colorado State and Hawai'i) of their first three.  I just don't think Colorado is very good (sorry sweetheart).  Bulldogs getting 4.5.
Washington +10.5 at USC: Apparently Las Vegas missed this, and the fact the Dawgs haven't won on the road since the Bush Administration was still in office.  Oh, and did anybody else see Nebraska returned home to hold off South Dakota State by 14 points last weekend?  Talk about salt in the wounds.
On the year I am up about $20, hopefully we can get it back on track this week!  Have a good week Cougar fans, see you on again for Football Friday on Thursday.