There are still plenty of tickets available through Darkside Tickets for this weekend's home game vs the Houston Texans. There are even tickets for as low as $15. And there are field level tickets for as low as $43.
Fans shouldn't stay away from the Raider games just because they lost last weekend. They also should not be afraid to watch the Raiders vs the Texans. The Texans are considered to good team but keep in mind that their secondary is among the worst in the league. They have given up a lot of points to all three of their opponents this season and last Sunday it caught up to them.
They took the field at 2-0 against the winless Cowboys and were beaten. Their strongest attribute is their passing game. But the Raiders have the best corner in the league. Andre Johnson may not play but even if he does, Nnamdi Asomugha could very likely do the same thing to him as he did to Larry Fitgerald– shut him down.
Here is a breakdown of the average pricing of each section of the coliseum: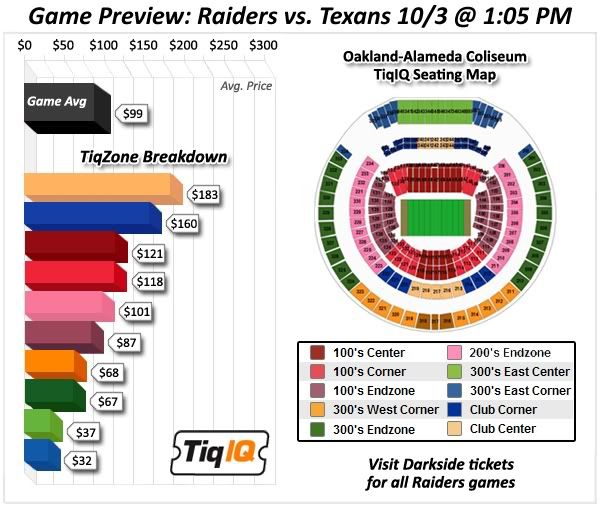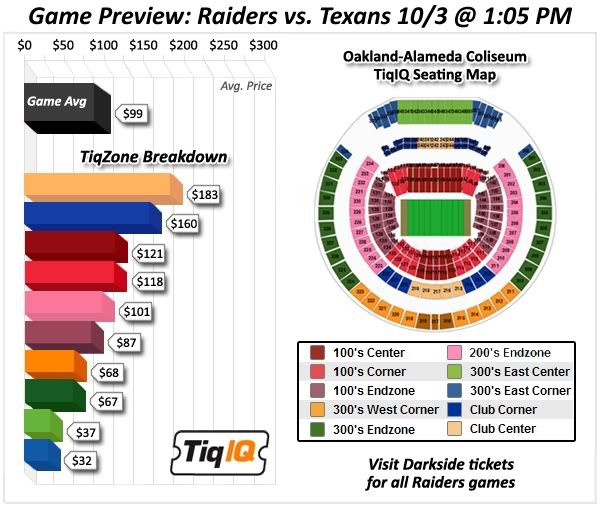 The game is pretty much a lock to be blacked out locally so the only chance anyone in the bay area will have to see it live, is to literally see it live. And with ticket prices lower than they have been since the preseason, now is the time to get yours and get out to the game.
To visit Darkside Tickets and see what kind of tickets are available for the Houston game, CLICK HERE.
Remember, we also have you covered for all road games such as the week 6 matchup across the bay against the 49ers and the week 7 matchup against the Broncos in Denver.
You can also click on the Raider Tickets tab on the header to visit Darkside Tickets.