For the second time this season, UConn Huskies senior All-American Maya Moore and freshman point guard Bria Hartley have taken home the Big East Women's Player of the Week and Big East Freshman of the Week honors respectively.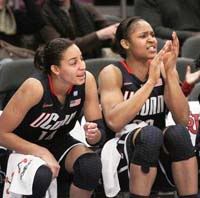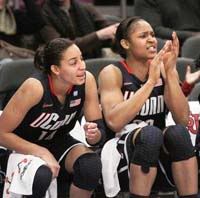 It's the fifth time this season that Moore has been honored as the Player of the Week and fourth time that Hartley has been honored as the Freshman of the Week.
In a 2-0 week for the Huskies, Moore averaged 23.5 points, 6.0 rebounds, 5.5 assists and 3.5 steals per game.
In UConn's 84-52 win over St. John's, Moore had 21 points, six rebounds, eight assists and three steals. In the 78-55 win over Louisville on Saturday, Moore had 26 points, six rebounds, three assists and four steals. She leads the nation in scoring and is 35th on the all-time NCAA Women's scoring list. She has scored at least 20 points 12 times this season for the Huskies.
In those two wins, Hartley averaged 16 points and 6.5 rebounds while shooting 57.1% from the floor. She had eight points and five rebounds in the win over St. John's playing only 19 minutes. In the win over Louisville, she had 24 points and eight rebounds which were both career-highs. She has scored in double-digits in all but three games this season.
The UConn women will be back in action tonight at 7 p.m. when they'll take on the North Carolina Tar Heels in Chapel Hill, NC. The game will be nationally-televised on ESPN2 and will also be available on ESPN3.com.
Photo credit: AP Photo (No. 7)