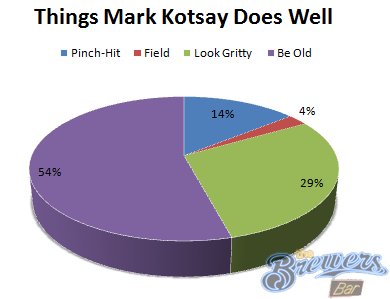 The Brewers' signing of Mark Kotsay is all but official, and according to Jon Heyman, he'll be earning $800k in base salary this season. He has the opportunity to earn up to $450k more in roster and performance bonuses.
Of course, the question now is who is going to be designated for assignment to make room for Kotsay on the roster. Really, there are only two positions that could stand to see someone booted from the 40-man in order to make room for Kotsay — catcher and the bullpen. There are currently four catchers on the roster, and while I would guess that number gets trimmed at some point this spring, I don't know if they would risk losing one of the four through waivers when they need so many catchers at the start of camp.
The bullpen seems much more likely to be hit. Pat Egan was a Rule 5 draft pick, requiring to stay on the active roster all season, but if the Brewers really wanted to keep him they could work out a trade with Baltimore in order to do so. Mitch Stetter is strictly a LOOGY, and with the emergence of Zach Braddock and Manny Parra likely headed to the bullpen, he could become expendable. Roque Mercedes and Justin James, both claimed on waivers, could also be names worth bringing up.