A lefty in the Angel bullpen? What a novel idea! The Halos made a big investment in veteran Scott Downs this off-season, but will his addition be enough to turnaround an Angel bullpen that struggled mightily in 2010? Could Downs possibly even take over as the closer? Or is this just the next in a long line of regrettable free agent reliever investments by Tony Reagins?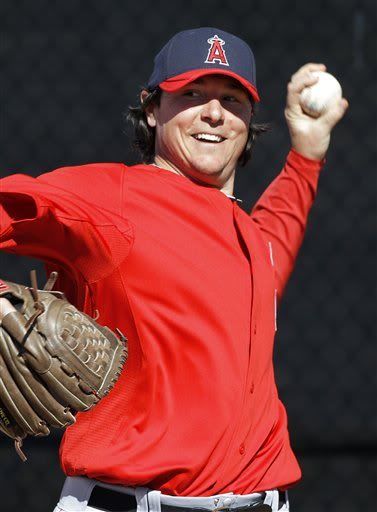 2010 Stats: 61.1 IP, 5-5, 0 SV, 2.64 ERA, 0.99 WHIP, 48 K
2011 ZiPS Projections: 55.1 IP, 4-2, n/a SV, 3.42 ERA, 1.23 WHIP, 46 K
2011 Bill James Projections: 58 IP, 4-3, 0 SV, 3.26 ERA, 1.24 WHIP, 47 K
2011 Marcel Projections: 60 IP, 3-4, 3 SV, 3.38 ERA, 1.22 WHIP, 47 K
2011 MWaH Projections*: 68 IP, 4-4, 10 SV, 3.15 ERA, 1.18 WHIP, 52 K
*The MWaH projections are simply my best guess based off my own personal opinion and research
2010 in Review: Since Scott spent 2010, and most of the rest of his career, playing for the Toronto Blue Jays, there is only so much we know about him since we didn't have the chance to watch him pitch everyday. However, you can see from his stat line that Downs was a fine pitcher, even though he never got much of a chance to close for a Toronto team that was unsettled in that role for a large period of time. Instead, the Jays took advantage of Downs' versatility and deployed him in middle relief, mostly as a setup man where he racked up 26 holds (if you are into that sort of thing).
Three Lingering Questions for 2011:
How will Scioscia actually use Downs? It will be very interesting to see what Scioscia decides to do with Downs since Sosh has never been one to strictly play the lefty/righty matchups. With that said, Downs has been death on lefties throughout his career, but his numbers against righties aren't bad either. From a sheer statistical standpoint, Downs enters camp as the most effective reliever in the bullpen, but that doesn't necessarily mean he will get to close. Downs doesn't have the usual power stuff you like to see from a closer, and it could be that Scioscia would prefer not to pigeonhole Downs into a ninth inning-only role.
Is Downs' age going to be a problem? Scott will be 35 by the time the season start and the Angels still saw fit to give him a three-year contract. Relievers have a long history of going south very quickly, so we can't rule out Father Time intervening and making the Angels look bad here. However, Downs is coming off one of his best seasons and doesn't have a power arm, so the odds are well in favor of him being useful for at least one more year.
How big a role will Downs play in rejuvenating the Angel bullpen? The Halo relief corps was quietly a big problem for the Angels last season, which is why Tony Reagins felt compelled to make such a big investment in Downs. The Angels have some young arms coming up to help, but what the Halos really need from Downs is consistency since so many of the incumbent bullpen members have been wildly inconsistent. But can one man really take the bullpen from below average all the way back up to the stellar level that most Scioscia-era pens have performed at?
What to Expect in 2011: It is understandable that Mike Scioscia and Angel fans might be wary of seeing Downs get time as closer this season. After all, they had a soft-tossing, 35 year old southpaw at closer last season and it didn't exactly leave us all with happy memories. I assure you though that Scott Downs is no Brian Fuentes. Yes, Downs is a lefty and doesn't throw much over 90 MPH, but that is where the similarities end. Downs, with a BB/9 of 2.05 last season, has much better control than Fuentes and is a big-time groundball pitcher, as opposed to Tito's extreme flyball tendencies. Really, Downs is better than Fuentes on almost every level, but his lack of experience closing games (which I think is WILDLY overrated as a factor) is probably going to mean he won't be the man replacing Fuentes as closer.
But don't fret, all hope is not lost, in fact, this might actually work out well for the Angels. Downs may not wind up being the primary closer, I think that he will very quickly earn the trust of Mike Scioscia and become his go-to guy in most crucial situations. Think of Downs as the second-coming of Darren Oliver, another lefty who could hold his own against righties that Scioscia deployed readily whenever the going gets tough. Downs will probably still see most of his work as a setup man, but I think Scioscia, who will probably want one specific closer to start the season, will eventually give in and hand Downs some save opportunities when the handedness of the situation (and the inevitable crappiness of Fernando Rodney) calls for it.
As for why I think Downs will outperform all the other projections, bear in mind that Downs' numbers in the four seasons that he has served as a full-time reliever have been much better than his career line. I know some people fear he is going to be the next Justin Speier, especially considering his age, but Downs hasn't really shown any signs of decline and isn't one of the relievers that has been worked like a packmule season after season (see Scot Shields). Really, the only way I see Downs not being a real asset for the Angels is if Mike Scioscia foolishly and stubbornly adheres to using his relievers based on the inning. If that is the case, Downs is bound to be trapped in the eighth inning, too often being used against righties. Downs is solid against right-handed bats, but he isn't great and if he is overexposed to dangerous righty hitters, they will eventually get to him. However, I am quite certain that Scioscia is smarter than that and we have some good proof of that in his usage of the aforementioned Darren Oliver.