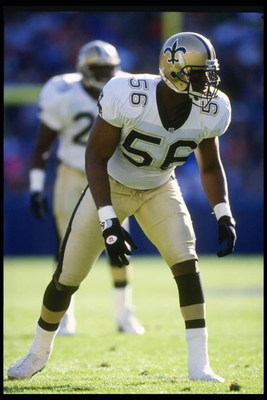 Never in team history has their been a more explosive pass rusher off the edge than Pat Swilling. Swilling is my #9 all time best Saints player. Originally from Georgia and drafted by the Saints out of Georgia Tech, Swilling spent 7 seasons with the Saints before finishing out his career with the Lions and Raiders. He was a member of the vaunted "Dome Patrol" defense that was dominant during the Jim Mora coaching era. Swilling was a 5 time pro bowler (4 times with the Saints) and he won the NFL Defensive Player of the Year award in 1991. As I type this I'm starting to wonder if he should have been higher on my list!
Here are some of his numbers:
Swilling is 3rd all time in career sacks for the Saints with 76.5. His best season was in 1991 when he led the NFL with 17 sacks, 6 forced fumbles, and he also intercepted a pass that he returned 39 yards for a touchdown. That was the only time he would score a touchdown in his career. 17 sacks, by the way, is the most by a Saint in one season (tied with La'Roi Glover who also posted 17 in 2000). That year earned him NFL Defensive Player of the Year, the only Saint to ever receive that award.
He also posted 16.5 sacks in 1989, and he had double digit sacks for the season in 5 out of 7 years with the Saints. Many people forget how dominant of a pass rusher he was off the edge, but he was the most explosive defender the Saints ever had. No one could get after the quarterback like Pat Swilling. A modern day player I can compare him to is DeMarcus Ware. Ware is an outside linebacker for the Cowboys who has that size and quickness in a very similar way to Swilling that makes him almost unblockable off the edge. Ware led the NFL with 15.5 sacks this season.
Thanks for the memories #56 and welcome to the list of the top 10 Saints of all time!
The "List":
10. Eric Martin
9. Pat Swilling
to be continued…