Here is some breaking news for you: Drew Rosenhaus, notorious smarmy ass-curtain super agent of NFL players looking for shit tons of money, has shared during the NFL combine that one of his players, Sidney Rice of the Minnesota Vikings, will test free agency first before re-signing. Uh … the source material is this Tweet from Adam Shefter that says the exact same thing I just wrote, but for prosperity sake, here it is:

In short, I would like to just say how large of a dick Drew Rosenhaus is.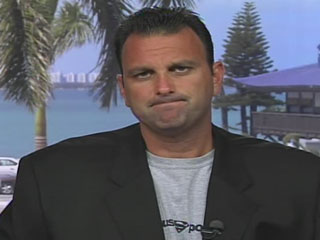 There's a couple of things here. First, hey, if I was Rice or a football player in general (I would be a kicker … BOOM!), I would try my damnedest to get as much money as I possibly could, especially if I was halfway decent. I think that's part of the problem with young players, is that they don't understand that the NFL is a business, and that those fat cats in New York will try to rape your rectum for entertainment. So why not take shit tons of money while you're still alive? I certainly don't hold that against Rice.
What I DO hold against Rice is working with a shit head agent like Rosenhaus. Rice seems like a good person. Smart, loyal, emotional, not smelling of gonorrhea. These are the exact opposite qualities from Drew Rosenhaus, and only shit head players sign with him to fuck with teams, fans, and the NFL, and yes I'm really just talking about Bryant McKinnie. I am sure there are plenty of other agents out there that don't make me want to shove an onion in their urethra. Why not one of those agents? Why does Rice have to work with this agent that not only is a dick head to teams and fans in the media, but also looks like he jacks off into his hair every morning?

My general feeling is that Rice will still sign with the Vikings again. I think, particularly with the CBA in bargaining stage right now, that it's going to be tough for any player to move this off-season and get a boat ton of cash. Sure, there are other teams that may look more attractive out there for a receiver, teams that have an established quarterback or teams who haven't been rumored to be interested in Ryan Mallett or Jake Locker (HINT: THEY BOTH FUCKING SUCK), but there is also something to be said for continuity for players, particularly among coaching staff. And I doubt that a team is going to shell out more for Rice than the Vikings particularly after his hip surgery, one that has kept another Minnesota athlete in Jonny Flynn looking like a back of spiked scrotums on the basketball court. You want to give Jonny Flynn a guaranteed $45 million right now? I didn't think so.
So let it go, Rice. Drop the smegma agent, get back to the Vikings, and let's do work.