If anyone says Omar Minaya is a good general manager they are either lying or grossly misinformed. Minaya was fired by the New York Mets after yet another disappointing season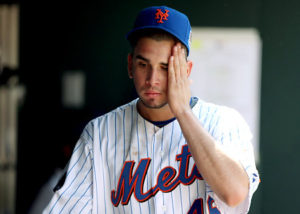 in 2010 and it was about two years coming. The two deals that everyone points to as examples of Minaya's futility are contracts he gave to Luis Castillo (4-years, $25 million) and Oliver Perez (3-years, $36 million). Neither player has been worth near what the Mets pay them but Oliver Perez has been a special case.Perez led the majors in walks the year before he was offered the monster deal but the purpose of this post isn't to bash Minaya's stupidity, its to bash Perez's futility and lack of sense of responsibility. Last season, after working with Sandy Koufax in spring training, Perez was 0-5 with a 6.80 ERA. His WHIP was an abysmal 2.072, meaning he gave up more  than two hits or walks per inning, on average. He also averaged less than a strikeout for every walk he surrendered last year. For comparison, Cliff Lee led the majors by averaging 10.28 strikeouts for every walk. But players often underperform and fail to live up to their contracts, especially ones as unwarranted as the one the Mets gave Perez. That's not my problem, his attitude is. About midway through last season, then manager Jerry Manuel approached Perez about going to the minor leagues to try and improve his terrible performance. Perez refused. He didn't feel enough of an obligation to his teammates, his fans (if he still has any), the organization that set him up for life, or himself to spend a few weeks in the minor leagues to try to get better. As a result, Perez ate a roster spot for the Mets for basically the entire season. He played in 17 of his teams 162 games and exactly 6 after June 1st. In the last game of the season, hopefully his last as a Met, Perez walked 3 in a row and was booed off the field.
If I were a member of the Mets front office, this would be entirely unacceptable. I would cut Oliver Perez and pay him the rest of his salary without even having him on the team. Really, its already a sunk cost. He is toxic to have around and must go.
Perez's start to the spring has been just as bad as last season. Here Adam Rubin reflects on Ollie's first Grapefruit League outing and implies that Perez's departure from the Mets organization is more a question of when rather than if.
-Max Frankel