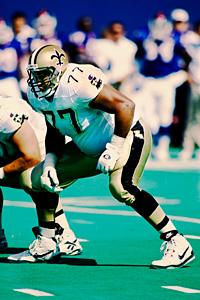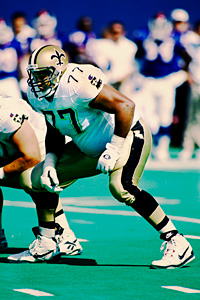 So there you have it, my all time best Saint in team history is left tackle Willie Roaf (though his mom always preferred he go by William). He's without question the best offensive lineman in Saints' history, and he's arguably the best left tackle in NFL history. I'm sure Drew Brees will pass him in short order, but my historical knowledge contends he has yet to do so. Roaf was able to maintain his superiority and skill as a player throughout his entire 13 year career, 9 of which were spent with the Saints and 4 of which were spent with the Kansas City Chiefs. Roaf, who came to the Saints by way of Louisiana Tech as a 1st round draft choice, was a member of the 2000 Saints' squad that gave the franchise it's very first playoff victory. Unfortunately for Roaf, that's the only real success he'd enjoy as a member of the team, mostly because of the lack of talent around him. The Saints would trade him to Kansas City based on his insistance to leave due to some unfortunate set of circumstances that are still unclear to this day. A lot of rumors were circulating during that time which I'll refrain from mentioning here out of respect for Roaf and his family, but suffice to say Roaf had an irreversibly broken relationship with at least one teammate, Jim Haslett, and the Saints' front office. Despite the ugly turn of events that surrounded Roaf's departure, how can we have anything but positive things to remember from this superstar? He was a dominant force and we were lucky to have him.
Some impressive stats:
In his 13 seasons, Roaf went to the Pro Bowl a whooping 11 times. He made the Pro Bowl 7 times as a Saint, which is more than any other Saint in team history. The only years Roaf didn't make the Pro Bowl were his first and last seasons as a Saint. Roaf was a first ballot finalist for the NFL Hall of Fame. While he's yet to enter, he should be doing so any year now – and he'll be the second New Orleans Saint to enter along with Rickey Jackson. It's only a matter of time.
Roaf has already been inducted in the Louisiana Sports Hall of Fame (2009) as well as the New Orleans Saints' Hall of Fame (2008). Roaf had the incredible distinction of being named to the NFL all decade team for the 1990's and 2000's. Can you imagine sustaining a superior level of play for long enough to be named the best player at your position in the league for two separate decades?!?! That's how good he was, just dominant. No one ever got pressure off his side, and huge running lanes were always open from his side. He was the perfect blend of foot quickness and power. He excelled at pass blocking and run blocking all the same. Roaf played in 189 games in his career and started every single one.
Thanks for the memories #77!
The "List"
10. Eric Martin
9. Pat Swilling
8. Archie Manning
7. Sam Mills
6. Joe Horn
5. Morten Andersen
4. Deuce McAllister
3. Drew Brees
2. Rickey Jackson
1. Willie Roaf