Red Sox Charity Wines Longball Cellars are BACK AGAIN! I can't tell you how much I love this! I can remember the first time I saw a bottle of Sox wine in the store…it was Youk..and how excited I got. I bought 2 bottles and still have one sitting on my shelf. Charity Wines debuted in 2007 with Manny Ramirez, Curt Schilling and Tim Wakefield. They followed in 2008 with wines from Jason Varitek, David Ortiz and Kevin Youkilis. Charity Wines took a break in 2009, but in 2010 they came back with wines from Josh Beckett and Jacoby Ellsbury.
100% of all the profits from the wines go not to the players, but to their designated charities. The players do not profit even a penny. It was really wonderful to see Jacoby Ellsbury talk so impassionately about his charities at last year's wine launch. It showed that this is much more important to the players than just another item out there with their face on it. To date, Red Sox player wines have raised more than $670,000 for their various charities.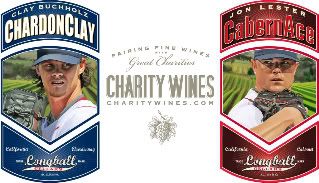 JON LESTER and CLAY BUCHHOLZ are the newest Red Sox Players to be added to the Charity Wines Club!
Jon Lester's wine is named "CabernAce" and proceeds will benefit the Fred Hutchinson Cancer Research Center. Jon Lester's experiences of being diagnosed with lymphoma and not only recovering, but being able to excel as one of the most talented left handed pitchers on the mound is well documented. He's truly an inspiration and I am sure his story gives hope to those currently in the battle with cancer. The donations to the Hutchinson Center hope to ensure that more people can have the same success story of recovering that Jon Lester has had.
Clay Buchholz's wine is named "ChardonClay" and will benefit The Jimmy Fund. Clay is the Co-Captain of The Jimmy Fund, which is the official charity of the Boston Red Sox. The Jimmy Fund helps Boston's own Dana-Farber Cancer Institute in the fight against cancer. The Jimmy Fund raises the chances of survival for countless children and adults with cancer, locally and around the world. I've been a long time fan of the Jimmy Fund Telethon and rarely had a weekend go by without making a donation and shedding a tear or two.
The wines are going to become available in May. They will be sold anywhere and everywhere that quality wine is sold in Red Sox Nation. They are going to sell for about $14 per bottle. If you don't happen to live in New England, you can purchase the wines from the Charity wines website. Remember, it's not just for a cool bottle of wine, but it's also a great way to help to amazing charities!
My advice, get two bottles: one to drink and one to keep on the shelf. I bought both the Ellsbury and Beckett wines last year and they were both quite tasty. I have to say, I liked the Beckett win a tad better. Once I have tried both of these wines, I promise I will post back and let you know how they are.