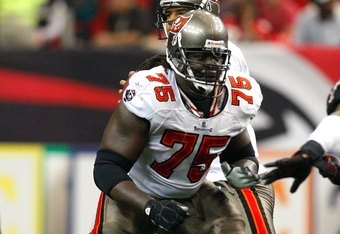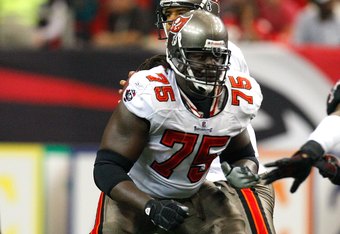 With the 7-day CBA extension in place, there is suddenly hope that we will have free agency in March this year after all. There isn't a consensus about whether the prospects of a new deal being reached is favorable or not, but at least now we have hope. And if a deal is indeed agreed upon by Friday's deadline, the flood gates will open and hundreds of pending NFL free agents will hit the open market.
We looked at the free agent running backs a few weeks back and now it's time to turn our attention to the Dolphins' interior offensive line. With news of Richie Incognito resigning with the Dolphins last week, I'm assuming that center is no longer a pressing need on this roster. Of course, the Dolphins could keep Incognito put at left guard where he started most of the 2010 season, but most would agree that his ceiling is significantly higher at center. Incognito just doesn't have the athleticism to pull effectively, but does possess the elite strength to be a real force as the Dolphins starting center in 2011. With Richie's move inside, though, the Dolphins have two gaping holes at right and left guard.
In house possibilities, Nate Garner and John Jerry, could potentially fill one of those voids, but both are far from sure things. The Dolphins could obviously hold off addressing guard until the draft, but with so much upgrading that needs to take place on the offensive side of the ball and with currently no 2nd round pick, Jeff Ireland would be wise to at least contemplate some of these veteran candidates.
1. Davin Joseph, Tampa Bay Buccaneers, 27: With Carl Nicks and Logan Mankins no longer being possibilities outside of sacrificing a draft pick, Joseph may now be the Dolphins' first priority this free agency period. Joseph was in the midst of a stellar 2010 season before he went down with a broken foot. He's exactly what the Dolphins are missing from a run blocking standpoint and is also solid as a pass blocker. Joseph may be on the verge of emerging as one of the league's elite guards and would drastically upgrade the Dolphins' running game. Now it's just a question of whether or not Jeff Ireland will be willing to dish out a lucrative contract and whether or not Joseph will be willing to move a few hours south.
2. Harvey Dahl, Atlanta Falcons, 29: The Dolphins were enticed by Richie Incognito's nasty streak last offseason, and if they want to continue with that line of thinking, Harvey Dahl may be atop their wish list. Dahl has established a reputation as one of the league's nastiest O-lineman and in Atlanta, combined with Ryan Clabo to form a dominate right side.
3. Daryn Colledge, Green Bay Packers, 29: Colledge is fresh off of Super Bowl win with the Packers, which is sure to add a little extra merit to his stock. Colledge was very productive in pass protection, but didn't contribute much in the run blocking department. Offenses can get away with a mediocre running game when you have a quarterback like Aaron Rodgers, but the Dolphins obviously don't. They need to establish themselves as a premiere running offense once again, meaning Colledge wouldn't be a great fit in Miami.
4. Justin Blalock, Atlanta Falcons, 27: The Falcons are faced with some tough decisions this offseason, with Dahl, Blalock, and right tackle Ryan Clabo all scheduled to hit free agency. Few expect them to be able to retain all three, so there is a strong possibility that either Dahl or Blalock will be available once a new CBA is agreed upon. While Blalock doesn't have any glaring weaknesses, he wouldn't be a substantial upgrade either.
5. Duece Lutui, Arizona Cardinals, 28: Most say Lutui had a bit of a down year after a very solid 2009 season. But it's easy to see why things didn't run as smoothly for Arizona from top to bottom after losing Kurt Warner to retirement. I would much rather see the Dolphins wait until the draft to address guard then settle for the uncertainly Lutui would bring to the table, though.