While he's no Will Hill, Michigan QB Devin Gardner seems to have a blast letting Twitter followers know about his each and every move off the field.
What have we learned thus far from Gardner's tweeting exploits? Click after the jump to find out.
Devin Gardner is a highly motivated individual

Devin Gardner likes catchy tunes
Devin Gardner very much enjoys his sleep

Devin Gardner is an impatient individual when food is in question

(To be fair, Mr. Spots is really good. Don't believe me? Ask Tom Brady.)
Devin Gardner is interested in current political hot topics
Devin Gardner cites his sources
Devin Gardner likes to use his time efficiently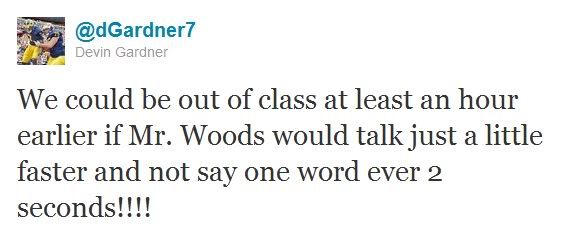 Devin Gardner cares about the well being of his friends
Unlike the pimptastic buffoonery we saw with Mr. Hill's Twitter account, Gardner seems to be a stand up guy who could stand to use a few less exclamation points in his rhetoric.