All good things must come to an end, and as such, we saw Dan Haren's scoreless inning streak snapped at 18 2/3 today via an RBI single by A.J. Pierzynski (who else would it be?).  But what didn't end was the Angels winning streak which now sits at five after the Halos compeleted a three-game road sweep of the ChiSox.
What is there to say about Dan Haren that hasn't already been said?  He didn't quite cruise through this game like he did his last, but he once again proved his dominance by shutting down the White Sox for six innings before running out of gas in the seventh.  There just is no slowing down Haren.  He's dominated at home and now he dominating on the road and it doesn't seem to matter how potent the opposing lineup is.  And, yes I am going to rain on the parade, he continues to dominate and win games without much run support.
Beyond Haren though is that the Angels now have to be feeling awfully good about themselves right in time to head on down to Texas to face the Ranger, tied for first place in the AL West.  Sure, it is early in the season, but that's going to be a big series nonetheless.
Game Notes:
Vernon Wells just can't catch a break, can he?  He missed his first home run as an Angel my mere inches, literally.  I guess we should be glad that Vernon is actually hitting the ball with authority and getting on base though, but that elusive first long ball has to be something both he and we want to see happen so badly.
For the first time, we got to see Jordan Walden try and work his way through a rough save situation and I must say, I like what I saw.  The big question for Jordan as closer would be if he could handle the pressure and it sure seems like he can.  He got in trouble with a leadoff double and walk, but he didn't lose his composure.  There was no pacing around the mound, shaking off the catcher, big deep breaths or any of the other telltale signs of a pitcher who is trying to calm himself down.  The worst thing that Walden was capable of was trying to overthrow his fastball, but he worked his way through it and extricated himself from a pretty bad situation no worse for the wear.
So, I'm guessing Torii Hunter must really love having Vernon Wells around.  After all, we've been so focused on Wells' awful start that nobody has noticed that Hunter has been struggling mightily himself of late.
If Jeff Mathis really wants to know why he is losing his starting job to Hank Conger, he should know that it isn't because of his offense, but rather his defense.  We know Mathis won't hit and I believe the franchise has made their peace with that, but they won't tolerate it if his defense falters and it appears to be doing just that.  In the first inning, Dan Haren was charged with a wild pitch on a strike three that allowed the batter to reach first.  Really though, that was all Mathis' fault as the ball in the dirt was something he should've been able to keep in front of him.  I don't know if it is a mental focus problem or something else, but Jeff isn't performing at his best level defensively and Scioscia just won't let that slide.
Halo Hero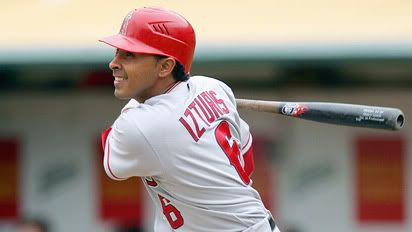 Three hits, two doubles, two runs scored.  Not a bat leadoff guy, eh?  Perhaps it is time we admit that all the off-season hand-wringing over the leadoff spot was totally unnecessary since Mighty Maicer seems to have the job pretty well taken care of.