Ah, might as well Jump (Jump!)
Might as well Jump
Go ahead and Jump (Jump!)
Go ahead and Jump
–Van Halen
Well, today is the day that we thought was coming for a little while now – Klay Thompson has, indeed, JUMPED to the NBA. No, he hasn't hired an agent….yet…..but I think we can figure how this one is going to play out?
I don't know, I guess I don't want to lament whether or not this was the right decision (personally I think it was, for many reasons). No, instead I would like to just say thanks to one hell of a basketball player who gave quite a bit to the Cougar program the last three years. No, it wasn't the greatest ride ever, and there were definitely some low moments. But when it's all said and done, Klay will likely go down as one of the best ever to don the Crimson-n-Gray. And for that, I say thanks and good luck to #1.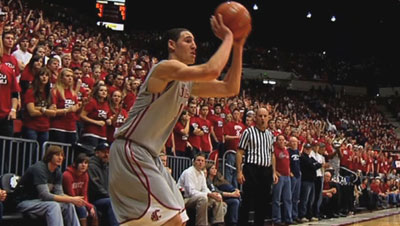 Here is a link to Klay's press conference from today, right from the official WSU site.
All for now. GO COUGS!