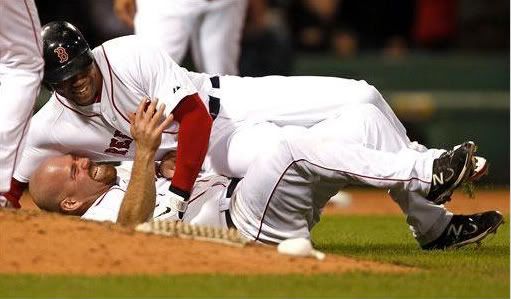 Last night the Red Sox were looking for a win that would give them a winning record on their homestand. They were sitting 5-5 and hoped that Josh Beckett and the Red Sox bats would tip them over the top. Josh didn't have his best stuff, but he was still dealing. He pitched 7 strong innings with a pitching line of 6 H, 0 R, 1 BB, 5 Ks. When Beckett left the game the Sox were clinging to a 1-0 lead with a Gonzalez RBI in the 5th inning. Alfredo Aceves took the mound in the 8th inning. Aceves gave up a single, which turned into a double when he had another balk call. (This time Tito was able to come out, have a civil conversation with Angel Hernandez and not have Joe West get all up in his grill). With 2 outs and a runner on 2nd base, the Sox brought out Jonathan Papelbon and hoped he could get a 4 out save. Unfortunately, he gave up a blooper hit to Jason Kubel to tie the game. Guy hasn't had a save situation in forever and the first chance he gets, he gets out there and blows it. Oh wells. It happens. Pap would come back out in the 9th and pitch a 1-2-3 and we were off to free baseball.
In extra innings, Hideki Okajima took the mound and pitched himself in and out of trouble in two scoreless innings of relief. It was nice to see Oki pitching with confidence, we haven't seen that in a while. In the 11th inning, Jed Lowrie got a walk and Jose Iglesias was sent in to pinch run for him. Carl Crawford came up to bat and had a chance to be another walk off hero…and he sure did. He hit a wall ball double and Iglesias and his wheels were HOME. Red Sox WIN!
It would have been great if we didn't leave about a million RISP and if Beckett could have gotten the win, but I'll be honest…I love a walk off win. I love the mass celebration….and I love that once again it was Carl Crawford who got it done. He seems to be turning a corner and getting back to being that player I feared when he came to the plate when he played for the Rays.
Red Sox 2 Twins 1 BOXSCORE