8 innings. 1 hit, 1 walk. 0 runs. 84 pitches. That was Rick Porcello's line in today's 2-0 win over the Pittsburgh Pirates. As great as Porcello was, fans are curious as to why Ricky P didn't get the chance to go out for the 9th inning for a shot at his first career complete game. According to Jim Leyland, it was a "no-brainer."
"Unless it's some guy that is totally lights out — I mean totally overpowering stuff — a top-notch closer is supposed to be better than your starter after your starter has pitched eight innings."
Uhhh, so that line isn't "totally lights out?" I've been a supporter of Jim Leyland from day one, but apparently the phrase "no-brainer" is more literal than intended.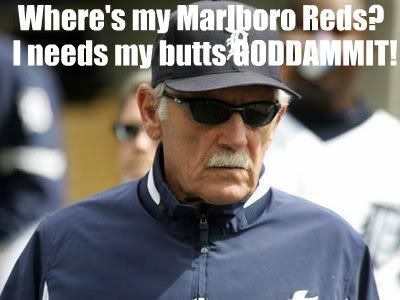 Yes, Jose Valverde got the final three outs, but it was a Todd Jones-esque adventure to get there. Leyland has made some seriously questionable moves over the past few years days, and those don't even include the whole Don Kelly saga.
Oh well, let's just hope the rest of the Tigers starters can go 8+ innings for the remainder of the year, because the rest of the bullpen isn't offering any help.