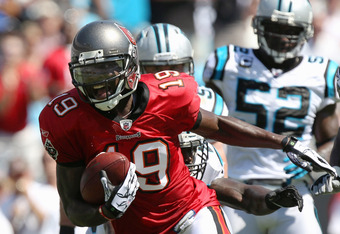 The next position of interest in my Bucs Review, are the wide receivers.
This is yet another position group that is filled with promising young players. The Bucs wide outs are a testament as to how the Bucs want to be talented all across the board and deep at every position group.
Here is what the Bucs look like at the wide out position:
1) Mike Williams
2) Arrelious Benn
3) Dezmon Briscoe
4) Michael Spurlock
5) Sammie Stroughter
6) Preston Parker
The great thing about the Bucs receivers is that, besides Michael Spurlock and Sammie Stroughter, every one of the wide outs will be heading into their second season in the NFL. With such a young stable of receivers, one would think that the Bucs would of struggled to get much production out of the receivers. Wrong. Tampa got great return out of their young wide outs, especially starting "X" receiver, Mike Williams.
Williams, 6'1" 212, burst onto the scene last year and recorded one of the best seasons for a Buccaneer receiver in recent memory. Yes, Tampa has had good seasons from former Buc receivers such as, Joey Galloway and Antonio Bryant, but none of them has had the game changing impact that Williams has had. Recording 65 receptions, for 964 yards, and 11 touchdowns in his rookie campaign, Williams is primed to be an special player in the NFL for several years. His 11 receiving touchdowns were not only a rookie record for the Bucs, but they were the most touchdowns ever caught by a Buccaneer receiver in their entire history. 
Starting aside from Williams at the "Z" receiver spot will be second year player, Arrelious Benn. I am a big fan of Benns. His playing style reminds me of a mix between Baltimore wide out, Anquan Boldin, and Steelers wide out, Hines Ward. Like Boldin, Benn has tremendous size, 6'1" 220, speed, and run after the catch ability, and is reminiscent to Ward when it comes to being a ferocious hitter and run blocker. 
Benn didnt have an impact on the 2010 season like Williams did, but it was clear that he was starting to understand the offense and had the biggest game in terms of yardage for the Bucs when they played the Redskins in week 13, where he wracked up 122 yards. When the ball is in Benn's hands, he becomes a running back. He has the ability to juke tacklers, run through them, and carry them 10 yards down the field. 
The starting "Y" receiver will be occupied by former Kansas Jayhawk and Bengal, Dezmon Briscoe. Briscoe's path to Tampa is an interesting one. Originally drafted by the Cincinnati Bengals in the 2010 draft, Briscoe was brought to a team that already had veteran playmakers like, Chad Ochocinco and Terrell Owens. On top of that, they had already taken former Texas Longhorn, Jordan Shipley in the earlier rounds. Because of the depth at wide out in Cinci, Bengals Head Coach, Marvin Lewis tried to sneak Briscoe onto their practice squad. Needless to say, it didnt work.
Mark Dominik, who pays more attention to the waiver wire and practice squad players than any other General Manager in the NFL, swooped in like a hawk and signed Briscoe off the Bengals practice squad. The contract that was given to Briscoe was a huge contract considering that he was a practice squad player. However, Dominik has shown time and time again that when he sees a player he likes, he will attack, and that's what he did with Briscoe. Lewis, on the other hand, did not appreciate the move and said that it was against an "unwritten" rule to do such a thing.
Needless to say, Briscoe is now a Buc and has already shown flashes of playmaking ability by making a beautiful touchdown catch in the corner of the end zone against the Saints in the final game of the 2010 season. He shows that he can make plays down the field and is a big target, 6'2" 207, for Freeman to throw to.
The depth behind the Williams, Benn, and Briscoe is solid as well. Special teams ace, Michael Spurlock, has proven that he can do more than return kick offs. Several times during the 2010 season, Spurlock made big time catches that helped put the team ahead, or set them up to win the game. His most notable performances were against the Browns and Bengals, where if he had not made some of the catches he did, the Bucs would not of won. Spurlock will continue to contribute mainly on special teams, but in my opinion, he is a lock to make the roster as he has proven that he can do more than just one thing.
The last two receivers, 3rd year player Sammie Stroughter, and 2nd year player, Preston Parker, are small when it comes to measurables, but big when it comes to toughness. Unfortunately for Stroughter, I do not think he will make the team. Stroughter has struggled with injuries his first two seasons in the NFL and saw his playing time take a dip last season after a good season the year before. The main reason for dip in playing time were due to injuries, but with the emergence of Williams, Benn, and Briscoe, its going to be hard for Stroughter to get playing time.
Parker, in my opinion, offers the same things and possibly more than what Stroughter brings. Parker is fast, tough, and plays with a lot of swagger. Hes bigger, 6'0" 200, than Stroughter, 5'10" 189, and could definitely be a special teams ace. Stroughter has proven to be a good special teams player and as a 7th round pick, has played well above expectations, but injuries are the concern and it will be a up hill battle for both Parker and Stroughter, to not only make the team, but to see any significant playing time.
This will be an exciting group to watch this year and going foward. The Bucs have a talented group of wide outs that have the potential to be the best group of receivers in the NFL from top to bottom. Freeman should have plenty of weapons to throw the ball too, as all of these receivers have shown the ability to make big plays on a consistent basis.