It's time to get down in the trenches as we continue our All-Time Miami Dolphins series by unveiling the top offensive tackles in team history. Offensive lineman certainly lack the star power of some of the all-time great Dolphins we have discussed so far, but make no mistake about it, this franchise wouldn't boast the proud tradition it does without the big guys up front.
Some of the best offensive lineman in league history have played for the Dolphins, but the greatest in Dolphins history and league history alike like Dwight Stephenson, Larry Little, Jim Langer, and Bob Kuechenberg made a name for themselves along the interior offensive line. The Dolphins haven't produced the same caliber of talent at offensive tackle, but possibly two future Hall of Famers and two Pro Bowlers make our list.
1. Richmond Webb (1990-2000): The Dolphins invested their 9th overall pick in the 1990 NFL Draft in an insurance policy for Dan Marino, and Richmond Webb didn't disappoint. Webb made an immediate impact for Shula's Dolphins protecting Marino's blindside, earning a trip to the Pro Bowl as a rookie. Webb went on to set franchise records with seven consecutive Pro Bowl appearances and 118 consecutive starts on his way to five First-Team All-Pro selections and being named to the 1990's All Decade Team.
Webb was enshrined into the Dolphins' Ring of Honor in 2006, but I'm sure the recognition he's really waiting on is induction into the Pro Football Hall of Fame. He's probably on the outside looking in as far as the Hall of Fame goes, but looking at his complete body of work, it's easy to see why he's worthy of serious consideration.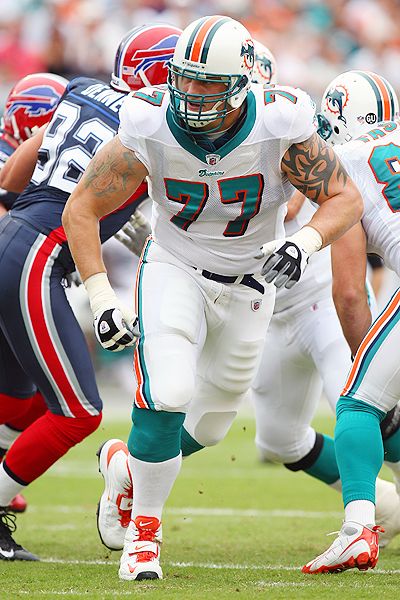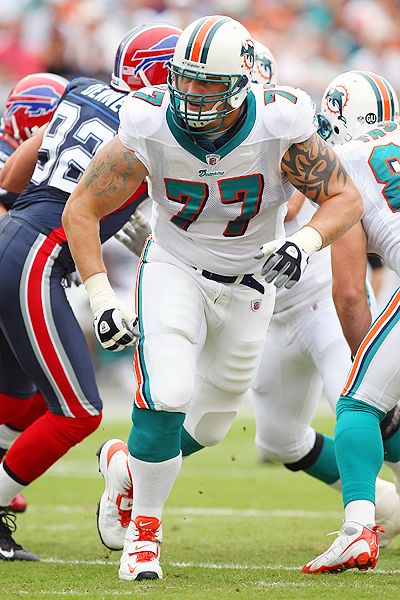 2. Jake Long (2008-?): Some fans argue that Bill Parcells and company should have drafted quarterback Matt Ryan with the 1st overall selection of the 2008 draft, but it's hard to be disappointed with Jake Long. Long has been everything the Dolphins hoped he would be, quickly establishing himself as arguably the best offensive tackle in football.
He was selected to the Pro Bowl in each of his first three seasons and cracked First-Team All-Pro honors in 2010. He's also been Mr. Durable, starting all 48 games since 2008, even playing with a separated shoulder for the second-half of 2010. If Jake has the long, healthy career we all expect him to in Miami, he could draw some Hall of Fame consideration himself when it's all said and done and will hopefully protect the blindside of the Dolphins' next franchise quarterback. If they can find one that is.
3. Norm Evans (1966-1975): The only right tackle on our list, Evans was a key member of the Dolphins' dominate offensive line in the 1970's, paving the way for the dominate ground attack of Csonka, Morris, and Kiick. Evans was solidified as one of the better right tackles in the 70's with two Pro Bowl appearances.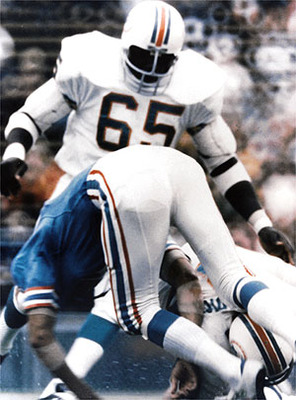 4. Wayne Moore (1970-1978): As the starting left tackle of the Dolphins' only two Super Bowl winning teams in the early 70's, Moore was asked to run block more often than protect Griese's blindside in Miami's run heavy offensive attack. But Moore was one of the league's finest run blockers during the back-to-back title run and was recognized with selection to the 1973 Pro Bowl roster. As a reminder, be on the lookout for our interview with Davone Bess!