The Heisman Trophy is given to the best college football player each year. And while some years there are clear cut favorites that last throughout the year, there are some like last year with Cam Newton being on a select few radars as a deep sleeper who ended up being the obvious choice.
Here is the Heisman race broken down between the "Favorites", the contenders on the "fringe", and players that need a "great" and "outstanding" seasons, as well as a few Cam Newton-like "longshots".

The Favorites

1. Andrew Luck, Stanford
The future #1 selection in the NFL Draft, Luck was a finalist a year ago and had his team finish with the number four ranking last year. Now with the Pac-12 in place and his Stanford Cardinal still the favorite despite head coach Jim Harbaugh being gone, he'll have a chance to go down as maybe the best Stanford quarterback ever (yes, even ahead of John Elway) if he can finish his career with a Heisman trophy.
2. Landry Jones, Oklahoma
The quarterback of the currently top two ranked Oklahoma Sooners on almost every Top 25 list, Landry Jones returns seven other offensive starters including four offensive linemen and likely soon to be NCAA all team reception leader Ryan Broyles. A talented offense and a potential BCS title contending quarterback, if he can stay healthy and win the games he's suppose to, he'll be in the mix by season's end.
3. Kellen Moore, Boise State
My pick to win the award, Moore has been the most consistent quarterback in college football the past two years. He has a career record of 38-2 (lost those two games by a COMBINED 4 points) and is on pace to break the all time win record for a quarterback in the FBS. He's already at 10,000 plus total passing yards in his career, and is 36 touchdowns away from the current all time FBS record. He'll get a chance to shine week one at Georgia and if he can go undefeated for the 2nd time in his career, he SHOULD be at least a Top 2 finisher.
4. Denard Robinson, Michigan
At one point early last year, Denard Robinson was the "favorite" to win the Heisman trophy, but after three losses to Michigan State, Iowa, and Penn State, he was all but out of the running. Still, the returning Big Ten Offensive Player of the Year has three returning receivers and a new coach that lead San Diego State to the 12th best passing offense in the country last year. This Michigan team could ride Denard all the way to a surprise Big Ten title if they can stay healthy.
5. LaMichael James, Oregon
Leader of the National Champion runners-up Oregon Ducks a year ago, James finished with 1,731 yards and 21 touchdowns last season. This year, he'll start off with SEC foe LSU in Texas week one, and if he can start off fast with a big game (120+ yards) and a win for his team, he'll quickly be in the mix for a Heisman shot if he can replicate his 1700+ yard season.
6. Marcus Lattimore, South Carolina
The final of the "favorites" for the trophy, Lattimore is, in my opinion, the best running back in the college football game since Reggie Bush and Adrian Peterson. He's that dominant as a runner. While South Carolina features the athletic Stephen Garcia at quarterback and maybe the nations best receiver, Lattimore is the engine of that Gamecock team, and if last year's coming out party is any indication, we could be seeing the next great college running back of our time.
On the Fringe
7. Brandon Weeden, Oklahoma State
The head of the 2nd ranked passing offense from a year ago, Weeden was outstanding last year in Dana Holgorsen's offense. Now he'll be without his offensive mastermind offensive coordinator, but does have fellow Heisman contender Justin Blackmon at receiver, and five returning starters on the offensive line.
8. Case Keenum, Houston
One of my favorite "sleepers" in the Heisman race, this decorated Heisman contender is already likely to break the FBS record for passing yards and passing touchdowns, while two of his receivers are likely to break FBS reception records. Houston's schedule isn't overly difficult outside of a few C-USA teams, and while that doesn't help in BCS support, an undefeated season with outstanding numbers and all time records could push Keenum to votes by season's end.
9. Taylor Martinez, Nebraska
In the mix for Heisman candidacy in the middle of last season, Martinez is the team's returning passing and rushing leader from last year as a freshman. With Nebraska now the favorite to win the Big Ten title with Ohio State in a mess of a situation, he'll be battling with Denard Robinson for Big Ten votes if he can replicate last year's success.
10. Russell Wilson, Auburn/Wisconsin
It's unknown right now where Russell Wilson will be playing this upcoming season, but whether it's Auburn or Wisconsin, the two favorites right now, he should be in great position to be successful, especially if he's in Wisconsin, where he'll have a great team around him and make Wisconsin the favorite in the Big Ten.
11. Robert Griffin, Baylor
The most athletic quarterback, maybe outside of Denard Robinson, in the FBS this year, Griffin has shown he can be dominant as a passer (3,501 yards, 22 TDs, only 8 interceptions) as well as a runner (635 yards and 8 TDs) last year. He'll have speedy receivers, offensive line experience, and an offense that, thanks to him, was 13th in the nation last year.
12. Kirk Cousins, Michigan State
Cousins has been a favorite of mine for the past two seasons as far as being a future NFL Draft first round pick, and he'll have BJ Cunningham at receiver returning who had 9 TDs last year. He'll only have three other returning starters on offense, and he'll have to go on the road to play Notre Dame, Ohio State, Nebraska, and Iowa.
13. Ryan Broyles, Oklahoma
His quarterback Landry Jones is securely in the Heisman discussion as of now, but Ryan Broyles has made a name for himself thus far. He almost declared for the draft last year, but returned this year and likely will end his career as the FBS all time leader in receptions (only 51 receptions away).
14. Trent Richardson, Alabama
Now that Mark Ingram is gone and Richardson is the focus of the rushing game, he'll be the face of an offense that averaged 182.9 rushing yards last year in the SEC. He may have more skill than Mark Ingram, though it remains to be seen if he can handle a full workload, as he only had 112 carries a year ago.
15. Justin Blackmon, Oklahoma State
The leading offensive weapon for fellow Heisman contender Brandon Weeden, Blackmon had over 1,700 receiving yards and 20 receiving touchdowns a year ago, and should end his career as the second most productive receiver in Cowboy history, ahead of Dez Bryant and behind Rashaun Woods.
Need a Great Season
16. Darron Thomas, Oregon
-While LaMichael James was the feature player for the Ducks last year, Thomas could have a Dennis Dixon type season as the Ducks try and get back to the BCS title game.
17. Matt Barkley, USC
-Forget the sanctions, Matt Barkley looks poised to have a great season and closer to Andrew Luck in the Heisman voting and in the NFL Draft selection area.
18. Knile Davis, Arkansas
-With Mallett gone, the face of the offense is now Knile Davis at running back. He had 1,322 yards and 13 touchdowns last year.
19. Jordan Jefferson, LSU
-Many have LSU as one of the favorites to win the SEC, and if that's the case, they'll need a big season out of quarterback Jordan Jefferson, especially needing him to control the ball.
20. Cyrus Gray, Texas A&M
-One of the most explosive rushers in the country, Gray has a chance to explode onto the Heisman scene if he can be consistent and single handedly lead this team to a Big 12 title run.
21. Ryan Tannehill, Texas A&M
-Not as high on him as many are, he has a chance to be the nation's best senior quarterback and, if he can be more influential to his team's success than Gray, he could be a surprise Heisman contender.
22. John Brantley, Florida
-I'm not ready to put my faith in John Brantley based on how panicky he looked last year, but with the weapons at Florida and in Charlie Weis's offense, he has no reason not to drastically improve.
23. Alshon Jeffery, South Carolina
-The third receiver on this list, Jeffery has many the highest NFL potential ceiling and has a great chance for 1,300+ receiving yards in the SEC. However, Marcus Lattimore should steal much of his thunder.
24. Kyle Padron, Southern Methodist
-Leader of June Jones's high powered offense, Padron showed some impressive ability last year. He should have 4,000+ yards, and an undefeated season could get him in the mix.
25. Ryan Lindley, San Diego State
-Without Brady Hoke, he and this team could struggle to be as competitive as they were last year. Still, he has NFL ability and some weapons on offense.
Need an Outstanding Season

26. Tyler Wilson, Arkansas
-Has leftover weapons from Ryan Mallett's productive offense last year, and Bobby Petrino always has a great offense.
27. Dayne Crist, Notre Dame
-Brian Kelly won't have this team down for long, and Dayne Crist has the skill set he likes in a quarterback.
2
8. Chris Relf, Mississippi State
-Dan Mullen runs a fantastic offense each and every year, and if Mississippi State can continue with last year's success, it will be thanks to Relf at quarterback.
29. EJ Manuel, Florida State
-Jimbo Fisher has the Florida State program on track to continue to be successful, and the next step is getting athletic quarterback Manuel to be consistent.
30. Bryce Brown, Kansas State
-Formerly the best running back recruit in the country, Brown finally will step on the field since leaving Tennessee. Expect big things from him in year one.
31. GJ Kinne, Tulsa
-He'll have a tough time with one of the toughest non-BCS schedules out there, but he has the offense and talent to do so.
32. Aaron Murray, Georgia
-Plays Boise State week one, if he wants to have a chance, he'll have to do so without his two leading receivers from a year ago.
33. Michael Floyd, Notre Dame
-If he doesn't get suspended this year, he could be the face of the revival of the Notre Dame program as one of the country's best receivers.
34. Garrett Gilbert, Texas
-Struggled mightily as Colt McCoy's replacement last year, don't count out Mack Brown or any Texas offense to be unexpectedly impressive.
35. Michael Dyer, Auburn
-Now the face of the Auburn Tigers with Cam Newton gone, he'll try and once again battle with Marcus Lattimore as the SEC's top running back.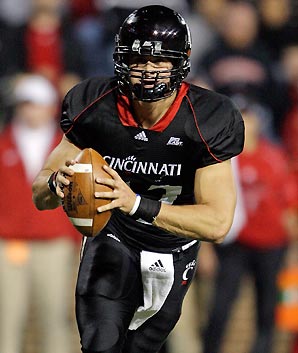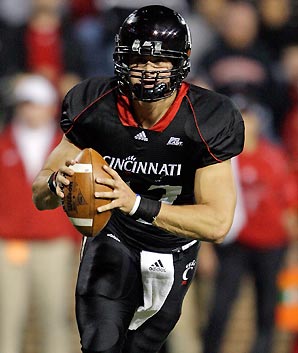 36. Danny O'Brien, Maryland
-Impressed as a freshman a year ago as Maryland turned their program around last year, he'll be the face of the program along with new head coach Randy Edsall.
37. Montel Harris, Boston College
-A workhorse for this Boston College team, they likely won't have the record to give him a chance barring they win the ACC.
38. Zach Collaros, Cincinnati
-Struggled last year with injuries and overall consistency, but he has been impressive in his career, and with DJ Woods and Isaiah Pead as weapons, he could surprise in the Big East.
39. Nick Foles, Arizona
-One of the top seniors for the 2012 NFL Draft, he'll have to beat out the four Pac-12 contenders ahead of him as well as lead his team to the tops in the Pac-12 to have a shot.
40. Bernard Pierce, Temple
-A contender in the pre-season last year, it'll be tough for him to get respect without Al Golden there and with fellow senior Matt Brown at running back as well.
The Longshots

41. Tyler Bray, Tennessee
-Showed promise last year, he's the face of one of the more prestigious programs in the SEC.
42.Chris Polk, Washington
-With Jake Locker gone, the offense will run through this very talented and capable feature back.
43. Geno Smith, West Virginia
-Curious to see how much he can benefit from having one of the best offensive minds in football as his head coach.
44. Tim Jefferson, Air Force
-The leader of the best "academy" school in the country, he's productive, consistent, and could get to 10 wins this year.
45. Ray Graham, Pittsburgh
-No Dion Lewis, Graham showed explosive ability in 2010, and now he'll be the unquestioned feature weapon for Pitt.
46. Jacory Harris, Miami (FL)
-In danger of losing his starting job, Harris has too much talent himself and at receiver for him not to be able to thrive in 2011.
47. Brandon Bolden, Ole Miss
-Ole Miss will need to be in contention in the brutal SEC West, but he'll be featured like Darren McFadden this year.
48. BJ Daniels, South Florida
-The best quarterback athlete in the conference, Daniels has a chance to upset Notre Dame week one and put this team on track to be back to the Big East title.
49. Dan Persa, Northwestern
-Maybe the next great Northwestern quarterback after Mike Kafka, Persa has a chance to upset Big Ten foes this year.
50. Manti Te'o, Notre Dame
-The lone defensive player on the list, he's the most valuable asset to a Notre Dame team that some feel could be BCS good.