OK, so we're a few games too late to be doing a midseason review, but (a) it's still before the All-Star break and (b) when the hell have we ever been on time with anything on this site? Anyway, there will be no bell curves on this report card. Our grades are handed out according to a carefully calculated algorithm of factors drunken dart throwing at 11 am on a Wednesday.
Top of the Class
Miguel Cabrera – A+: There's nothing else you can say about Miguel Cabrera. He's hitting .321 and once again has an OPS over 1.000. The best part? He's here to stay, so enjoy it while it lasts.
Justin Verlander – A+: If he doesn't win the Cy Young this season there's something wrong with society. He has a 2.26 ERA, a WHIP of 0.88 and would lead the majors in wins if the damn offense could have scored a run or two last night.
Alex Avila – A+: Yeah, he might be due for a regression but Avila's numbers are among the best in the majors at his position, especially defensively. Extra credit awarded for amazing beard-growing skills.
Honor Roll
Victor Martinez – A: Once again, thank goodness Dave Dombrowski signed Martinez over Adam Dunn. The only knock on V-Mart is that he's not even the best catcher on his own team.
Jhonny Peralta – A: I was actually upset last year that the Tigers gave up minor league pitcher Giovany Soto for Peralta. This year I had to google his name. Peralta's .314 batting average and 14 homers are both first among all AL shortstops.
Al Albuquerque – A: He's on the DL now, but before that he was on a record-setting pace. Not bad for a guy no one had even heard of before the season started. Hell, his name even spawned this highly mediocre Youtube video.
Brennan Boesch – A-: Boesch's horrific May (.186/.326/.551) arguably cost him a spot on the All-Star team. He had another June for the ages, but might see a drop in RBI production by moving up to the #2 spot in the lineup.
Jose Valverde – A-: Papa Grande has been lights out in save opportunities (20 for 20) but his meltdown on Friday left a bad taste in everyone's mouth.
Click after the jump to see the rest of the Tigers report card…
Middle of the Pack
Don Kelly – B+: Obviously, the whole pitching thing bumps up his grade a bit, but Kelly has otherwise been a good stopgap for whatever the Tigers have needed. He's clearly outperforming Brandon Inge at 3rd base yet not getting his due (I can't believe I just typed that paragraph).
Austin Jackson – B: Jackson got off to a very slow start, but a strong June (.291 with 4 triples and 18 runs scored) has him back on track for a good season. And as expected, his defense has been spectacular.
Brad Penny – B: Penny has been better than many people (myself included) expected. He started out with a rough April, but his last two starts (13.2 IP, 3 earned runs) could be a building block for a strong second half.
Charlie Furbush – B: It's tough to grade Furbush based on stats alone, but a 3.08 ERA and 1.29 WHIP are currently better than any starter not named Verlander. Hopefully Chuck is able to keep this up now that he's in the rotation.
Max Scherzer – B-: The 9 wins and 94 strikeouts are nice, but the 4.90 ERA and 14 earned runs (17 total) in his last 3 starts aren't. Hopefully Max can get back on track without making a trip to Toledo this season.
Andy Dirks – B-: Dirks has been decent since his mid-May callup, but a .174 batting average in the last 2+ weeks is a cause for concern. His big series against the Mets was a good stat booster, however.
Casper Wells – B-: The only real knock on Wells is that he hasn't had that much playing time. Otherwise, a .260 batting average with 4 home runs in 100 at bats is right about what everyone expected.
David Purcey – C+: Purcey's stats haven't been that great since he got to Detroit, but these are largely due to two poor performances against National League teams. He's been lights out against the AL since donning the Olde English D.
Ramon Santiago – C: Razor Ramon pulled his best Billy Zane impression earlier this year, but has been utterly forgettable otherwise.
Rick Porcello – C: Porcello hasn't been great so far, posting a 4.96 ERA and a modest 7-6 record through his first 16 starts. However, he's proven to be a strong finisher in his young career. Look for a big second half from Kid Rick, especially if he can actually fly.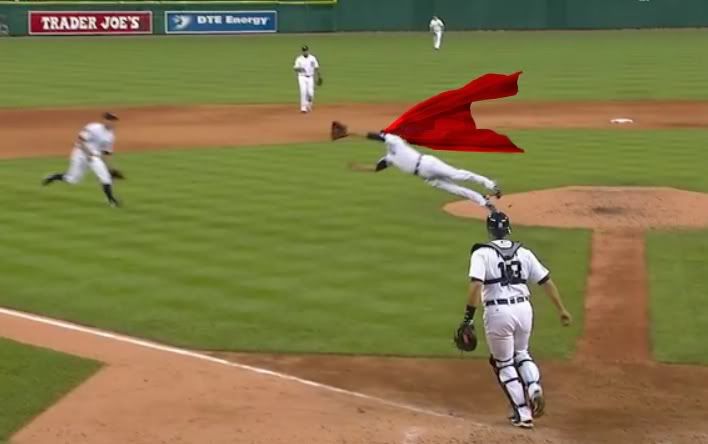 Phil Coke – C: Coke's demotion to the bullpen wasn't completely his fault, but his recent performance after coming off of the DL didn't help things.
Joaquin Benoit – C-: There was no way that Benoit was going to replicate his amazing 2010 season, but a 4.55 ERA and 1.389 WHIP aren't encouraging trends for a guy that's on board for a couple more years beyond this season.
Magglio Ordonez – D: Granted, Maggs has been hurt for a lot of the season, but a doctor's note doesn't get you out of the .172/.232/.459 line that Maggs posted before going on the DL in May. His play since (.259/.345/.703) has been better, but still not what the Tigers need from their #3 hitter.
Ryan Perry – D: Perry gets a passing grade due to the fact that he's posted a 2.89 ERA and .188 batting average against since coming off the DL. Otherwise, he's been terrible.
Time for a Career Change?
Ryan Raburn – D-: A couple big plays are the only thing saving Raburn from complete failure.
Brandon Inge – F: When people would rather have Don Kelly doing your job, you know you've sucked.
Daniel Schlereth – F: When people would rather have Don Kelly doing your job, you know you've sucked.