In a swift move of insanity genius, we here at D4L have used our charm, wit and devilish good looks to bring together the best of the Red Wings blogosphere for a round of Q & A about the Red Wings' offseason. Joining me for this week's roundtable are JJ from Kansas and Josh Janusch of Winging It In Motown, Michael Petrella of The Production Line, Jeff Hancock of WIIM and the Brendan Smithsonian Institution, Tyler Devereaux of the currently-defunct (comeback: do it) Triple Deke, and Brian of The Scrappy Octopus.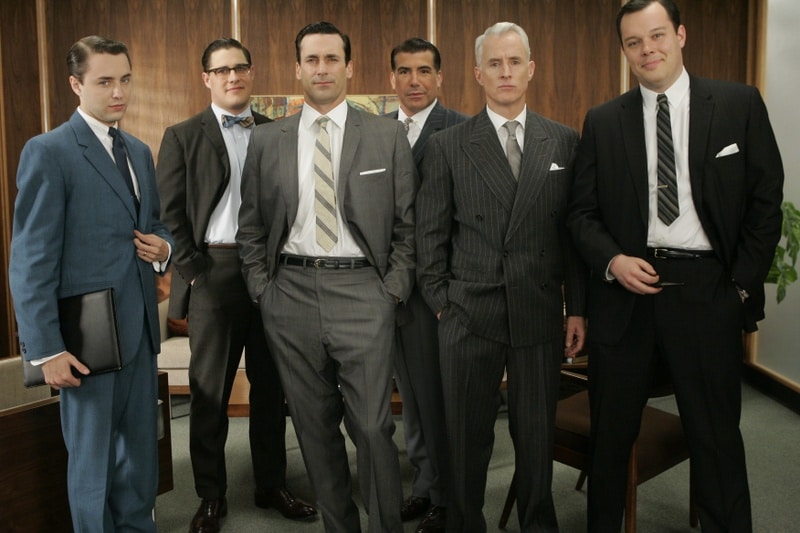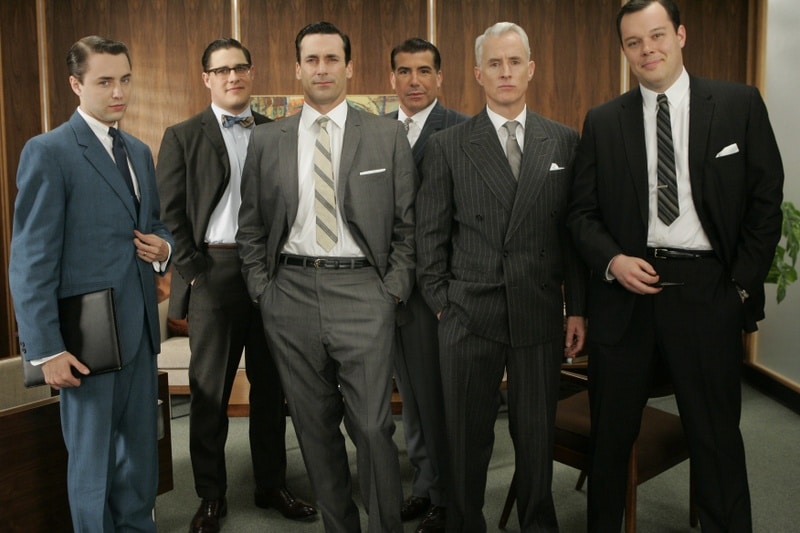 I put these six dapper gentlemen through the ringer with three questions about the biggest Red Wings news of the offseason. Their answers (along with my attempts at coherent sentences) are after the jump.
1. Ian White seems to be the "crown jewel" of the new crop of Red Wings so far. How do you think he will perform during his time in Detroit? Will he be 2-and-done or do you see him finishing his career in red and white?
Jeff: I think White's long-term place on the Red Wings will be determined by his peers just as much as it will be determined by him. White will find his role on this team and fit in well playing with arguably the best talent he's ever played with. Whether he stays beyond the 2-year contract will be determined by how much Ericsson steps up, how well Kindl adjusts to his 2nd/3rd seasons, and Smith's play while making the jump to the NHL. There might not be room for White long term. With all that said, White could bust out and have 40-50 point seasons and force the Wings to keep him around. We'll just have to wait and see.
Petrella: When Ian White is the "crown jewel" of the free agent additions, it's fair to say that the free agent crop sucked donkey nards. I said it to anyone that would listen, this year's free agency blew, especially on the blueline, and no matter how hard you try, you wouldn't be able to replace Brian Rafalski. Just imagine if Nick Lidstrom had also retired… we'd be looking at an ugly defense corps. I like Ian White (and Mike Commodore for that matter), but I don't see him being a long-term Red Wing and that's because we're going to have to find some higher caliber players to replace the old guard. I'm excited for Brendan Smith, but — like Rafalski joining the Red Wings however many years ago — something big might have to happen to keep this back end competitive as the youth movement continues. And no disrespect to Ian White, but he's not going to be that guy. But, in the meantime, he's a perfectly worthy complement to this team and I'm excited that HE'S excited to be a Red Wing. Should be a nice fit.
Brian: It's hard to gauge the impact of Ian White going forward. I really feel like Holland makes a big signing/trade next offseason (assuming the obvious, that Lidstrom will retire), maybe Ryan Suter, something of that nature. That would leave a top 6 of Kronwall, Stuart, White, Brendan Smith, Kindl (if he's still around, I kind of think he gets dealt at some point), Shitbox, and Mystery Big Name Defenseman. Not a bad top six. If White can adopt the Red Wing philosophy and play good hockey I could absolutely see him sticking around for an extension
Josh: Unless he plays spectacularly, I doubt he will be here beyond his 2 year contract. He will have to prove that he is a fringe 2nd/1st pairing guy to make himself worth it to us. His biggest issue is who is already here. Kronwall and Stuart have solidified themselves as one of the best 2nd pairs in the league. With Kindl and Smith coming up, he is going to have a tough time creating a permanent spot for himself. Smith, especially, already has "franchise defenseman" written all over him (seriously… I think Jeff tattooed it on his left arm while he slept) and will likely be half of the top pairing in a season or two. In all likelihood, we will sign a top guy (Ryan Suter?) next season when Lidstrom likely retires. If that is the case, we have 5 good-to-go defenseman and White is going to have to beat out Stuart, Kronwall, or Kindl and I really just do not see that happening.
Tyler: I was over the moon when I heard we signed Ian White. Which is pretty amazing because you wouldn't expect to get phone service in outer space, but this old Rumor 2's still got it. Fuck your iPhones. I might get killed for this but my overly-optimistic — and stupid, don't forget stupid — outlook on White is that he ends up another Dan Cleary, having bounced around from team to team only to catch on in Detroit for years to come, a team with a style of play that suits him perfectly (like a poor man's Brian Rafalski …. don't laugh, that's a compliment. Remember White's price tag). Normally I'd be worried about a guy who has played on 28 of the NHL's 30 teams in the last two years, but from what I've seen White is almost universally praised for his work-ethic and all around good guy-ness from his former teams' fan bases. And I'm sure a couple members of this group would lynch me if I went too far into this, so I'll just say that his sabermetrics-y type numbers tell a good story. Just uh, believe me on that.
JJ: If White is going to be a crown jewel for the Wings, it's because they already had a lot of very nice hats. Still, as a jewel, I have the feeling that he needs a bit more polish, but his value is going to be decided by how well he fits into his setting (and yes, I hate myself for digging that deep into the metaphor). White's been handed around the league more often than Scotty Hartnell's wife, so I'm thinking he's looking for a place to settle down. He never really fit in for Toronto, Calgary, or Carolina where they don't play the same kind of system. Going to San Jose with a new set of expectations was very promising for him and gave us a good indication of what I think we'll see out of him. I think he'll find things very comfortable in Detroit.
Rob: I think White is going to flourish in the Red Wings' system. I haven't watched him play much outside of the Detroit-San Jose series earlier this year, but he strikes me as a younger, not-as-good version of Brian Rafalski. He might not completely fill the role that Rafalski did, but he should do the job for his relatively cheap cap hit. Whether he sticks in Detroit after the next two years depends on how good Jakub Kindl and Brendan Smith become, and whether Ken Holland can work some magic to pull Ryan Suter into the fold next summer.
2. The coaching staff and front office have a lot of decisions to make with the roster heading into the upcoming season. Barring injury during the preseason, who do you see making the roster to start the season and who will be headed to Grand Rapids?
Tyler: When Chris Conner signed, some dick loaf on Malik's blog brushed it off as worthless news. I'm guessing he was annoyed because George wasn't reporting Earth-stopping news, like the Wings trading Jiri Hudler and a stack of Magic: the Gathering cards from Igor Larionov's old locker for 1991 Brett Hull via Jimmy Devellano's secret time machine. It rubbed me the wrong way, even though sir J.J. of Kansas put him in his place. A very petty part of me is hoping that Conner somehow notches some playing time and bags about 15 goals out of nowhere. Then I'll find that guy from Malik's blog in real life, laugh in his face, and then kill myself.
Josh: This one is easy: Mursak and Emmerton will make the team, as will Kindl and Commodore. Joey Mac, Garnet Exelby, Brendan Smith, and Chris Conner will all start off the season in Grand Rapids and play in the big leagues only if there is an injury. I can see Smith being called up to play a game here and there with Lidstrom and running for a night with 8 defenseman, but other than that we won't see much of those four simply because they are on 2-way contracts where as Mursak, Emmerton, Kindl, and Commodore are not.
Petrella: In all my years of watching Red Wings hockey, it's been RARE that there's been a shocking surprise at the end of training camp. Usually, the team you think they're going to have going into October is the one that laces 'em up. I think, in general, this year will be same, barring any injuries or late summer moves (like a Hudler trade… or picking that one remaining, floating free agent off the market). I think that Mursak and Emmerton are your 13th and 14th forwards — but that Chris Conner will be given a real long look. That look may be more for Emmerton (to light a fire) than it will be for Conner's reality, but he's a capable depth forward and it should, at the very least, insight a battle. On the back end, Brendan Smith sounds ready and the team certainly sounds like they're pumping his tires, but will he beat out any of the existing seven? Lidstrom, Kronwall, Ericsson, and Stuart are no-brainers (somehow E snuck onto that list), newcomers Commodore and White won't be waived and sent down, and Jakub Kindl is far too valuable a commodity to risk losing. You're left with no slots and a hungry Brendan Smith, who I suspect will tear the AHL apart in only his second pro season and fill in admirably when called upon during the season to fill in for the blueline which is never injury- free, no matter what team you follow. But, realistically, how many times have you seen a player spend one year in Grand Rapids and then make the team out of training camp? Hell, Darren Helm won a goddamn Stanley Cup in 2008, destroying everything that moved in the playoffs, and still spent the following year on the farm. Justin Abdelkader needed an injury in his second year to get the call, and that, too, was after being a playoff regular the year prior. Brendan Smith is a special player, but they can't give the impression that he's MORE special than any of the other young studs we've seen come along.
JJ: I'd be absolutely shocked if Brendan Smith made the team out of camp (sorry, Jeff). Everything he says shows he has a great attitude, but unless he severely overplays his competition enough to force the Wings to trade off Kindl, I see him as the victim of circumstance which sees him eligible to go to Grand Rapids without going through waivers. For the forwards, if nothing else changes, I see Emmerton beating out Conner for the 14th forward spot while Miller, Mursak, and Emmerton fight over who gets more starts out of the rotation than the others. Although, there is some very curious part of me that would like to see a line of Mursak-Helm-Conner as the three fastest skaters the Wings have.
Jeff: Up front, unless he Wings swing a trade and dump Hudler and/or bring in another forward, Mursak and Emmerton will be the last two forwards on this team. Conner is going to be taking his talents to Grand Rapids. I still don't think Holland is done. I'm just waiting (and hoping) for the Rangers to buyout Wolski so the Wings can grab him. On the defensive side, thanks to the White and Commodore signings, Brendan Smith is going to have to have one hell of a training camp to make the team. Is it possible, yes. Will it happen, we'll see. Even if he does spend one more year with the Griffins, we'll see him at some point during the season. Someone will get hurt at some point and the Wings will want him to get his feet wet before he's full time on the roster next season. I'm still dreaming of the Lidstrom/Smith pairing. It can happen!
Rob: Everything I've read coming out of Ken Holland's mouth points towards a serious hard-on for getting Brendan Smith in Detroit this season. I think there's a growing sense that this might be Nick Lidstrom's last season in Detroit, and a lot of people want Smith to spend a year under Lidstrom's tutelage. Would I be shocked if Smith made the team out of camp? Not really. But I wouldn't bet money on it. There are too many contract issues in the way, and letting Smith tear it up in Grand Rapids for another year is simply the path of least resistance.
Brian: I think Draper is done, unfortunately. It's sad to see him go, and I wish it weren't so, if thats the result. I think Hudler is gone before training camp. I think Osgood is our backup next year with Mac as the third goalie. Part of my prediction there is that he's been promised the backup job next year provided he's a good soldier and plays well, with hopefully Pearce/McCollum ready to make an impact after that. Smith starts the year in Grand Rapids, but definitely sees time at the pro level at some point this season. Who do you think they'd call up instead, Doug Janik? Thats scary.
3. Do you think the new assistant coaches will have a major impact on the recurring issues that have plagued the Wings recently (namely the penalty kill)? Or does Bill Peters' fabulous hair have magical qualities that can cure anything that ails us?
Rob: If Peters' hair can't work any magic, Darren Helm's beard might do the trick.
Josh: I think Blashill is going to do wonders. Everything I have read about this guy seems like he is a coaching superstar in-waiting and is a mix of Babcock and Scotty with their puck possession first, shoot later approach to the game. That said, I don't know what they will bring to the penalty kill. Just fresh ideas will help us out, though.
JJ: I don't really think that even the unfortunately-average PK really needs a "huge" impact, but I think the new coaches with their fresh ideas and (even more importantly) their vigor will definitely have the impact that the Wings need. As much as players tend to somewhat tune out their coaches after a time, there's also a tendency of some coaches to get just as complacent with their players. They're certainly professionals, but at some point there is a bit of the "you're not my father!"-"well, you're not my son, either" dynamic that can grow. Also, while I wish MacLean all the best in Ottawa, I hope McCrimmon catches face-herpes in Russia.
Jeff: From what I've read about the new assistant coaches, Blashill is a pretty good coach when if comes to the penalty kill. Apparently, he helped turn the Miami of Ohio PK into a pretty darn good specialty teams unit. I have high hopes for what he can do with the Wings' PK.
Brian: I'm taking my opinions of our new assistants from what I've read, as I had never heard of either of them prior to last week. I like the direction Babcock went in bringing in completely fresh, new blood, who can hopefully bring new, innovative ideas to the table. That's one area the Wings have never been afraid to venture into is new ideas. By all accounts both coaches bring a lot to the table. I think Blashill will improve the penalty kill, but hell, it can't get much worse, right? McCrimmon and his stupid hair can take a leap. Enjoy Russia, ass. I think the Wings have really made all the right moves so far, plugging holes with good moves and new coaches, who will bring new ideas. I'm only slightly concerned about scoring depth, but Holland is in a wonderful position with the cap so he could easily make a move at the deadline if need be.
Tyler: I don't think we'll see any significant changes that we can attribute to the two new assistants. But that doesn't mean they won't play a part in this upcoming season. I, for one, am anxious to see how long Bill Peters lasts before he admits that he killed that Brian Elias guy from the 1-800 Hansons commercials and had his creepy smile surgically attached to his face.
Petrella: I'll be honest — I'm a little worried about the new assistant coaches. From the sounds of it, they're both friendly, approachable player's coaches, which is excellent when you have to balance the no- bullshit, get-out-of-the-fucking-wayness of Mike Babcock. Having played hockey under both player's coaches and complete and total dickheads, I can say that I preferred playing for the former… but played harder for the latter, out of fear of reprisal and being yelled at in front of the student sections. Maybe a mix of the two kinds of coaches will be good for the team, who — at times — did seem a little tired of Babcock's ways. Having spent a weekend with the team traveling last February, I will say that very few players went out of their way to chat with the coaches (except for McCrimmon who, let's be honest, was fucking useless in that capacity) and perhaps it'll take a load off of their shoulders to be able to take their new assistants aside and share something they wouldn't otherwise with Babcock and MacLean and McLellan. That said, I'd never heard of either of these guys until they were in the running to be Wings assistants. I don't follow college hockey as closely as I should, being an alumnus of such an organization, and I couldn't give a shit about the Blackhawks organization if you strapped a United Center Ice Girl to my crotch (one of whom I dated when I lived in Chicago and I'm happy to share that she was a fucking moron). Do the Red Wings need guys like Boughner and DeBoer and Richards — guys who coached at the NHL level — to understand what they're going through and how elite the organization is? I guess we'll see…