We're starting a new feature here on Optimum Scouting. Every week I'll recap the week of NFL action, keep you updated on which rookies are making an impact across the league, and give you some pointers for your fantasy team for the upcoming week. Don't Look for a Strong Start from a Manning-less Colts Squad
It's been widely thought that the Indianapolis Colts have mismanaged the backup quarterback position, as they have made no real investment or effort into putting a solid second option behind the seemingly invincible Peyton Manning. And for over a decade the Colts have gotten away with it, as Manning hasn't missed a game since he was drafted in 1998. But now, with that streak in very real danger of being broken, Indianapolis has finally had to make a move and get a proven quarterback in case Manning can't go in week one. The problem now was that the quarterback market was exceptionally thin at this stage of the preseason.
This left the Colts with the recently retired Kerry Collins as the best option for quarterback insurance. What can Indianapolis expect out of Collins if he's forced to play for the first couple of weeks of the 2011 season? In 2006, Collins was put into a similar situation with Tennessee. He was signed there on August 28th, and went on to play in the final preseason game before starting the first three weeks of the season.
The results of those three outings can't be too encouraging for Colts fans. In the three starts, Collins completed only 46% of his passes, threw only one touchdown, and threw three interceptions. He played better for the remainder of his time in Tennessee, but the slow start surely has to be a concern.
Collins' slow starts aren't only limited to his time in Tennessee, either. His first three starts in both New York and Oakland were rocky as well, where his stats totaled 5 TDs and 11 INTs over those 6 games combined. His completion percentage was somewhat better (56%) but having twice as many INTs as TDs is never going to win ball games in the NFL.
These stats, combined with how difficult it is to learn Indianapolis' offense, makes the prospect of Collins having to play significant time very concerning. Collins can be a solid quarterback, but he needs time to get settled in the offense, and that's just something he won't have. If he does have to play to start season, it's likely to be a rough start for the Colts.

Surprises of the Week
Oakland's offense looked surprisingly good Sunday night versus the Saints. Jason Campbell looked comfortable behind an offensive line that appears to be improved dramatically over the past several seasons. It's an offense that has some dynamic talents with Darren McFadden, Darius Heyward-Bye, Jacoby Ford, and an impressive rookie wide receiver with Denarius Moore. And for the Raiders to be successful, they'll need a great offense; the Oakland defense gave up over 500 yards to the Saints on Sunday.
Perhaps the biggest surprise of the week was how the New England Patriots were manhandled by the Lions. The Lions' defensive line was absolutely dominate, and it seemed as though Tom Brady couldn't drop back without facing pressure from all sides. The Lions offense looked very good as well, and the Matt Stafford to Nate Burleson connection seems to be stronger than ever. It's easy to take too much away from a preseason game, but it certainly looks like Detroit may be ready to make the leap in 2011.
Rookie Watch
I don't think anyone expected Carolina quarterback Cam Newton to come in and really light it up early on as a starter. If anyone did have that hope, Newton is dispelling them quickly. He's gotten significant playing time in his first three preseason games, but he has only completed four passes to his wide receivers. He's struggled to be accurate, completing less than 50% of his passes in each game. Where he has made an impact has been the running game. As he hasn't looked too comfortable in to pocket, the Panthers may want to think about simplifying their offense to allow for easier reads and more opportunities for Newton to scramble.
One rookie that's been very intriguing to me is San Francisco running back Kendall Hunter. Drafted in the fourth round out of Oklahoma State, expectations were tempered for the running back. However, he's had a very good preseason, running the ball 24 times for 179 yards. He appears to have taken Anthony Dixon's role as the back up to Frank Gore. If that's the case, it's almost a lock the Hunter will have to carry the load in the place of the oft injured Gore. He's shown that he has talent, and he'll be a rookie to watch in 2011.

Fantasy Notes
There has been a lot of debate about who the number one overall pick in fantasy drafts should be this year. Arian Foster is a name that gets thrown around a lot, and Chris Johnson is getting consideration in spite of his holdout. There have even been experts suggesting Michael Vick is worthy of a number one pick. The way I see it, however, is that there's really no option other than Adrian Peterson. Foster and Johnson both have a ton of downside to go with their sky high upside, which is not something I want to have with the top pick. Peterson has been a consistent fantasy performer for years, and hasn't shown signs of slowing down. In fact, all reports are that Peterson will get even more looks in the passing game this year, making him even more valuable. If I have the first pick, it's not even a question for me: I'm taking Peterson.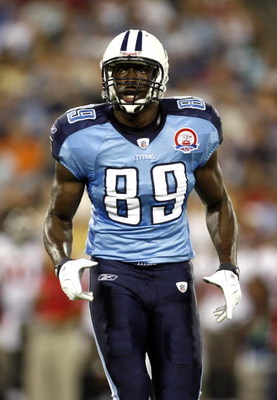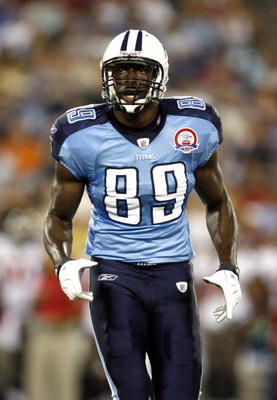 Be wary of wide receivers Chad OchoCinco and Brandon Lloyd. In OchoCinco's case, he's had a rough transition into the New England offense. He'll undoubtedly have a big game or two at some point this year, but in an offense that doesn't utilize a true #1 wide receiver, he's just not going to be consistent enough to rely upon on a weekly basis. As for Lloyd, he finds himself in an offense that is going to throw the ball much less in 2011 than in 2010. On top of that, he's been notoriously inconsistent over his career, and it's highly unlikely that he'll put up numbers this year like he did last season. Overall, both OchoCinco and Lloyd are just too risky for your fantasy squad to invest much in.
One guy I'm really high on, however, is Titans tight end Jarred Cook. He found himself in the previous staff's dog house, but with a new staff comes new opportunity for Cook. He possesses great size and is athletic enough to play multiple positions. The Titans have used him split out wide and playing from the backfield in addition to the traditional tight end spot on the line of scrimmage. Tennessee has made it clear that he's going to be a focal point of the offense, and he's been the recipient of a ton of targets both in preseason games and during training camp. If you miss out on a top 5 TE earlier in your fantasy drafts, Cook is a guy you should really consider in the later rounds.