To the rest of the NFL: forgive the Gatorade shower on defensive coordinator Gunther Cunningham after today's 48-3 win against the Kansas City Chiefs. When you play your best game in over a decade, people get excited.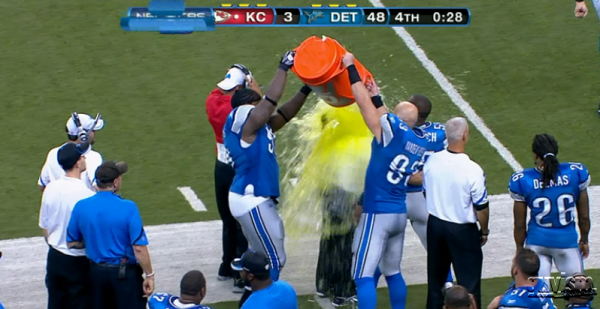 To be perfectly honest, the Lions can douse whoever they want right now. They are running roughshod over anyone and anything in their path. Yes, four of the games in their current 10 game winning streak don't count, but you don't dismantle the Patriots like they did by accident. Hell, even the mascot is laying guys out.
The most exciting thing about this team is how well the offense is clicking. Matthew Stafford is still making mistakes, but these are few and far between. His 7 TDs are tied for the NFL lead with Buffalo's Ryan Fitzpatrick (who also put up 4 TDs on the Chiefs) and some bum named Tom Brady. The defense has given up one touchdown in two weeks. My only complaint is that Ndamukong Suh hasn't killed any QBs yet. With Donovan McNabb and the Vikings up next week, this might not be a problem for too much longer.
[pics via @WorldofIsaac]