I've mulled this over for a couple hours and have only been able to come up with three plausible reasons why reading this might be the first you've heard that basketball mega-recruit Mitch McGary committed to Michigan earlier today: you either (a) have a bitch of a firewall at your job and D4L is small-time enough to slip by, (b) exclusively read D4L and no other blogs (hi Mom!), or (c) have no interest whatsoever in Michigan's basketball program. If you're of the latter portion, you might want to just skip out now, unless you simply enjoy having your mind blown by pure awesomeness.
While McGary's announcement is huge, this post scopes beyond that. Yes, McGary is arguably the biggest recruit for the Wolverines since Chris Webber himself (Note: D4L has voluntarily rescinded that last part due to NCAA violations) and might only be in Ann Arbor for one season. However, he's already the crown jewel of John Beilein's tenure at Michigan, and by all accounts has a burning desire to help take Michigan to the next level. This, along with Michigan's sweep of the Spartans last year, begs the question as to whether the balance of basketball power has once again shifted in the state of Michigan.
The Wolverines return the vast majority of last year's NCAA 2nd round squad, but are missing Darius Morris — their floor general and leader in nearly every meaningful statistical category — who decided to jump to the NBA despite giant construction-esque signs that said "WARNING: LOCKOUT AHEAD." Tim Hardaway Jr. (seriously, read that) looks to take up Morris' scoring load while also grooming for the leadership void that will be present in 2012 after Zack Novak graduates.
The recruits are there; Beilein has gone from grabbing the likes of Zack Novak and Stu Douglass from hick ass towns in Indiana to nabbing one of the nation's top recruits (ironically, who is from the same hick ass town as Novak). The coaching staff is intact; assistant coach Bacari Alexander is arguably the biggest reason McGary committed to Michigan in the first place, and should probably be getting offers for head coaching positions in the near future. The facilities are finally in the same millenium as the rest of us.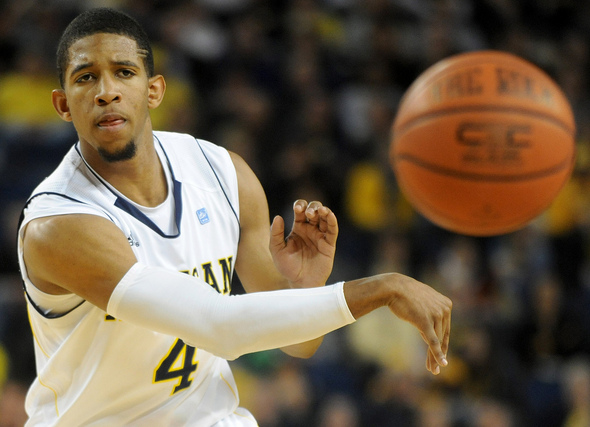 Meanwhile, the Spartans have Keith Appling, Draymond Green, and 10 other guys that inspire fear in no one, save for possibly the most pessimistic of Spartan fans. They lost their Mr. Do Everything in Kalin Lucas to graduation and not-the-NBA, Delvon Roe to injuries and acting, and several other guys that I'm still not sure what happened to.
So naturally, despite all the evidence to the contrary, I still think MSU is the team to beat in this state. Why? Well, the short answer goes something like "Tom Izzo," and the long version isn't much different. Izzo has done more with less in the past, and there's no reason to think that MSU is suddenly going to fall off the face of the Big Ten landscape.
All the pieces are here, and McGary is going to be one of the biggest (both literally and figuratively) components to the Wolverines' success. Does this mean that Michigan will reign supreme once again? Until Michigan (and McGary, by extension) can live up to the hype — something that John Beilein failed to deliver on in his third season in Ann Arbor despite returning Manny Harris and DeShawn Sims from an NCAA tournament team the year before — I don't know if it's safe to say that Michigan is truly back yet. Regardless, it looks to be a hell of a ride while it lasts.