Before I say anything, just let this sink in for a minute.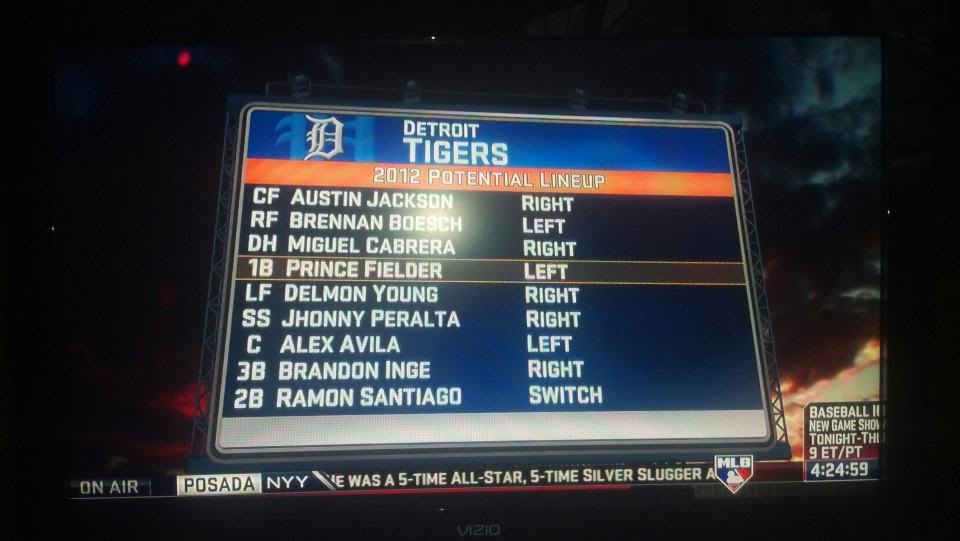 That lineup is D-I-double-R durrrrrrty. With the addition of the non-inept version of Ryan Raburn and possibly even Victor Martinez come August (though I'm doubtful about the latter), there isn't a pitcher in baseball that would have a good night's sleep before facing this team. Of course, with any deal there are questions to be answered. Hit the jump to see our answers to what you're probably asking right now.
Is the price tag hefty? 9 years is a looooong contract to hand out.
No doubt, but a championship or two will put even the harshest doubter's mind at ease. Fielder is arguably the best left-handed hitter in the game and has been durable enough throughout his career thus far to give fans pause about questioning the later years of his contract. While he's a big dude, his game is well-rounded enough (pun intended) to age fairly well, even if his "stupid strong" power drops off somewhat.
Will this team crash and burn like 2008?
I don't see it happening like that. The '08 Tigers had some great offensive stars coming together, but the pitching staff was suspect from day one. Not to mention, they were adding multiple moving parts to a team that hadn't even made the playoffs the year before. In 2011, the Tigers' pitching staff was worlds better than that '08 team, and 2012 should be no different. They added one player –who, by all accounts, is a great clubhouse guy — to what seems to be a closely-knit roster, so chemistry doesn't seem like it will be a big issue either. The Tigers should win the Central going away.
Will Prince's daddy issues play a role?
Let's hope not. If they do, hopefully Prince feels motivated to break his dad's club records for the next 9 seasons.
Can Miguel Cabrera actually play third base? Brandon Inge is the best fielder everrrrrr.
I have my doubts, but whatever runs are given up because of Cabrera at third won't even come close to how many they will score by having both of those bats in the middle of the order (not to mention taking Brandon Inge's OUT of the equation). Speaking of Inge, his defense isn't at the elite level that it was a few seasons ago. He's still better than Cabrera, but not enough to offset his horrible bat.
Does signing Prince Fielder mean that the Tigers are destined to sign Victor Martinez, Jr. in 2029?
Damn straight.
In closing, there are definitely faults to this deal. The inability to opt out of a 9-year contract is slightly terrifying, as is the possibility of losing a lot of the key parts that made this team successful last season. However, for today, the Tigers are the kings of baseball, and it is one hell of a feeling. April can't get here soon enough.