The Red Wings' 23-game home winning streak was snapped in a 4-3 shootout loss to Vancouver last night. Like any Wings defeat, The Production Line hooks us up with some loss candy to ease the pain.
This was so embarassing it deserves its own paragraph. After last night's loss, Red Wings fans were in tears because, you know, we're all about the regular season here in Detroit (/rant).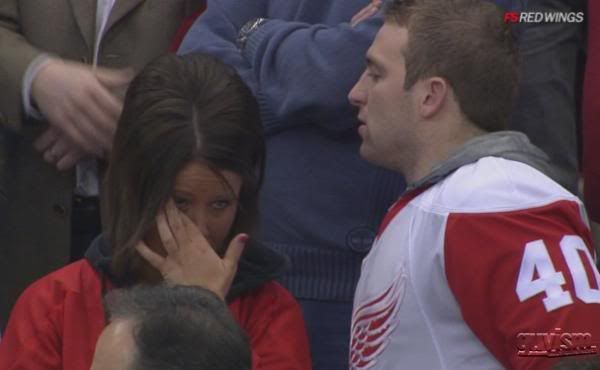 Just because you're as bad as Austin Daye has been this season doesn't mean you can't win an award or two. It starts to make sense when you consider how bad the Pistons' trade assets are.
Jacob Turner, the only real uber prospect currently in the Tigers' farm system, is hoping to add a slider to his repertoire this spring. Lots of fans are also hoping to see him add a pickoff move sometime soon.
If you like basketball shoes, then check out Complex Magazine's rankings of the 25 best shoes in Michigan basketball history. If you don't like basketball shoes, then click it anyway and keep reading.
National League MVP Ryan Braun's 50-game suspension was overturned yesterday, raising some serious questions about the MLB's drug testing policies. However, you're probably more upset that the guy picking right before you in your fantasy draft just took Braun in the 3rd round. Is that just me? OK then…
Speaking of urine in places that it shouldn't be, next year's Super Bowl will be in New Orleans during Mardi Gras. This can only end badly. [h/t Sports Grid]
This NSYNC throwback sung by the Minnesota Timberwolves isn't exactly the legendary Pistons' Jingle Bells video, but it'll do for now.
What I learned today: they make brunettes in Finland.