Tom Izzo: possibly an angry elf.
WHEN DOES MICHIGAN STATE PLAY?*: MICHIGAN STATE PLAYS ON FRIDAY AT 9:20 PM
*This section sponsored by ESPN, because I had to click on 12 different pages of their godforsaken website to find the fucking game time.
How did they get here?: MSU started the season in rough fashion, getting dominated in their first two games by North Carolina and Duke. To their credit, the Spartans fought back towards the end of each of those games to make the scorelines respectable. This "never say die" attitude set the tone for the rest of the season, as the Spartans rolled off 15 consecutive wins before losing their last three games on the road to end the month of January. Again, MSU responded by going on another long winning streak, then lost their last two games, having already clinched a share of the Big Ten title with Michigan and Ohio State. In their loss to Ohio State, freshman wing Branden Dawson tore his ACL, putting MSU's mental toughness to the test once again. Like this insanely long paragraph suggests, MSU responded by rolling off three straight victories, winning the Big Ten Tournament title. Their reward? The top seed in one of the toughest regions in the bracket.
First round opponent: LIU Brooklyn Blackbirds, who have no chance. The more important question for Spartan fans is who their second round opponent will be. Both Memphis and Saint Louis are scary second round matchups, but for very different reasons.
Memphis is white hot right now after a shaky start to the season, and they have the kind of quickness and athleticism that can give Michigan State problems. However, they have a tendency to get dominated on the boards, which isn't really a good idea to do against a Tom Izzo-coached team.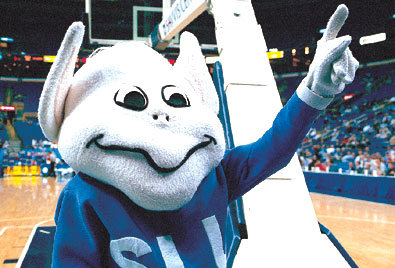 Saint Louis, on the other hand, is pretty much as vanilla white as their mascot (seriously, the fuck is a Billiken?). Their strength, much like MSU, lies in their coaching. Jokes aside, Rick Majerus knows what the hell he is doing, and his team plays like it. Old-time Spartan fans will remember that Majerus' Utah team briefly gave MSU trouble during their 2000 championship run, and that MSU team was way more talented than the current roster. Still, if MSU continues to play like they did in the Big Ten tourney, they should move on to the deeper part of the bracket.
Keys to success: Continue to dominate fools in the rebounding category. MSU isn't as athletic or talented as many of the other teams in this tournament, especially the deeper into the bracket they get. A potential regional final matchup with Missouri could get very hairy if MSU doesn't use their size and frontcourt depth to their advantage.
If there's one player that could be MSU's "X-factor," it's Keith Appling. He's hit somewhat of a sophomore slump that, luckily, hasn't slowed down MSU too much thus far. Draymond Green has carried this team on his back for the majority of the season and will continue to do so during the tournament. If Appling can become a legitimate second scoring option for the Spartans, this team will be extremely tough to beat.
Prediction: As inconsistent as this MSU team has been at times, this is a solid basketball team with a chip on its shoulder. Their offense has a tendency to sputter in key moments, but they play defense and rebound, two things that often carry teams deep into the tournament. Add in the fact that Tom Izzo simply doesn't lose during March and Draymond Green is willing to light his shoes on fire to cut down a net or two, and I don't see anyone beating MSU in the West region. Getting by Kentucky in the Final Four, however, is a completely different story. Of course, you could always be optimistic like Justin Verlander and predict a monumental South regional upset.