-B- Bovoda (formerly Bodog) has the Steelers at 20-1 odds of winning the 2013 Super Bowl. Eleven teams are ahead of the Steelers, so I don't think Vegas likes the Steelers shuffling of the offensive line or aging defense very much.
The Packers, Patriots and 49ers are the current favorites, according to the sites on sportsbook review.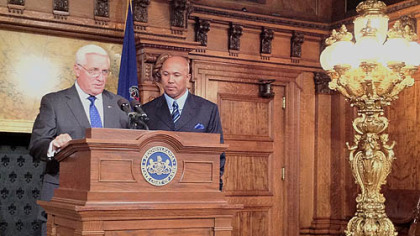 -B- Hines Ward was honored in Harrisburg today by Governor Tom Corbett for his football career and his charity work off of the field. He received a "proclomation" from the governer, whatever that means.
-B- Tuesday marked the opening of OTAs. Ben Roethlisberger says Todd Haley's offense is going to have him stay in the pocket more often. Troy Polamalu called Larry Foote a leader of the defense. More coming later this week on all of that.
Read next