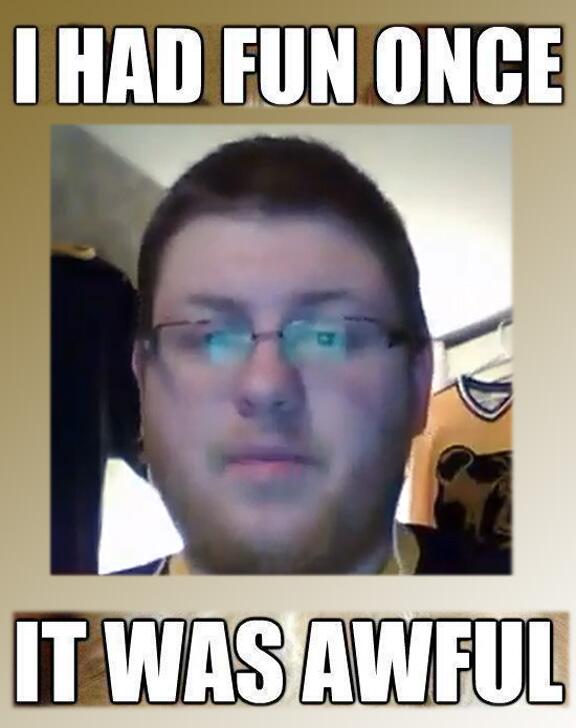 (Stick tap to Benti on the image. It actually was awful)
Welcome to a new weekly segment we're going to run called "Pez Says". If you've been a reader for awhile, you're probably familiar with my Grindin' Gears segment, which was pretty much just a huge rant based on whatever the hell I felt like ranting about. This year, I've decided to change it up a little. Pez Says should be thought as the love child of Grindin' Gears and Elliote Freidman's 30 Thoughts but probably not as thought provoking.
I know a lot of our readers like to gamble. Whether you play fantasy sports, hit the casino or do some online stuff, NHL Futures has put out their lines on who will win the 2013-2014 Stanley Cup. The top four? The Pittsburgh Penguins (+500), Chicago Blackhawks (+500), St. Louis Blues (+1,000) and Boston Bruins (+1,000). Basically if you put $100 on the Bruins to win the Stanley Cup, you win $1,000.
– The Bruins training camp is underway and Claude Julien has already held his first press conference. I just want to highlight a few things that he said:
On Patrice Bergeron and Gregory Campbell's level of participation during camp…

They're going to practice with us, they're going to be on the ice and when it comes time to play those exhibition games, it'll be a conversation again with our trainers in making sure if they're going to play that there's not a risk factor. Right now I would tell you that they would not be cleared to play a game if we started today but that might change in the upcoming days or in a week from now.
On how hard Dougie Hamilton worked in the offseason, and what the expectations are for…

I think he did everything he had to last year when he came. I hope people don't read into how it finished as a negative because I thought he had a real good year. There's no doubt that his play tapered off a little bit at the end and that could have been a factor of fatigue. We all know he played in World Juniors, whatever it was called, at the beginning of the season, played a ton with his Junior team so I think the season caught up with him a little bit. This year he's come back stronger, obviously more confident in knowing exactly what's expected of him and how he fits in our hockey club and I think he's a lot more comfortable and I think that's going to play definitely to his advantage.
I found this to be pretty interesting because earlier this week, I tossed around the idea of starting Dougie Hamilton in the AHL to "season" him a bit after he struggled toward the end of the season. I got some amazing feedback via Facebook, Twitter and the comment section. Keep it coming all season. 
On benefits of full camp for Krug and Soderberg…

For Carl [Soderberg] it was hard for him to come in, and especially at the stage of the season we were in, at the time we were battling for a top spot. He didn't get much of a chance to get used to the North American game. I think he got a pretty good taste of it playing a little bit of it and watching. He's going to have an opportunity here in some of these exhibitions games to time himself even better, or fine tune himself would probably be the better word. As far as [Torey] Krug is concerned he's played some games in playoffs that were as intense as you could ever find so I don't think training camp is going to worry him as much as it's going to probably help him get off to a good start.
One of the biggest things I am excited about this season is to see what happens with Söderberg. He only played in a handful of games and at times looked a little lost out there, but that was to be expected. I thought he played well in Game 5 of the Stanley Cup Finals when Claude finally put the Daugman out to pasture. 
On how much consideration he has to give Zdeno Chara now that it is a full season…
Well, I don't know if I'm going to call it pull back the reins, but you're right. I think he's always in great shape so that is never an issue. I think right now what we have to do in order for our team to progress too is start putting more trust in other players too. Give the more responsibilities and that's the way we're going to get better. And what that will allow is other players to grow in those roles but it will also allow Zdeno [Chara] to be better. Because if he plays a little less, he is going to give us more. So that is kind of he small adjustment, that doesn't mean he's going to go from 24 minutes to 19, but there's going to be games where you might see him get as much ice time but we're certainly going to keep an eye on that for him, guys like Dennis Seidenberg. We feel we got some good players that have developed well, whether it's a Johnny Boychuk, McQuaids [Adam McQuaid], just to name a few, that can step in there and take more ice time, more responsibilities.
– DOY Live kicked off its second season last night with a training camp edition of the show. It was a pretty good show, all four DOY guys were able to make it and we had some laughs. We're excited to get the second season underway. 
– Last, but not least, our fantasy hockey leagues are full. I want to thank everyone who sent us emails about being interested in playing. Currently we have four leagues and I think that's all we can handle this year. I can't speak for the rest of the guys, but I'm currently tipping 7 fantasy hockey leagues and I think that has to be my cap.
When the season starts, I'll definitely have more content to talk about, but for now this has been the first of many Pez Says. 
Read next
6th Sens Photoshop Contest
It's been quite awhile since we've featured a contest here at the site, so there's no better time to unveil a new one to coincide...