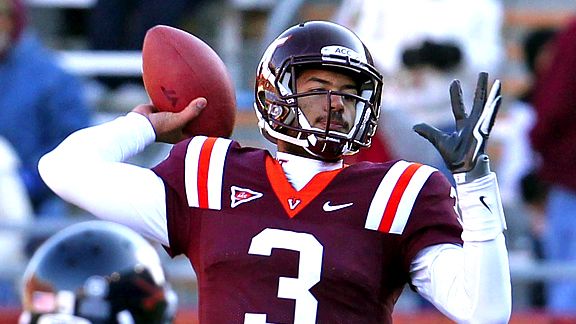 Over the weekend, Nick Saban exclaimed his disdain for pressure put on prospects, due to how many experts project a player to progress. The Alabama coach noted, "I hate it that Mel Kiper and all these guys say this is the No. 1 guy at his position. They don't even have an idea."
What Nick Saban was talking about is near exactly what happened to Virginia Tech's quarterback, Logan Thomas. Following the 2012 NFL Draft, which featured Cam Newton going first overall, Kiper pinned Logan Thomas as his number one quarterback heading into the 2012 season and compared him to the then number one pick. Instead of projecting who he was, many followed Kiper's lead and projected who he could become. The big, strong, fast quarterback was supposed to be the next breakout superstar in college football, but a Newton only comes around once a decade, if we're lucky. Therein lies the "disappointment" of his 2012 season.
Looking at his stats, it may seem that Thomas regressed, but that doesn't reflect on film. What did change between 2011 and 2012 was the personnel around him. His leading receiver, Jarrett Boykin, and starting running back, David Wilson, were no longer with the program. Boykin has nearly every Hookie receiving record in the book, and David Wilson was selected in the first round by the New York Giants. David Wilson and Josh Oglesby (a senior in 2011) combined for 387 of Virginia Tech's 590 carries that year. Of the remaining 203 touches, Logan Thomas had 153 of them, leaving Tony Gregory, who rushed the ball 16 times for 27 yards in 2011, as the leading running back returning in 2012.
Thomas had to do virtually everything himself from that point on, and he did. Thomas not only threw the ball 429 times, but he rushed it 174 times, leading the team in rushing yards, carries, and touchdowns in 2012.
Unfortunately for Thomas, the personnel changes didn't stop. His top three 2012 targets, Marcus Davis, Corey Fuller, and Dyrell Roberts, and left tackle graduated out of the program, leaving him with an inexperienced wide receiver corp heading into 2013 and a true freshman starting at left tackle.
Logan Thomas's 5-of-26 stat-line vs Alabama is a team statistic. Those incompletions include drops by his new receivers, poor conditions caused by his offensive line, and missed pass interference calls, so while it looks like a poor performance, that wasn't not totally the case. Excluding throw-aways and obvious missed PI calls, Thomas's throws were on-target 12 of 20 times against Alabama. And while that number isn't great, it's a huge improvement.
Here's Logan Thomas's combined passing chart through five games in the season (for game-by-game charts click THIS):
Unfortunately, we were unable to get our hands on the North Carolina game (played Saturday), but without being too much of a "box-score scout", it was likely reflective of his first five games, or even better. Through five games, the only area where he's shown he's unable to throw on-target passes consistently is deep.
Isolating Logan Thomas the quarterback and Virginia Tech the offense is important when scouting the passer. The first thing you'll notice is the youth at receiver. Wrong routes being ran, miscommunication, lack of separation, routes given up on, and dropped balls are frequently seen early in the season, followed by a stern talking to by signal-caller. An example would be his interception against the Crimson Tide, which was actually the fault of one of his receivers giving up on a route. Overall, there are many throws that show up as incompletions on the box score which aren't necessarily Thomas's fault. That's where charting the passer's on-target passes are important.
 
What to like about Thomas: tools and frame
Thomas's tall, athletic build and arm strength will fascinate teams, and I don't blame them. Not many quarterbacks can move around at his size. Really, only Cam Newton, Terrelle Pryor, Ben Roethlisberger, and Brock Osweiler have had that trait, at that size, in recent memory, and all of them were high picks. Thomas has been viewed as a "running quarterback" since the Cam Newton comparison, but he isn't the home-run speed player that the rest of the "read-option quarterbacks" are on the next level, though. He's more of a Roethlisberger type that will scramble for three yards after he dodges a defensive end.
 
What not to like about Thomas: consistency in ball placement and footwork
There's no denying that Logan Thomas needs some refining. The amount of balls that end up spiked in the grass are astonishing for a quarterback of his caliber. Most of the issues on those passes come back to mechanical or footwork issues, an area of his game he's publicly stated he's worked on with the quarterback guru, George Whitfield.
 
He's able to throw deep well enough complete some "50/50" throws, which are majority of his deep passes. One of the reasons his completion percentage is so low deep, and interception rate is so high, is because he's forced to throw deep on third-and-longs with receivers who aren't consistently winning those match-ups. There's really not much of a difference from the three interceptions he's thrown deep on third-and-longs and the deep completion (below in gif form) vs Georgia Tech, from his side of the play. Until his targets can get separation, it's impossible to truly have a comfortable grade on his deep ball.
 
What to Expect for Logan Thomas in the Future
Logan Thomas has not regressed since being named the top quarterback going into the 2013 draft cycle, but it was also unfair to put that much hype behind him. As he declined on public draft boards (which he should have), it seems like many assumed he fell off, just stopped showing interest, and haven't seen much of him since. He still has NFL tools and a tremendous upside, and has shown he wants to improve in the small areas that make good passers great. But stunting his rise on draft boards is the Virginia Tech offense, which is in what seems to be a text-book transition year.
While Logan Thomas told CBS Sports that he was raised "picturing [himself] as a receiver" , he shouldn't allow himself to switch positions. Given the chance to polish mechanics in a rhythm system which allows him to run just enough that defenses have to take account of the threat, he'll be something special. Look at what Terrell Pryor (another college quarterback many said would have to play tight end on the NFL level) has been able to do in Oakland, given the chance. It's time to, as a consensus, realize that we need to evaluate Logan Thomas's 2013 season as a quarterback prospect.
Nothing more. Nothing less.
Read next