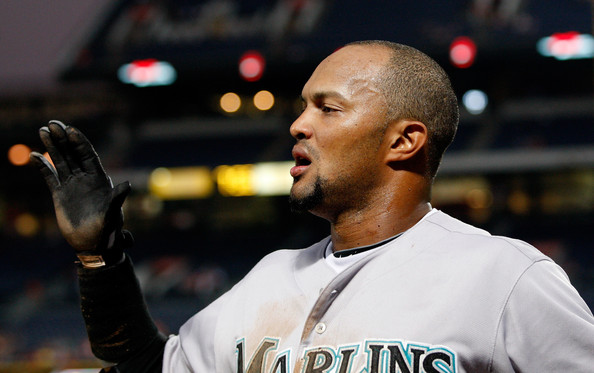 In a move that only dedicated non-Royals baseball fans will even notice, let alone find particularly noteworthy, Bruce Chen was brought back to KC to provide the same type of underrated and unappreciated results he's given the Royals for the better part of the last five seasons.  In 2013, he went 9-4 with a 3.27 ERA in 34 appearances, including 15 starts, and was awarded a one year, $3 million deal that includes a $5.5 million mutual option for 2015 with a $1.25 million buyout.  Good job, Royals.  But, in a curious corresponding move–one that made few headlines in any of the baseball realms to which I am entirely too attuned–Kansas City designated Emilio Bonifacio for assignment.  That's the same Emilio Bonifacio that lead me to write this piece about how he was the most important piece of the Blue Jays-Marlins mega-trade that also involved Jose Reyes, Josh Johnson, Mark Buehrle, and John Buck.
In one year's time, Bonifacio has gone from unfortunately overshadowed to unbelievably undervalued.  A shift that could see him playing in the shadows of minor league stadiums to start the 2014 season.  For those who require a refresher, when a player is DFAed, the team essentially has 10 days to trade the player, release him outright, or send him to the minors.  With Bonifacio's potential inducing a twinkle in this bloggers eye, other Major League teams are sure to be interested in acquiring him on the cheap.
Before moving too far into the argument, we have to make note of the fact that Bonifacio hit just .243/.295/.331 last year across more than 450 plate appearances,  no wonder why the oddsmaker at SportsBettingDime.com has the team as the underdog. His wOBA, a measure of a player's performance with the bat in his hand, was the 7th worst in all of baseball among those with at least 450 PAs.  Things were even worse during Emilio's time in Toronto, where he managed just a .258 OBP and a 4% walk rate that wouldn't even make Jeff Francouer jealous.
The good news for Bonifacio's outlook is two-fold .  First, his value is not tied to how far he can hit the ball but lies instead with his versatility and speed.  He's at least passable at shortstop, center field, and third base, and has graded out as above average in 1200 innings at second base.  (Of course, versatility and speed mean very little to a baseball player if he cannot hit.)  Second, he turned things around after he was traded sold to the Royals mid-season.  His .352 OBP for the Royals allowed him to take advantage of the speed that makes him a fascinating talent.
In Bonifacio, the Royals have designated for assignment a player with whom they just agreed to pay $3.5 Million.  I doubt the Royals are going to get much in return, but a trade makes more sense than an outright release.  And if the Royals expected Bonifacio to contribute in 2013, they would have ousted someone else on their 40-man to make room for Bruce Chen.  Perhaps Cheslor Cuthbert?  They're going to trade him, but to where?
From Mike Petriello's awesome piece over at Fangraphs:
"…Then you look at some of the situations teams are dealing with. The Dodgers don't know if they can trust newcomer Alexander Guerrero at second base, and have only Dee Gordon, Figgins, and Miguel Rojas as alternatives. The Yankees infield is the subject of articles about whether they're the worst of all time, probably not unfair considering that Brian Roberts and Derek Jeter are all but guaranteed to miss time, and Kelly Johnson isn't exactly experienced at third base. The Mets, pending an unlikely Drew signing, have no middle infield depth behind Ruben Tejada and Daniel Murphy. Atlanta might make use of someone who can play second and center considering the presence of two of 2013′s worst players, Dan Uggla and B.J. Upton. Baltimore has no obvious second baseman, and needs depth at third while Manny Machado's knee heals. Milwaukee can't count on Rickie Weeks, isn't certain about Scooter Gennett, and has a manager who loves to run.  I'm going to stop there lest I name half the teams in the bigs, but the point is made."
Mike's point is indeed made.  Who would not want a lovely, versatile, speedy super-sub as a backup making only $3.5 Million?  Wherever the speedy Bonifacio ends up, I'll be rooting for him validate my affection.  He doesn't need to hit .296 (as he did in 2011) to make that happen, but a quasi-respectable OBP would make me and whoever acquires him quite happy.
With the price of 1 Win in the WAR stat valued at approximately $7 million this offseason, Bonifacio's $3.5M salary means that he needs to compile just 0.5 WAR for the saber-nerds to consider the Royals's divestment foolhardy.  If I were a betting man, I'd take the over on that .5 WAR.  In last year's nightmare year, he compiled 1.3 bWAR and in 2012 managed the magical .5 number despite playing in just 64 games.  Simply, the speedy infielder/outfielder helps round out rosters and provides value to competitive teams even if he's hitting like Placido Polanco or Juan Lagares.
Bold Prediction: The Yankees, Braves, or Padres acquire him and he is worth greater than 3 WAR this year.
-Sean Morash
Stat of the Day: Dan Uggla, Andrelton Simmons, Michael Bourn, and Brandon Phillips all had the same wRC+ last year.
Read next
Mini Pony of the Day 2-6-14
Thanks to Doug for this. He says: could you imagine taking this picture? Oh man there's no chance I even hold the camera straight to...