As promised we will be celebrating our 10th anniversary of AngelsWin.com by focusing on our members, contributors and writers. I'm pleased to debut this weekly feature that we'll be posting throughout the 2014 season by interviewing our longest tenured writer and contributor at AngelsWin.com, Adam Dodge.
Adam has been not only a tremendous contributor to our blog, forum discussion and events over the years, but also a great friend — met through none other than, AngelsWin.com.
So without further ado, here's our interview with Adam Dodge (pictured below).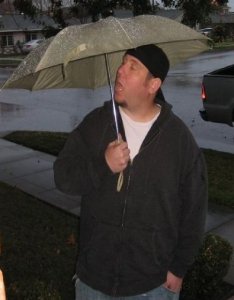 AngelsWin.com: When and how did you first come to AngelsWin.com?
Adam Dodge: It was early in 2004. I really loved writing. Still do, but back then, when I had zero responsibility and a dead end job, I was really looking to find a hobby – something to fill in the blanks at my 8-5 gig. I had covered High School Football for the LA Times one year and really enjoyed it. I did some web searches for Angels fan sites. I found a few and sent off a few emails. You (Chuck) were the only one to get back to me. I started providing content almost immediately.
I think I was probably the 4th or 5th member of AW.com. Yourself, John Ward, Victor, Rev Robbie and AngelsClippersFaninOz were the only guys I remember being around in the earliest of days.
I actually owe my marriage and the birth of my son Ethan to AW.com. I met my wife through Victor, who has become a great friend over the years. I met Victor on AW.com. I guess I can credit Chuck for my marriage and family. Had you not responded to my email, I never would've joined. Wouldn't have met Victor. That said, I also wouldn't have met Victor's mom, which means had you not responded to my email, I probably wouldn't have a $200/mo pharmacy bill.
AngelsWin.com: What keeps you coming back to the site?
Adam Dodge: A few things. First, I love the Angels and baseball. It is an incredible passion of mine. To be able to share that with others is fantastic.
Comedic relief. If ever I need a laugh to alleviate stress or make my day more enjoyable I can comb through any number of threads. We have some very witty members, who provide so many hilarious jokes, stories, anecdotes…
Finally, the relationships. I mentioned Victor as a friend – someone who was a groomsman at my wedding. Chuck, you and I get together every time I'm in Seattle on business. Jason Brennan helped me with the loan process on my new house. Because of Lou, I now have a Mexican friend. Bruce, the "Geoffs", the Seans, Tank… many others. I've made a lot of friends through this community and I value all of them dearly.
AngelsWin.com: What have been some of your favorite articles and threads?
Adam Dodge: Well, the Kelvim Escobar thread is probably the greatest internet event of all time. I'll never look at a tripod the same way. EVER. The Ghost Shark thread, Cory's break up thread were amazing.
In terms of articles, it really wouldn't be fair. I've come to appreciate all of the writers and features. I was never really a "stats" guy and probably never will be. That said, guys like Jonathon (angelsjunky) and others have really impressed upon me the value of some of the advanced statistical analysis of players.
David Saltzar's and others' interviews of players, executives, personalities and prospects are always great.
One of the coolest things I got to do – maybe THE coolest thing I got to do through my affiliation with AW.com – was interviewing  Dino Ebel. 3rd base coaches, which he was at the time, don't get interviewed often. To get his perspective on the game, the team, other players, his ambitions…that was tremendously satisfying as a fan.
AngelsWin.com: What in-person events have you attended from AngelsWin.com (Spring/Summer Fanfests, Charity Golf, Charity Softball)?
Adam Dodge: I've been to them all. To see what these events have become is truly humbling and rewarding. It is amazing to think that a website that started with a few poor schmucks arguing about Garret Anderson's level of laziness could give birth to a tremendous community of hundreds, if not thousands of fans. The events are a blast and that we use them to benefit incredible charities like the Miracle League is very inspiring.
AngelsWin.com: Why is AngelsWin.com your internet home for the Angels?
Adam Dodge: I feel like we're a big family. I mentioned specific people with which I've gained as friends above, but there are many others in our community that have really become a part of my life, even if those relationships are experienced in the body of a thread. I look at the last few seasons and how the Angels have struggled. While that has been frustrating for all of us, I kind of dig it at the same time. For the most part, we're all still here every single day sharing our lives with each other, arguing with each other, taking jabs at one another… How sweet the taste of victory will be when the Angels raise their second World Series flag! Whether that is this year or ten years from now. I'll be here and to share it with tdawg and st1ckboy; that is going to be pretty special.
AngelsWin.com: In your opinion, what is AngelsWin.com's best feature: the articles, charitable events, game-day chat, message boards, Fanfests, podcasts, etc?
Adam Dodge: The message board is where the magic happens. It is the lifeblood of the website. I look forward the charity events as well.
Ligther Side
AngelsWin.com: Where do you live and what do you do?
Adam Dodge: We bought our "forever" home (God willing) in Mission Viejo late last year.
I'm the Executive Director (much cheaper alternative to a CEO) of a Human Resources company focusing on the restaurant industry.
AngelsWin.com: Why are you an Angels fan?
Adam Dodge: When I fell in love with baseball I was four or five years old. I couldn't get enough. I'd watch the Cubs in the morning on WGN, the Braves at 4:05 on TBS and the Angels and Dodgers locally. As a young kid, I just did not like Vin Scully. I thought he was incredibly boring and his voice simply annoyed me. Bob Starr, the Angels' TV guy was fantastic and I just enjoyed watching Angels' broadcasts more than the Dodgers. I made my parents take me to games beginning in 1983 and the rest is history.
AngelsWin.com: What was your first Angels game that you remember? Who'd you go with?
Adam Dodge: My memories are definitely foggy. The first game I have a decent memory of was in 1983 against the Tigers. Bobby Grich and Lou Whittaker were both tremendous second-basemen. I remember both having big games. I think I remember Field Seats being $8.
AngelsWin.com: Who have been your favorite players? Why? Any great stories or interactions with them?
Adam Dodge: I often joke on the board that I "love black guys." It is apparently true though. As a kid my favorite player was Rupert Jones, who played three seasons for the Halos in the mid 80s. Chili Davis took Jones' place in 1988. Garret Anderson is probably my all-time favorite Angel. As an adult, I don't really have favorites anymore. I definitely root for the name on the front and not the name on the back. If pressed though, as frustrating as it can be, I kind of have a thing for Howie.
I haven't had any interactions with my favorite players through the years. However, one of my favorite experiences was with Torii Hunter. Then a member of the Twins in 2001, Minnesota was in town for a three game series. I worked across the street from the park back then and would buy a ticket in the right field terrace almost nightly. I'd spend my workday doing research on the visiting teams Right and Centerfielders and heckle them for 9 innings each game of the series. I found all sorts of stuff about Torii's childhood in Pine Bluff, AR.
I was letting him have it – nothing offensive or even funny really. In fact, I think Torii was kind of surprised that a fat white dude in Orange County was yelling at him about his mom's apple pie recipes. He would look up at me and shake his head. I certainly wasn't getting to him.
But, when he came in to catch a line drive and had it go off of his glove for a three base error, I got under his skin a bit. Again, nothing clever or funny but he grew tired of "You suck, Torii!" Inning after inning, while he was warming up I and my buddies would let him have it. His teammate in right field asked him, "what is that about?" (It should be noted that before 2002, there were about 15,000 fans at the games and hardly anyone in the RF terrace. It wasn't difficult to hear what the players were yelling to each other.)Torii threw his hands up in frustration.
A couple more innings passed. We continued to let Torii have it. Finally, an Angels' hitter (I don't remember who) hit a shot into RCF gap. Looked like a sure double, but out of nowhere Torii comes flying toward the wall. He dove head first into the base of the wall and snatched the ball. Lying on his back, definitely shaken up, he looked up at me and said "how's that?" We gave him a standing ovation and a "we're not worthy" waive of our hands. He took a little bow and jogged back to the dugout. When he came out to the outfield in the next inning we continued our cheers. He tipped his cap and gave us that Torii smile.
AngelsWin.com: How do you survive the offseason?
Adam Dodge: Great question. I watch so much baseball – nearly every game during the season. My wife is a champ. To offset the time I give to the Angels, I don't really watch sports between Nov – Apr aside from Golf. The NBA is awful and unwatchable. The NFL is great and while I love football, I don't spend my Sundays in front of the TV. I play a lot of golf and spend more time with the family.
AngelsWin.com: What's one thing you'd like everyone in AngelsWin.com to know about you?
Adam Dodge: Great question. I don't get offended. I have very specific opinions and a non-negotiable world view, but I understand that everyone sees things their own way and I respect, understand and appreciate that. I do my best to see things from the perspective of others. Also, I text pictures of my poop to my friends.