Long before he was "Macho Man" Randy Savage, Randy Poffo was an aspiring young baseball player. From 1971 to 1974, Randy spent time with farm clubs for the St. Louis Cardinals, Cincinnati Reds and Chicago White Sox. It was in 1973 that Savage followed in the footsteps of his father Angelo Poffo and embarked on a career in pro wrestling that would make him a household name by the mid-1980s.
While there are no known baseball cards of Randy Poffo, "Macho Man" Randy Savage appeared on trading cards for the better part of two decades. What may be more surprising than his lack of baseball cards, however, is the fact that Savage has not appeared on a wrestling card in more than 15 years.
Savage was inexplicably left out of landmark 1982 Wrestling All-Stars set, so his first licensed trading card didn't appear until 1985. Savage is pictured on card #11 in the 1985 O-Pee-Chee WWF Pro Wrestling Stars Series 2 set, and Savage and former manager and wife Miss Elizabeth are pictured on card #63. These Canadian cards are an expanded version of the 1985 Topps WWF set that so many kids collected in the mid-'80; Savage does not appear in the Topps set.
Card #11 seems to be the more popular of the two in the O-Pee-Chee set, and is somewhat tougher to find. Raw, ungraded copies typically sell for about $4-$6. The Savage-Elizabeth card can usually be found for just a buck or two.
Savage also appears on card #94 in the 1986 Monty Gum Wrestling Stars set. This is an unlicensed wrestling set that was produced in Holland. The cards are smaller than traditional-sized trading cards, and cards were connected top to bottom. Most of the cards feature photographs that were taken out of wrestling magazines or books. These cards can usually be found for $3-$5 each.
"Macho Man" has just two certified autograph cards of note. Savage's first and most common autograph is from the 1994 Action Packed WWF set. He and the Undertaker were the only two wrestlers to sign for this set, and autographs were inserted 1:480 packs. The cards are marked "prototype" on the back and Savage's card is serial numbered to 500 on the front. Prior to Savage's death in 2011, these cards could pretty easily be found for under $60. Since then, though, supply has dried up and prices have jumped significantly. These cards typically sell anywhere from $125 to $200. The majority of these cards were simply signed "Macho Man"; however, according to WrestlingTradingCards.com, Savage did sign an unknown quantity "Macho Man Randy Savage." These cards rarely surface, so assigning a value to them is extremely difficult.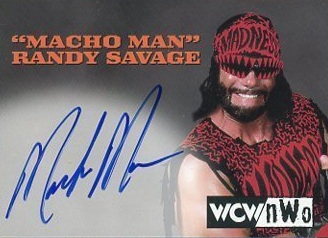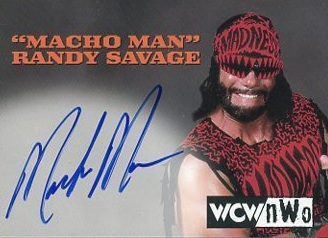 Savage's scarcer – and more valuable – autograph is from the 1999 Topps WCW/NWO set. Autographs were inserted at a rate of 1:40 hobby packs, and the checklist was very deep. This card depicts Savage in his black and red NWO Wolfpac gear, and is signed "Macho Man." These cards rarely surface on the secondary market, so sale prices can be extremely volatile. The only completed eBay listing for this card in the last 90 days was for a lot of Savage and Elizabeth autographs that ended at more than $450.
TRISTAR included a 1/1 cut signature of Savage in its 2011 TNA Signature Impact product, and Leaf has also produced cut signature cards of the "Macho Man."
Because of Savage's strained relationship with Vince McMahon and WWE, he disappeared from trading cards altogether after 1999. He is mentioned on various insert cards in 2015 Topps WWE, but his image does not appear on any of these cards.
ABOUT THE AUTHOR
Michael Moore is the Collectibles Specialist for the Pro Wrestling Torch. He has been a fan of wrestling and a sports card collector since 1985. His work has appeared in various Beckett sports collectibles magazines, Pro Wrestling Illustrated, Tuff Stuff and other magazines.
*****
The Hall of Very Good™ Class of 2015 is presented by Out of the Park Developments, the creators of the wildly popular baseball simulation game Out of the Park Baseball. Out of the Park Developments has made a generous donation to The Hall.