Hello Followers.  Hope you are doing great!
Next week, the national media will descend upon Southern California for the Pac-12's annual media days.  And since we are a week out from that awesome event, it is high time for yours truly to release the WSU Football Blog's annual "Pac-12 Media Ballot."
But before I get to the actual predictions, I want to offer a few words about the "thinking" and assumptions that drove my decision making.
To begin, some great sports writers (READ:  NOT ME!!!) like Ted Miller often approach these ballots by ranking teams irrespective of their schedule.  The assumption  is that, more often than not, the best team will win the championship irrespective of where and when the games are played.
As the years continue to pass (me) by, I have to come to appreciate this approach, especially in cases where a conference features one or two dominant teams.  Take this year's Alabama team as a case-in-point.  This year's Crimson Tide play ALL of their most important games on the road (USC, Ole Miss, Tennessee, and LSU).  But in spite of that, they are consistently being picked in the top 2 nationally because folks think they're going to be so good that it won't matter who they play as well as when or where they play them.
Of course, ever since "the Pacific ____ Conference" expanded to 12 teams, the Conference of Champions has effectively followed the same kind of predictable pattern:  Each year, either Oregon and Stanford have shown themselves to be either too fast, too explosive, and/or too powerful for anyone else.  And as a consequence, the "where" and the "when" of the season hasn't mattered much because they have been dominant enough to make it through season with one loss when no one else has had the horse power to do so.
But as we approach this season, I see the one-loss conference champion as a relic of the past.  And the reason is two-fold.  First, in contrast to the past several years, I don't think that the Pac-12 has a dominant team.  Second, I happen to believe that this is one of the first years in recent memory where the fourth or fifth place team in each division has the very real potential to be able to beat a team that finishes in the top 2—even on the road.  So, when you combine the apparent lack of a dominant team with a lot of depth and parity, you have the recipe for a two, three, or (gulp) even four loss (overall record) conference champion.  And when that occurs, things like tie-breakers become central to figuring out who has the best chance to play for, and win, the conference championship in Santa Clara.
The final factor which weighed heavily in my pre-season picks concerns the front-loaded nature of this year's schedule.  In case you haven't read the schedule up and down 1,000 times like I have, this year's schedule is unique because every divisional contender plays a critical head-to-head match-up within their first two conference games.  For that reason, part of the job of "prognostication" this year depends on identifying teams that are the best equipped to win early.  And while I think that teams like Stanford and UCLA are shoe-ins if they can muster a fast start, the fact of the matter is that I think that each of the contenders have at least 2 if not 3 possible losses after their first three conference games.  In other words, teams that lose early are going to have a very, very hard time keeping that conference loss total under two or three.  So, if one of those early conference losses occurs against a team that starts hot—it will be very difficult to gain that needed tie-breaker at season's end….
Pac-12 South
Last year, the Pac-12 South devolved into sh$t show when UCLA lost to Washington State at home in early November and USC followed up the Bruins' collapse by beating both Utah and UCLA down the stretch. The result was a 6-3/8-4 South Division winner—one that finished an astonishingly awful 8-6 after the bowl loss.
This year promises to offer fans of the Pac-12 South with a similarly exciting but muddled conference race—which makes the early season schedule especially consequential.  For instance, USC's first two conference games are both on the road against Stanford and Utah.  Win both of those games and the Men of Troy would not only gain an inside track to the Pac-12 title game, they will also greatly increase the chance that Pac-12 North will have a new Division champ.  Win one of those two and USC can stick around in the Division race.  Lose both and they could EASILY be a 6 or 7 loss team.   The thing that USC has going for it?  Talent at the skills, the back 7 on defense, the best offensive line west of the Mississippi River, and a really great defensive coordinator.  The trouble spot?  That defensive line.  Simply put, its hard to see how the Trojans will be able to line up against the power of Bama, Stanford, and Utah in the season's first month with that much inexperience up front in the trenches.
Utah is a team that has interested me throughout all of the off-season.  I mean, the Utes have arguably the best defensive line in the conference, the most senior leadership of any school in the Pac-12, and outside of Washington, probably have the best overall defense.  The big issue with Utah is their quarterback situation.   So, the question that will define their season is whether they can beat SC early at home and whether the non-conference schedule—which includes the Holy War—coupled with a relatively soft mid-season stretch against CAL, Arizona, and Oregon State–gives them enough time to figure out that quarterback spot.  In my view, October dates @UCLA and at home against Washington will define their season.  If they can beat SC and then split the Washington/UCLA double header then the Utes will be headed to Santa Clara.
Lastly, we have the UCLA Bruins (not including you here, Arizona schools, although I do think ASU is going to find a way to screw up someone's season).  The Bruins are a tricky team to predict this year because, with youth at nearly all of the skill positions, they are vulnerable to fall apart if they get off to a rocky start.   And while the Bruins are clearly talented across the board, that early schedule is not very forgiving.  In short, while the Bruins have an outside chance to start 4-0, the early schedule of games @Texas A&M, @BYU, and Stanford means that a 1-3 start is a distinct possibility .  And with back-to-back roadies to Tempe and Pullman in early October, the road to four or five  losses early in the season is quite possible if the Bruins struggle to find continuity on offense.
The great news for the Bruins is that their late season schedule is very, very favorable.   Moreover, with Oregon and Washington being off UCLA's schedule, the Bruins seem the best primed to make a lot of hay late if they can get out of the first month of conference games with two losses.  My sense is that the Bruins talent on the defensive line and secondary will give them just enough to beat Stanford in Week 4 in the Rose Bowl and that will send them to Santa Clara in November for a rematch against……
Predicted Order of Finish, Pac-12 South
UCLA
Utah
USC
Arizona St.
Arizona
Colorado
North Predictions
Last year, the Pac-12 North came down to a Erik Powell 43 yard field goal. Had Powell made that fateful kick, WSU's win over Colorado, coupled with Stanford's loss to Oregon, would have clinched the Pac-12 North for Washington State.  We were THAT close.
Of course, the same can be said about Dom Williams' late game heroics against Oregon.  If Dom doesn't come down with the ball with :01 left in regulation, the Ducks would have wound up as North division champs.  It was THAT close for them as well!
The good news for College Football fans is that this year's Pac-12 North race figures to be even more exciting—especially since Washington figures to enter the Divisional race as a co-favorite.  In short, this is a race where a legit case can be made about each of the four contenders to finish fourth or first.   In fact, this race could be so tight that each team could actually finish fourth AND first.  The key will be to win the critical head-to-head tie breakers and to avoid the dreaded slip-up against a slew of capable conference also rans (like CAL!!!!).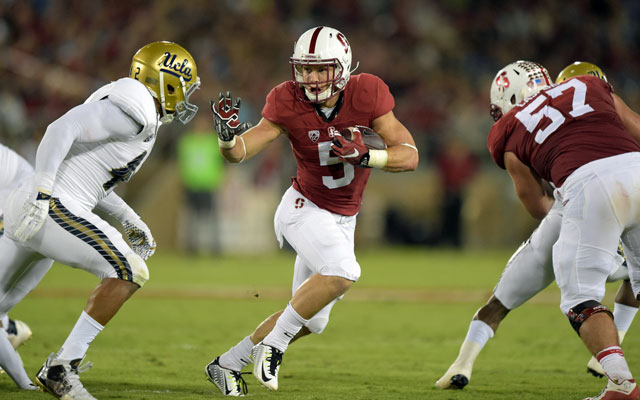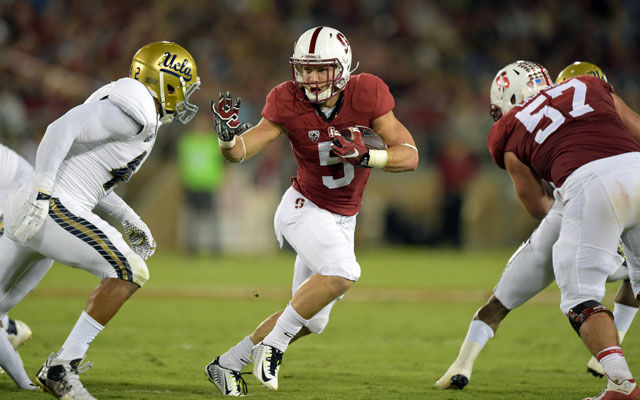 Stanford is a team that, all things being equal, I would pick to win the conference if I didn't look at their schedule.  And while I have great confidence that Chryst will be able to adequately replace 9 year starter Kevin Hogan, the Cardinal's tendency to start slow makes me think that they are going to drop one against either USC or UCLA .  And if that happens, they would essentially be forced to get at least two of three from @UW, WSU, and @Oregon to have any chance at a repeat.
Obviously, for a team like Stanford, that is doable.  But if the Trees drop one of those three games, then either UW, WSU, or Oregon will have to lose three conference games for the Trees to repeat   That might be asking too much.
The good news for Stanford is that if they are able to get out of the first six games at 5-1 or 6-0, they will be very well poised not only to win the North, but to represent the Pac-12 in the College Football Playoff.
Oregon is a team that I think folks are sleeping on at their own peril.  To be sure, the Ducks have questions at quarterback.  In addition, they have looming questions about their defense, especially their need to replace their entire front 7.  And while all of those questions are valid, the Ducks have also shown over the years that when they are firing on offense, they win.  So, if Prukop and that Quack defense can figure it out after the first five or six games, the Ducks have the potential to really catch fire down the stretch.  In short, I can easily imagine a scenario where the Ducks lose to Nebraska and WSU early but then win out.  I can also imagine a case where a loss to WSU in Pullman could set the stage for a meltdown against Washington at home.  And if that happens, the Ducks remaining contests against Stanford, @USC, and @Utah will be anything but a picnic.
For me, out of the four division contenders, Washington offers the biggest set of unknowns.  On one hand, Washington appears to have–at worst—a top 3 defense in the conference.  And if you take at face value that defense tends to win championships, then the Purple and Gold hype train is more than just understandable—it's justified.
On the other hand, its also difficult to ignore that the Huskies finished 5th last year in the Pac-12 North with a 4-5 record. And while significant turn-arounds can and do happen in College Football, those big turnarounds seldom include championships.  In fact, one of the only times that we've seen a team make the transformation from mediocrity to champion was when Ryan Leaf and the Washington State Cougars parlayed a 5-6 season into a 10-1 run to the Rose Bowl.
And while I think that Browning and company certainly have the potential to become that special team, they appear to lack the depth AND experience at the skill positions that I think they'll need to pull out the close games they're gonna need to win, especially early.  But even more than that, I don't think Washington's non-conference schedule prepares them to fire on all cylinders for that two-game stretch against Stanford and Oregon.
That said, if the Huskies win one of those two games (or both), then the inside track to the conference (and the playoffs) is theirs.  Lose both and the Dawgs will have to win out to have a chance.  And that seems like a tall order when you consider that they would have to sweep games against SC, @Utah, and @WSU.
Lastly, we have your Washington State Cougars.  To be sure, the Cougs have their fair share of question marks—especially on the defensive line, Thompson's safety spot, Rush LB, and at Left Guard.  If any of those question marks turn out to be major vulnerabilities, then the Cougars' season could quickly turn from promising to disastrous.
The good (or bad) news for us is that the direction of the season will be determined squarely on October 1 when Oregon comes to town.  Put simply, while I think that it is possible for the Cougars to recover if we lose to Oregon following a bye week, I also think that such a loss makes a 1-3 or 0-4 start to the conference season more probable than possible.  In other words, just as I think that the Cougs have a legit chance to finish first, I also think Coug nation should be prepared to finish fourth or fifth if the Oregon game goes badly.  It is THAT important.
But, at the end of the day, I think history will be on our side.  For one, if you look at WSU's last two Rose Bowl teams, each one was arguably NOT the best team at the conference at season's end (to this point, I think the 1997 was still better than UCLA at season's end, but I don't think the 2002 team would have beaten SC for a second time……).
What each of those teams was able to do was to gain the inside track to conference title early by winning those critical head-to-head match-ups.   And when I look at our schedule and factor in what we do have returning (i.e., Falk, Marks, and all of the depth at the skill positions), I see a team that is the best poised of all the North contenders to win those pivotal early head-to-head contests.  And the reason is simple:  We play Oregon at home following a bye week and get Stanford after they play USC, @UCLA, and @Washington…
So, my prediction for what will happen this year in the North is as follows:
Stanford will lose 1 of 2 to UCLA/USC.
Stanford will beat UW in Seattle
UW will lose to Stanford AND Oregon and either Utah, USC, or Arizona State
Oregon will lose to WSU and either Utah, USC, or Stanford.
WSU will beat Oregon and Stanford.
WSU will lose to ASU or CAL as well the UW (which will end our playoff chances).
Pac-12 North (Predicted Order of Finish):
Washington State
Stanford
Washington
Oregon
CAL
Oregon State
Conference Championship Game:
My view is that Washington State will win the Pac-12 title and play in the 2017 Rose Bowl provided that we play Utah in the conference Championship Game.
However, I don't like our chances against either of the LA schools in that match-up, especially since I think we will get VERY dinged up following what I think will be a grueling Apple Cup.  In short, while I think the Cougs will win the North with a 10-2 or 9-3 record (depending on Boise State), I don't see us winning the conference title and/or making it to the Rose Bowl this time around (especially since I don't think that the South winner will be a playoff contender).  Instead, I'm penciling UCLA into the spot given their strength at quarterback, the D-line, the secondary, and their superior depth.
Ultimately, I think the Alamo or Holiday bowl will serve as the final destination for our Cougars, which would be one hell of an accomplishment given where this program was just a few short months ago.
I'll be back after media day for some more deep thoughts.
All for now.  Go Cougs!