Hello Followers.
Last night, the Boise State Broncos held off a late Washington State comeback and nipped the Cougs 31-28.  And in so doing, put the Cougars' once very promising season squarely on the brink.
Because both time and will are short on my end, I'm going to try to keep this BSU postmortem  very, very short.
First, with respect to the Big Picture, it wasn't long ago that the Cougs would have gotten absolutely boat raced by a MWC team that figures to win 9-10 games. So, the fact that we "woulda coulda shoulda" won a game against a team like Boise provides important evidence that the program has made considerable progress (relative to others) over the past two years.
Second:  Most of us–especially me–figured that this Cougar team would win 9 games or more because we thought we would be MUCH improved offensively and would be at least as good defensively as we were last year.  Well, the past two games has shown me that I was wrong.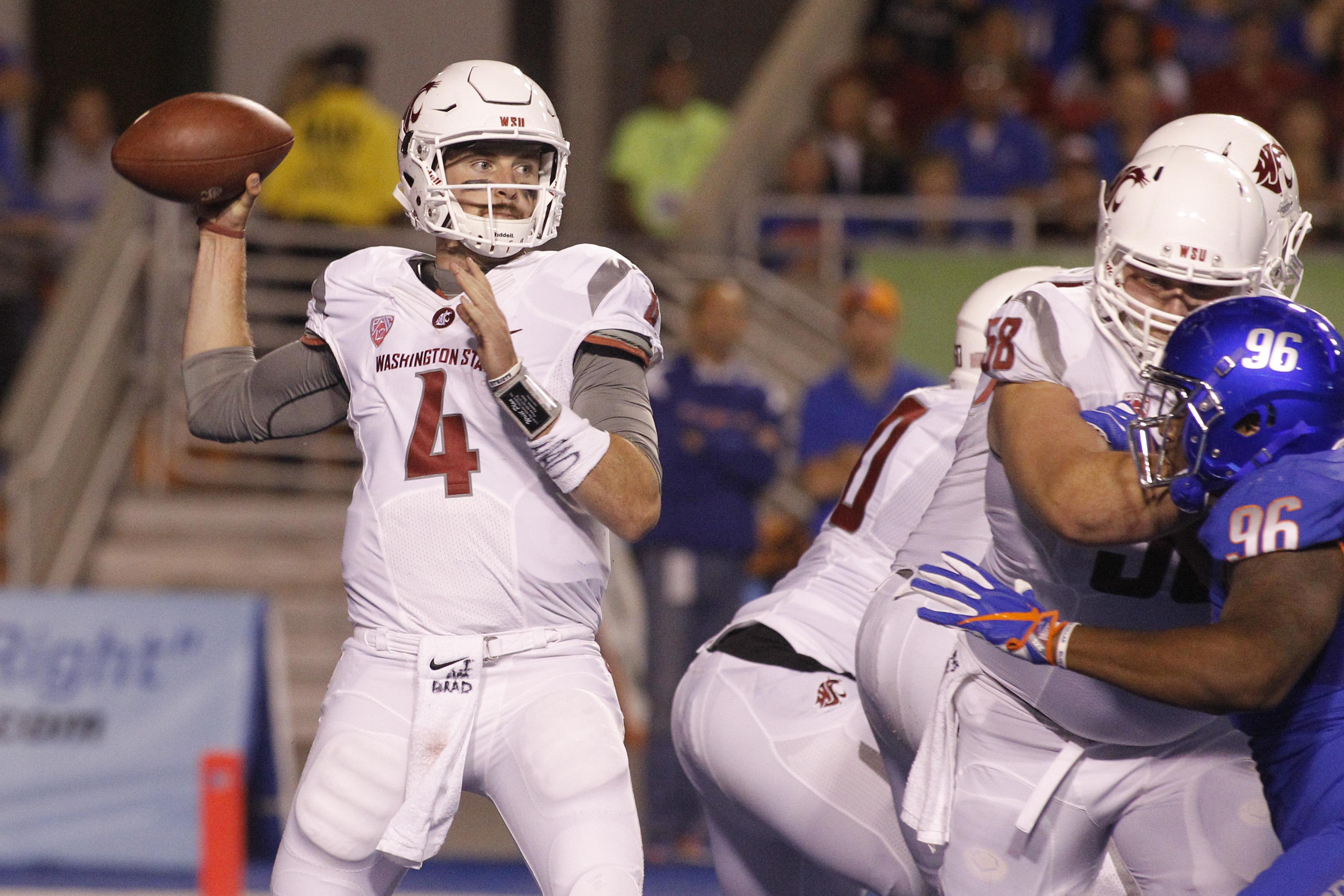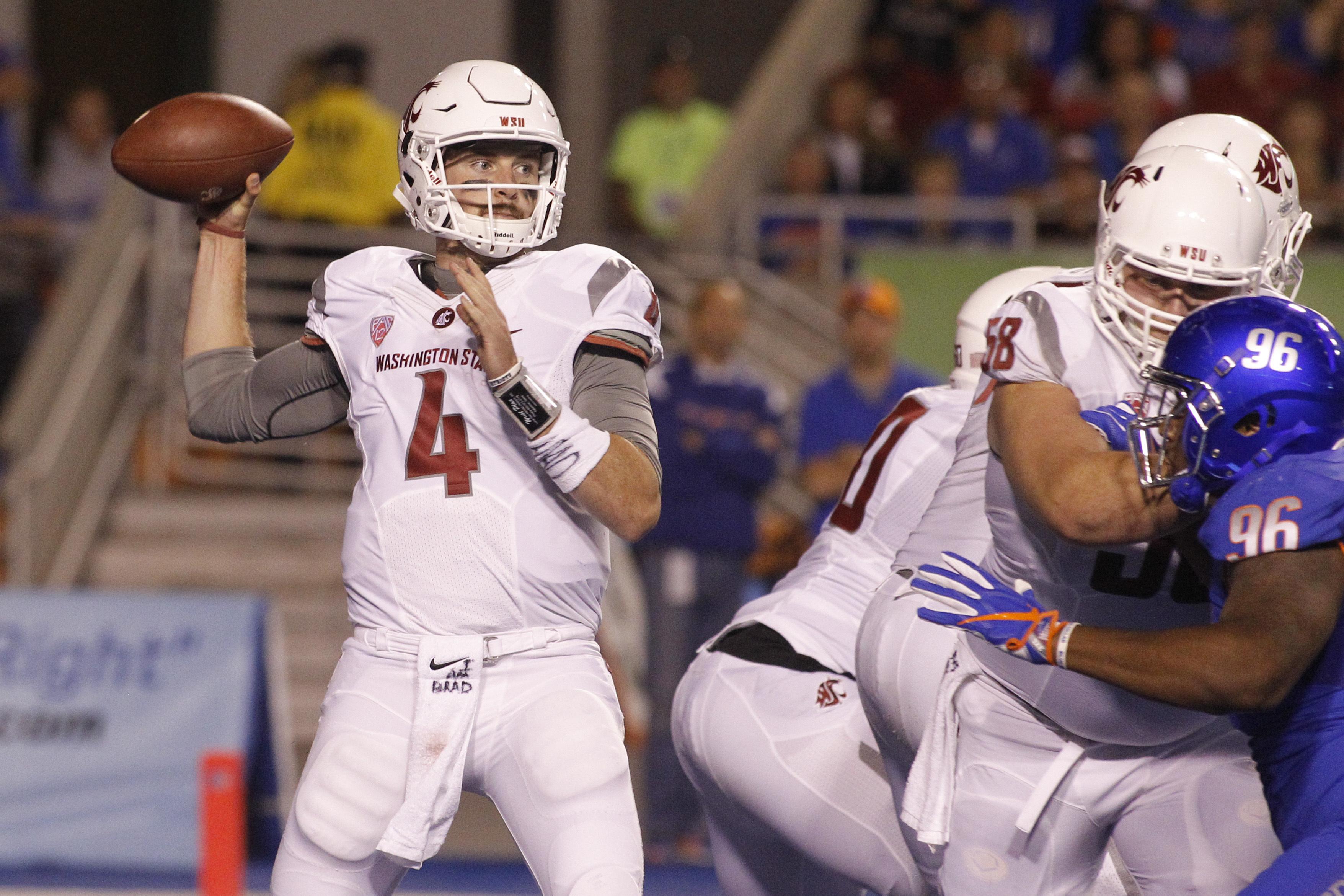 In fact, when I look at this team as a whole, I see very few areas of improvement. Instead, I see a team that is markedly worse almost everywhere on the football field.  Offensively, only Tavares Martin and Kyle Sweet look like they have improved significantly.  Wicks might be better, but he never gets the ball (more on that in a minute).  Beyond those 3, everyone has regressed to some extent.  Marks looks hurt, Falk looks indecisive in spite of those gaudy numbers, and Cracraft has virtually disappeared (why he doesn't get targeted more is beyond me).
Then, there's the defense, which showed marked improvement from the previous week.  Of course, the main reason for that improvement was the return of Shalom Luani who would have been a difference maker last week had he not been suspended (more on that in a minute).  But beyond Shalom's all-conference play, our defense overall is not anywhere close to where it was the last season. Consider:  We get no pressure with a four man rush, whereas last year we got significant pressure without blitzing.
We are getting ZERO production from the RUSH linebacker spot. The play at WILL is not where it was with Allison last year or with his back-up.  We have regressed at the Nickel, even though we have both guys back.  We have no depth on the D line. And we are getting no production from the Strong safety spot.  In other words, even though we improved from the week prior, it is very difficult for me to see how we're going to slow down the likes of Oregon, Stanford, UCLA, and Arizona State in the coming weeks (I mention them because they close out the season's first half).
So, where do we go from here?:
Well, first we have to learn how to run the football with authority.  Last night, Boise showed us countless run boxes where they rushed 3 and dropped 8. On multiple occasions, when we saw that look, we either threw the ball or ran laterally allowing their LBs to step up and make plays.  Simply put, until we show that we are able to murder teams up the gut with our running game, we will continue to see those 13 play drives that eat a lot of yards but wind up yielding nothing with respect to points.  And truly, given that Wicks is averaging 5 yards a carry through 2 games, it might be a good idea to get him the stinking ball–at least until such time that someone shows that they can stop him. And trust me, as soon as those linebackers have to pinch up to try to stop #23 reasons, we are going to start eating teams alive.
Second, it's important for this group to remember that the non-conference schedule means absolutely NOTHING with respect to conference play.  And so, what this group needs to do now is to get itself back to .500, to start conference play 1-0, and get through the first six games at 3-3. Do that, and I think that this team will have enough mojo to at least become bowl eligible.
Now, is that possible?
Well, we'll see.  Unfortunately, for me, this group seems to be a slightly more mature version of that 2014 team–a team that lacked key pieces and was never able to really put "it" together consistently.   And so, if you asked me to project where this team will finish, I'd say that we can probably expect to finish 4th in the North with a 3-6 or 4-5 conference record.  And that will mean no bowl eligibility for this group–not because of last night–but because of that damn loss to EWU.
But irrespective of what I think, the loss last week to Eastern (which would NOT have happened with Luani) is the ONE reason why we are scrambling as a fan base.  If we were 1-1 right now, we'd be confident that we could still put the pieces together to contend for the North this year.
And here's to hoping that the team can start to do just that this coming week.
Now, as for me, well, I'm going to take a break.  I don't have much confidence that this season is going to turn out well and I really don't want to spend time being negative–especially for a group of kids and coaches that I really like a lot.  I also understand that, in contrast to what we're seeing on social media, you can be a good teacher (or coach) and have a bad semester (season) and/or a bad couple of classes (games).  Sometimes, it just happens.
So, I'll be back for a few words before the Oregon game and we'll see how we all feel after that.
In the meantime, my best wishes to our players and their families.  No one had higher hopes for this season than them, and so I will put forward positive vibes that guys like Marks and Cracraft will be able to end their college careers on a high note.
All for now. Go Cougs!