I'm not the only one with mixed emotions going into this one. Eagles QB Carson Wentz knows his debut in the Big Apple is going to be heavily scrutinized by the New York media, but I doubt that bothers him much. He's probably more concerned about finding a way to win with a patchwork offensive line (missing Barbre and Johnson) and a receiving corps which has been somewhat lacking in big-play production of late.
Howard Cosell's nephew and NFL Films senior producer Greg Cosell has examined the New York Giants on tape this season. Here are 10 things to watch as the Eagles play the Giants on Sunday at 1 PM.
Giants On Offense:
1. The Eagles' tackling is critical versus Giants receivers due to pass game emphasis on three- and five-step timing throws.
2. Quarterback Eli Manning has not been consistently accurate and precise with his ball location this season. A good example was on a third-and-7 wheel route to wide receiver Sterling Shepard from 12-yard line in the second quarter against the Rams. Manning left it a little short on a well-designed red zone play.
3. The Giants have not really shown a consistent intermediate passing game this season. The pass game has been very condensed. Manning has not been consistently strong in the pocket. He has a glaring tendency to be very reactive to pressure on his throws.
4. The Giants' offense is limited right now: No consistent run game at all, a pass game with little intermediate or vertical dimension by design and an uncomfortable pocket quarterback.
5. In the loss to the Vikings, the Giants' wide receivers – Odell Beckham Jr., Victor Cruz and Shepard – were not factors in the game. There were no slants with run after the catch. Shepard did not work the seams or sail routes. There was no rhythm to the Giants' pass game. Manning played fast and was not comfortable.
Giants On Defense:
1. The Giants like to mix up their looks in the red zone with multiple coverage concepts: Quarters, Cover 3 and Cover 3 Boundary Lock.
2. Defensive coordinator Steve Spagnuolo features different subpackage defensive line combinations, including snaps with defensive end Jason Pierre-Paul at DT and linebacker Devon Kennard utilized at times as an edge rusher from 3-point stance.
3. The Giants implement a defensive line rotation with nine players getting meaningful snaps.
4. Against Baltimore, the Giants were able to generate some consistent pressure on quarterback Joe Flacco throughout the game, both with four-man defensive line rush and blitz packages. This was a high-percentage blitz game for the Giants.
5. With all the injuries in the secondary, Spagnuolo has been limited to playing nickel. The dime subpackage was a major foundation of the Giants' defense. Will that return against the Eagles?
INJURY REPORT:
Doug Pederson said on Friday morning that guard Allen Barbre (hamstring) and linebackerKamu Grugier-Hill (hamstring) are out for Sunday's game against the New York Giants.
Defensive tackles Bennie Logan and Taylor Hart were originally listed as questionable but both were then downgraded to out on Saturday afternoon. Logan has been sidelined with a groin injury, while Hart is battling an ankle sprain. No one else is listed on the team's status report.
The Giants will be without starting safety Darian Thompson, who has been sidelined since Week 2 with a foot injury. Rookie Andrew Adams is making his fifth start of the season in Thompson's place. Defensive end Kerry Wynn suffered a concussion during Thursday's practice and is also out for Sunday.
Safety Nat Berhe (concussion) and running back Bobby Rainey (calf) are questionable.
*   *   *   *   *   *   *   *   *   *   *   *   *   *   *
If you're not able to watch Sunday's game on FOX (1 PM kickoff) or just want to hear the iconic voice of Merrill Reese along with Mike Quick, you can click here.
*   *   *   *   *   *   *   *   *   *   *   *   *   *   *
New York State of Mind Tailgate Fare:
MetLife Stadium: New York Giants— East Rutherford, NJ
New York is obviously obsessed with the latest food trends, so it makes sense that Giants/ Jets games play host to marathon pre-game feasts, often prepped by professional chefs. Grilled seafood, sausage & peppers, and Italian classics are the staples here. Since most fans take the train to the Meadowlands (and PATH officials frown upon wheeling hot grills on board), keep your eyes peeled for "pay to eat and drink" tailgate signs — just make sure you're not wearing your favorite old DeSean Jackson Eagles' jersey.
Here's one of my personal favorites from Tail Gate Joe who doms the MetLife parking lot:
Slow Cooker Brown Sugar Kraut Kielbasa:
When it comes to planning and executing the perfect tailgate, planning and time management with regard to the menu is really important. I always strive to grill up as much as possible on site, but depending on equipment, what I want to cook, and how many people I have to feed, I also incorporate some items made ahead of time. The slow cooker, or crock pot, is a great tool for this. Utilizing a crock pot, I can load it up the night before, let it slow cook for 8-10 hours, then unplug and take the cooker with me tot he game where I can plug it into my generator or simple inverter hoked up to the car. Using the slow cooker, I have a great appetizer, side dish, or main dish hot and ready to go right from when I show up, leaving me more time and grill space for other dishes I want to serve.
A quick note on slow cookers. I have one (actually a pair) of cookers made by Crock Pot. The one I have is actually wrapped in my team's color and logo,
take a look here
. It is simple, has high/low/warm settings, a removable stoneware bowl, and latches to securely seal the pot for travel to your tailgate or party.
"Today's dish is a great example of something that works great as an appetizer, finger food, or main, kielbasa with brown sugar kraut. It only requires 4 ingredients, 4 of the staple men's food groups (sausage, beer, kraut, brown sugar), next to no prep, and no real required cooking skills."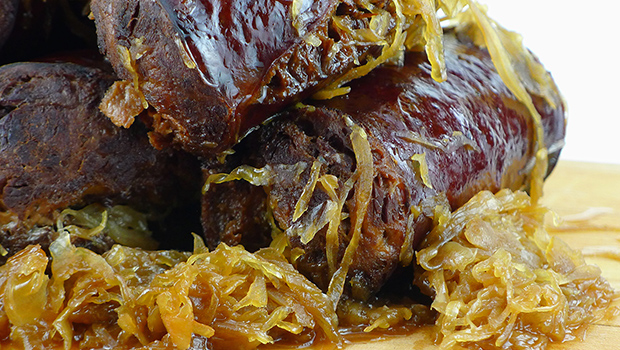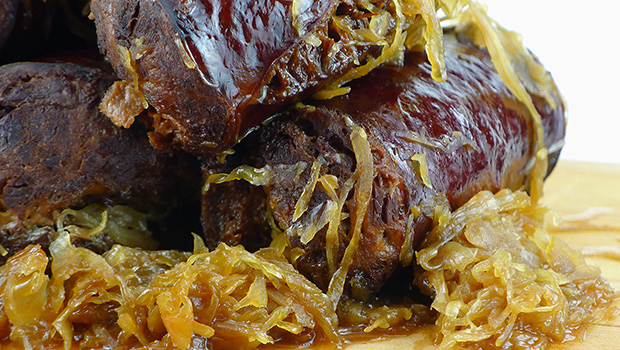 Ingredients:
Kielbasa, 2-3lbs. I used high quality fully cooked fresh made by Pulaski Meats in Linden NJ
Beer, 1 can or bottle. I used Heineken, but feel free to experiment
Sauerkraut, 1 pack (24-32 ounces) drained. In order of preference, refrigerated bag, glass jar, or canned
Brown sugar, 1 cup
Directions
"This is so simple, I am not going to spend a lot of time explaining—
In a saucepan over medium heat dissolve brown sugar into beer and then put to the side.
Cut kielbasa in chunks about 4 inches long, don't stress the specifics here, and place into slow cooker.
Dump kraut (you did drain it right dummy?) into cooker on top of sausage.
Pour beer/sugar juice on top of your sausage/kraut mound of awesome.
Cook on low for 8-10 hours.
"There ya go, way to easy but way to delicious as well. once finished you can slice the kielbasa into smaller pieces and drop a box of toothpicks next to the crock pot for a self service appetizer. You could also leave a basket of small potato rolls next to the pot for sliders, or you could butterfly the links lengthwise and serve on hot dog buns."