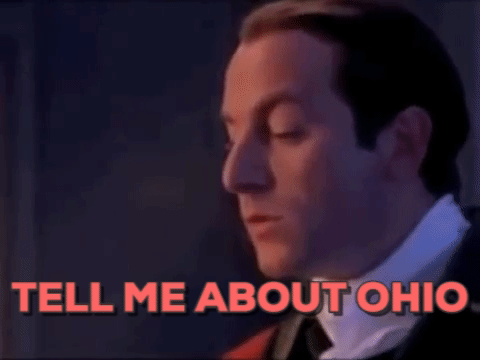 The well-deserved accolades and superlatives continue to come in for the 2017 Ohio State football recruiting class.  Ranked as the second-best recruiting class in the country, Ohio State was able to land arguably some of the top players in the country at designated positions of need at defensive back, linebacker, offensive line, and wide receiver.  It would not be surprising to see many of these true freshmen playing considerably throughout the 2017 season, and possibly even starting.  Nine of these twenty-one recruits are already enrolled and on campus, meaning Ohio State fans will have an opportunity to see them playing in the upcoming Ohio State Spring Game on April 15th.
For all of the praise and heightened expectations, even Ohio State Head Coach Urban Meyer lamented one area that did not please him entirely about this recruiting class…
Out of the twenty-one players signed, only seven were from the state of Ohio.  In essence, Ohio State fell a solid twenty percent below reaching Coach Meyer's desired goal of having half the class from Ohio.
When looking back at Coach Meyer's recruiting classes since his hiring in late November 2011, Ohio State's recruiting classes have usually been close to the mark, but never quite reaching it.  The notable exception was the 2012 recruiting class, which was more of a compilation of players who committed to former Ohio State Head Coach Jim Tressel, interim head coach Luke Fickell, and Coach Meyer.  Ever since the 2012 recruiting class, none of Coach Meyer's recruiting classes have met the designated 50% mark.  The 2017 recruiting class marks the lowest number of Ohioans in an Ohio State recruiting class since Coach Meyer became the head coach.
If I could adjust a focus of the coaching staff, it would be to concentrate upon specific Ohio players first and foremost, before trying to reel in players from around the country.  In this year's class, Ohio State had a verbal commitment from Akron Archbishop Hoban RB Todd Sibley.  Sibley was told that he would need to grayshirt in order to gain a scholarship from Ohio State.  Sibley decommitted, and was able to sign with Pittsburgh.
Was this a terrible thing?  No, as Sibley was able to gain a scholarship from Pittsburgh, and Ohio State was able to use Sibley's scholarship on another position.  I would simply argue that instead of pursing RB Cam Akers from Mississippi for most of the 2016 season, only to see Akers sign with Florida State, Ohio State should have been content with a player like Sibley who was in the backyard of the Buckeyes.
It is not as though this is a recent development with Ohio State.  Another example would be current Michigan State RB L.J. Scott.  In 2014, Ohio State actively recruited Damien Harris of Kentucky, while keeping Scott on the backburner.  Harris eventually signed with Alabama, and Scott signed with Michigan State.  Scott has had two straight years of strong games against the Buckeyes, in both 2015 and 2016.  It is to Ohio State's credit that the Buckeyes were able to sign Mike Weber at the critical RB spot.  My question is why didn't Ohio State focus more on L.J. Scott from the beginning, versus chasing after a player from further away?
The 2017 Ohio State football recruiting class is certainly one for the ages.  Like Coach Meyer, I would simply focus more on identifying players from Ohio who want to become part of the flagship program in 2018 and beyond.