The New York Rangers lost to the Ottawa Senators by the score of 2-1 in Game 1 of their Eastern Conference Semi-Final match-up. Ottawa leads the series 1-0. For a box score, click here.
3 Goats
1st Goat – The Rangers discipline
2nd Goat – Grabner's finishing ability
3rd Goat – Everything leading up to Karlsson's game winner
Post Game Cocktail Recommendation
Luck is a huge part of winning in the postseason. And tonight it was on Ottawa's side. So, in recognition of Karlsson's bad bounce game winner, let's drown our sorrows with a Liquid Luck.
Gif of the Game
I told you not to sleep on Anderson…
Everything That Could Have Gone Wrong Did
Losing on a shot from behind the goal line is excruciating enough, but when you examine everything that led up to the winner, it's enough to drive you to drink…even more.
[youtube=https://www.youtube.com/watch?v=l1KQy3U-SDY&w=560&h=315&start=35&end=55]
Let's break it down.
First off, the play shouldn't have happened to begin with because it was a clear icing that was mysteriously waived off. Unfortunately, it looked liked the Rangers slowed down a bit as they anticipated a whistle, which had them on their heels as Stepan (terrible shift for him) immediately gave the puck away to Karlsson….
Despite the missed call & initial turnover, the Rangers were able to recover the puck, but Stepan (I told you it was bad) gives it right back…
The Rangers then have another chance to clear the puck, however, Methot out-races Nash at the blueline to keep the puck in the zone…
Next, after blocking Karlsson's initial centering attempt, McDonagh completely loses sight of the puck, giving the two-time Norris winner a brief opening to again get the puck towards the Rangers net…
Finally, the puck nicks off Stepan (nice to see him finally score), then banks off Lundqvist's head and into the goal.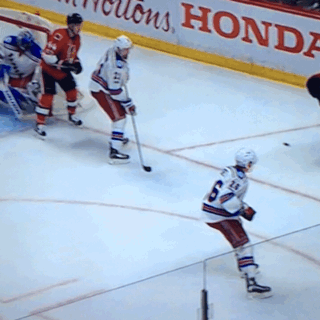 I'd criticize Lundqvist for not standing tall and hugging the post, but that's how goaltending is taught now. Everything is from their knees.
Hockey is a game of inches and this entire sequence proves that.
Godqvist
When Lundqvist is as locked in as he was tonight, the Rangers can absolutely not afford to waste that kind of performance…
Grab-No
Tonight was as noticeable as Grabner has been in weeks, but in a tight game such as this, he's got to find a way to bury one of these golden opportunities…
Damn Province of Ontario air messing with Grabner's finishing ability again.
Mini Recap
I know it was only the first game, so the hatred is still percolating, but compared to the Montreal series, tonight was downright docile. No hitting. No chirping. Nothing. There was literally just ONE post whistle scrum. After Game 1 against the Canadiens, I already had my own personal "hit list" that included Gallagher, Ott and Shaw. Tonight? I barely know the names of half the players on the Senators roster.
I assume that changes as the series rolls on, but the lack of intensity seemed to have a negative impact on the Rangers as they weren't as engaged as they were against the Canadiens. Where's Chris Neil to wake up the Rangers when you need him…
I fully expected this game to be more of a slog, but it was pretty wide open. And while you'd think that would favor the Rangers, the Senators found themselves with the majority of the odd man rushes and breakaways.
To piggyback on that thought, I felt the Rangers did a decent job breaking the Senators neutral zone trap. They were mixing it up by either dumping it in, throwing the puck into open space to retrieve it or skating it in.
I know the penalty kill has been dominant lately, but showcasing it isn't the greatest strategy to win a playoff game.
Minus the fluky game winner, a valiant effort by the Rangers keeping Karlsson from taking over the game.
Call off the search teams, we've found Chris Kreider. Four shots on goal and a critical screen on the McDonagh goal.
Actually, let's re-assign them to the Kevin Hayes & JT Miller search parties.
Pretty sure Craig Anderson encountered more traffic on the way to the rink than he did during the game.
I try to stay away from the fancy stats but Girardi was overwhelmed tonight as he had a 5-on-5 Corsi For of just 27%. That's….wow. That's not good.
Sooooooo, Tanner Glass in the lineup for Game 2?
Rangers down 0-1…
Despite the Rangers playing without much passion or effort tonight, it still took a fluke goal for Ottawa to defeat them. Expect this team to come out with some jump in Game 2 which should hopefully overwhelm the Senators.
Remember to follow me on Twitter, Facebook & Instagram or e-mail me at [email protected].
Read next
TODAY IN BASEBALL: April 28
TODAY IN BASEBALL HISTORY courtesy of National Pastime 1960 – At a night game against Cleveland, the White Sox unveil the 'Monster', their new exploding...